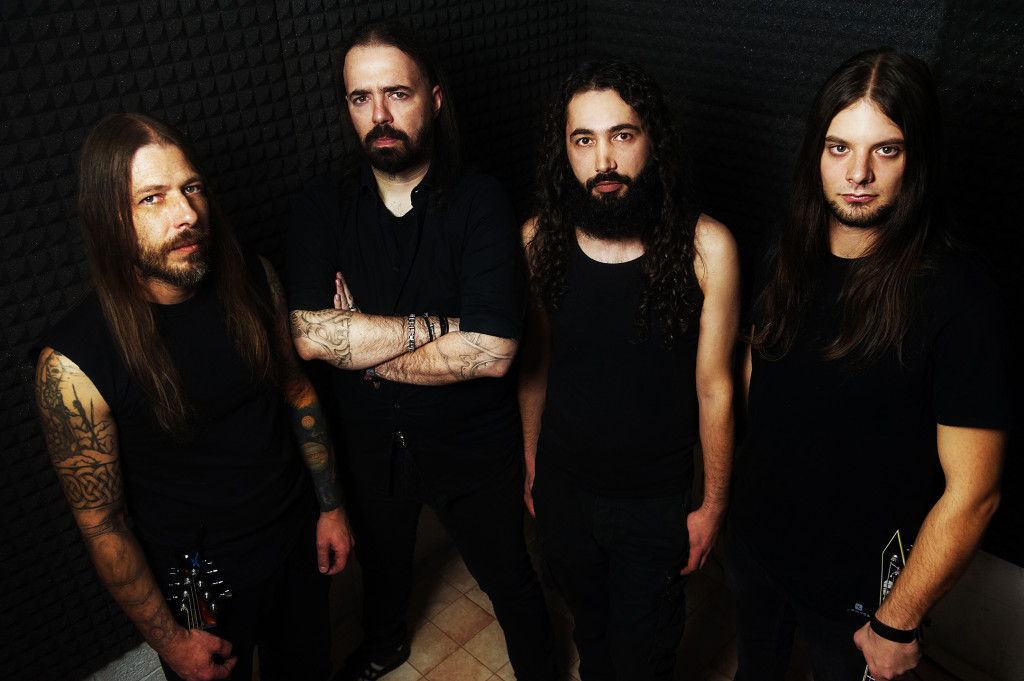 Initializing Irreversible Process, the latest full-length from Rome-based death metal goliaths, DECEPTIONIST, is out TODAY Via Unique Leader Records.
In a recent review of the record, Loudwire offers, "[DECEPTIONIST] brings surgical riffing and menacing grooves, giving off a mechanical feel as the gears turn and drive the war machine… forward. The lead work is technical yet memorable, alternating with rhythmically centric moments that provide enough variation to keep listeners alert, excelling in both areas with equally devastating impact." In a 9.5/10 review, Amps And Green Screens concurs, "All in all, DECEPTIONIST have not only produced an amazing record, but they've also proven that they belong in the conversation about top technical death metal acts with Initializing Irreversible Process." Headbang Or GTFO calls the record, "Crunchy, deadly and psychotic," while Last Rites gushes, "What amazes even me is that, no matter how many times I let this record restart, it slaughters me. Even the best albums wear thin upon repeated listens, and as a reviewer I have to repeat those listens in a concentrated time period. It is a rare album indeed that thrills after so many repeats. This one does just that… Initializing Irreversible Process belongs in your collection… It stands alongside so many great Unique Leader releases this year, and stands gleaming, like the machines it warns us of; gleaming and covered in frail human blood. Was there ever a better recommendation for a tech-death record? Buy this." Adds Wonderbox Metal, "Here we have thirty-four minutes of music that combines elements of both technical and brutal death metal into its feral core. Featuring guests from Hideous Divinity, DECEPTIONIST wastes no time in establishing themselves as cyborg-enhanced death metal warriors. Dealing with the type of concepts that Fear Factory would be proud of, Initializing Irreversible Process is a modern exploration of primal death metal, filtered through the lens of a band who know how to inject technicality into their brutal delivery."
Hear DECEPTIONIST's Initializing Irreversible Process in its entirety at THIS LOCATION.
Initializing Irreversible Process in available now via Unique Leader Records. To purchase your copy, go to THIS LOCATION.
Initializing Irreversible Process was captured with Giuseppe Orlando at Outersound Studios, and finds the devout death metal collective pushing their talents and ingenuity forward in both speed and technicality while simultaneously remaining loyal to our root elements: groove, brutality, and catchiness. Their use of sampling blends seamlessly with harsh guitar riffs, the lyrical content dealing with the relationship between humans and machines in a not-too-distant future world where men and women will live only to serve artificial masters.
Initializing Irreversible Process features the talents of bassist Stefano Franceschini and guest vocalist Enrico H. Di Lorenzo on "Through The Veil," both members of labelmates Hideous Divinity, as well as the striking covering renderings of Pär Olofsson (Abysmal Dawn, Cult Of Luna, Deeds Of Flesh, Exodus et al).
Formed in 2013 by guitarist Antonio Poletti and drummer Claudio Testini, who were joined several months later by vocalist Andrea Di Traglia, DECEPTIONIST dispatches a technical breed of death metal heavily integrated with mechanical flair and industrialized elements. Recorded and produced at Outersounds Studios by Giuseppe Orlando, the band's three-song 2014-released demo was immediately ravenously consumed by fans and media sources alike, with excellent reviews sourced from Europe, North American and beyond. September 2014 saw the induction of second guitarist Fabio Bartoletti (ex-Hideous Divinity), just before the band would begin taking the music to the fans live, while beginning to culminate material for their first album. DECEPTIONIST signed with Unique Leader Records early last year and immediately entered the studio to create what would become Initializing Irreversible Process.
http://www.facebook.com/deceptionistofficial
http://www.twitter.com/DeceptionistDM
http://www.deceptionistofficial.bandcamp.com
http://www.uniqueleader.com
http://www.facebook.com/UniqueLeaderRecords