California deathgrind/punk miscreants DEATHGRAVE have confirmed a special East Coast run of live dates with fellow grind freaks Skullshitter. From August 15th through August 18th, the band will rampage their way through Brooklyn, Baltimore, Pittsburgh, and Philadelphia. See all confirmed dates below.
DEATHGRAVE's So Real, It's Now debut was released last year via Tankcrimes. Hailed by Decibel for being a, "kaleidoscopic and engrossing mix of traditional brutality and audacious weirdness," the fourteen-track long player was recorded at Earhammer Studios in Oakland (Necrot, Autopsy) by guitarist/renowned sound engineer Greg Wilkinson (Brainoil, ex-Laudanum, ex-Graves At Sea).
So Real, It's Now is available on CD, vinyl, and digital formats. Digital orders are available at THIS LOCATION where the record can be streamed in its entirety. Place physical orders HERE.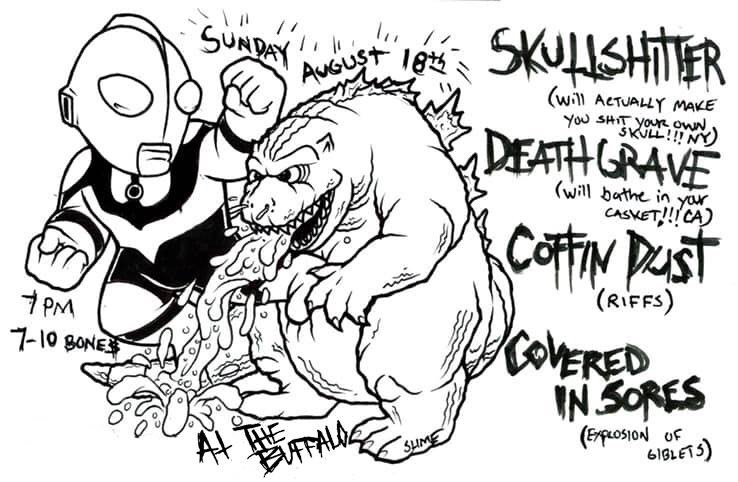 DEATHGRAVE w/ Skullshitter:
8/15/2019 Brooklyn Bazaar – Brooklyn, NY w/ Oldest
8/16/2019 Sidebar – Baltimore, MD w/ Afterbirth, Vomit Forth, Plague Bearer
8/17/2019 Rock Room – Pittsburgh, PA w/ Final Command, Plague Dogs
8/18/2019 The Buffalo – Philadelphia, PA w/ Coffin Dust, Covered In Sores
Spawned in 2013, DEATHGRAVE initially united as four friends with a simple need to play bleeding, belligerent, and pissed off grindcore, death metal, powerviolence, and punk grabbing elements from Siege, Rudimentary Peni, and Napalm Death, with an Impetigo twist. Comprised of longtime scene veterans, DEATHGRAVE is Wilkinson (Brainoil, ex-Laudanum, ex-Graves At Sea) alongside bassist Fern Alberts (Amber Asylum, ex-Bird, ex-Ringwurm), vocalist Andre Cornejo (Cyanic, ex-Bird, ex-Casket Blaster), and the newly-acquired Clint Baechle (Owl, Isotope, Hazzards Cure).
"…a kaleidoscopic and engrossing mix of traditional brutality and audacious weirdness, razor-sharp punk-infused deathgrind riffs and dissonant noise rock detours, high velocity jabs from an orthodox stance and crafty sucker punches you never see coming…" – Decibel
"Incorporating crust and never shying away from a slower doom break or a straight-up hardcore stomp, DEATHGRAVE's latest effort So Real, It's Now is definitely more unique than the legions of post-Assück or Napalm worship. The Autopsy influence looms large, as do names like Grief, Doom, Siege, Spazz, and much more across the under thirty minutes and fourteen-tracks." – Revolver
"…a wonderfully relentless slab of punky death grind that is as fun as it is furious" – Last Rites
"You can smell the bile, taste the puke, and love every second of it." – Metal Wanderlust
http://deathgrave.bandcamp.com
http://www.instagram.com/deathgrave408
http://www.tankcrimes.com
http://www.facebook.com/tankcrimes
http://www.twitter.com/tankcrimes