Following their support run with Necrot and Mortiferum last month, West Coast deathgrind practitioners DEATHGRAVE today announce a Pacific Northwest headlining tour. The six-date journey begins July 6th in Olympia, Washington and runs through July 11th in Sacramento, California.
Comments guitarist Greg Wilkinson, "Shoutout to Necrot and Mortiferum for a savage time in May. In July DEATHGRAVE will continue to rip through the fabric of time as we rampage It's Only Midnight in the great Pacific Northwest. We look forward to catching up with you freaks on the other side."
Tickets are on sale now. See all confirmed dates below.
DEATHGRAVE Live:
7/06/2023 Crypt Bar – Olympia, WA
7/07/2023 Lucky Liquor – Seattle, WA
7/08/2023 High Water Mark – Portland, OR
7/09/2023 Silvermoon Brewing – Bend, OR
7/10/2023 John Henry's – Eugene, OR
7/11/2023 Cafe Colonial – Sacramento, CA
DEATHGRAVE will be touring in support of their It's Only Midnight full-length, released in April via Tankcrimes. Comprised of longtime scene veterans, DEATHGRAVE is guitarist Greg Wilkinson (Autopsy, Brainoil, ex-Laudanum, ex-Graves At Sea), bassist Fern Alberts (Amber Asylum, ex-Bird, ex-Ringwurm), vocalist Andre Cornejo (ex-Cyanic, ex-Bird, ex-Casket Blaster), and drummer Clint Zane (Owl, Hazzards Cure, ex-Isotope) who joined the band in 2018.
It's Only Midnight is out now on CD, cassette, limited edition LP, and digital formats. Find CD orders HERE, cassette orders HERE, LP orders HERE, and digital orders HERE.
Watch the band's previously released video for "Your Rulers Are Here" HERE and "On All Fours" HERE.
Spawned in 2013, DEATHGRAVE began to weave its own breed of metal based out of San Jose, California. The band initially grabbed elements from many punk and metal bands like Siege, Rudimentary Peni, Napalm Death, Impetigo, Godflesh, and Zeni Geva as well as their own previous bands, and many others, yet their actual musical output never shared a similar sound to the aforementioned artists. Over the past ten years, the band has toured multiple regions throughout North America and kept busy recording. To date, DEATHGRAVE has released a demo, a Mexico tour cassette, four split 7″s, and a debut LP in 2018 which dragged them out from the depths of the underground and into the forefront of the Bay Area's grind/metal scene. It's Only Midnight is the second LP on Tankcrimes while marking the first release with their current drummer.
"…another warped collection of razor-sharp deathgrind tunes. DEATHGRAVE is its own bizarre, darkly funny thing entirely. It's great to have them back in our lives…" – Decibel Magazine
"…totally ruthless…" – BrooklynVegan
"It's Only Midnight is an absolute ripper." – No Clean Singing
"'Grinding death metal' is an accurate descriptor, but It's Only Midnight digs much deeper into weird progressive tendencies throughout that might make you question your sanity. So y'know, get ready to mosh while slowly descending into madness. It's fun." – Metal Injection
"It's Only Midnight reiterates the band signature amalgam of extreme deathgrind and punk sensibilities, loaded with a sick sense of humor." — Knotfest
"A stunning show of strength and flexibility without ever feeling overdone or phoned in, it perfectly combines the highs of the old-school progenitors and the madness of the new-school innovators, creating some foul, loathsome beast that is simply awesome. Your (new) rulers are here." – Distorted Sound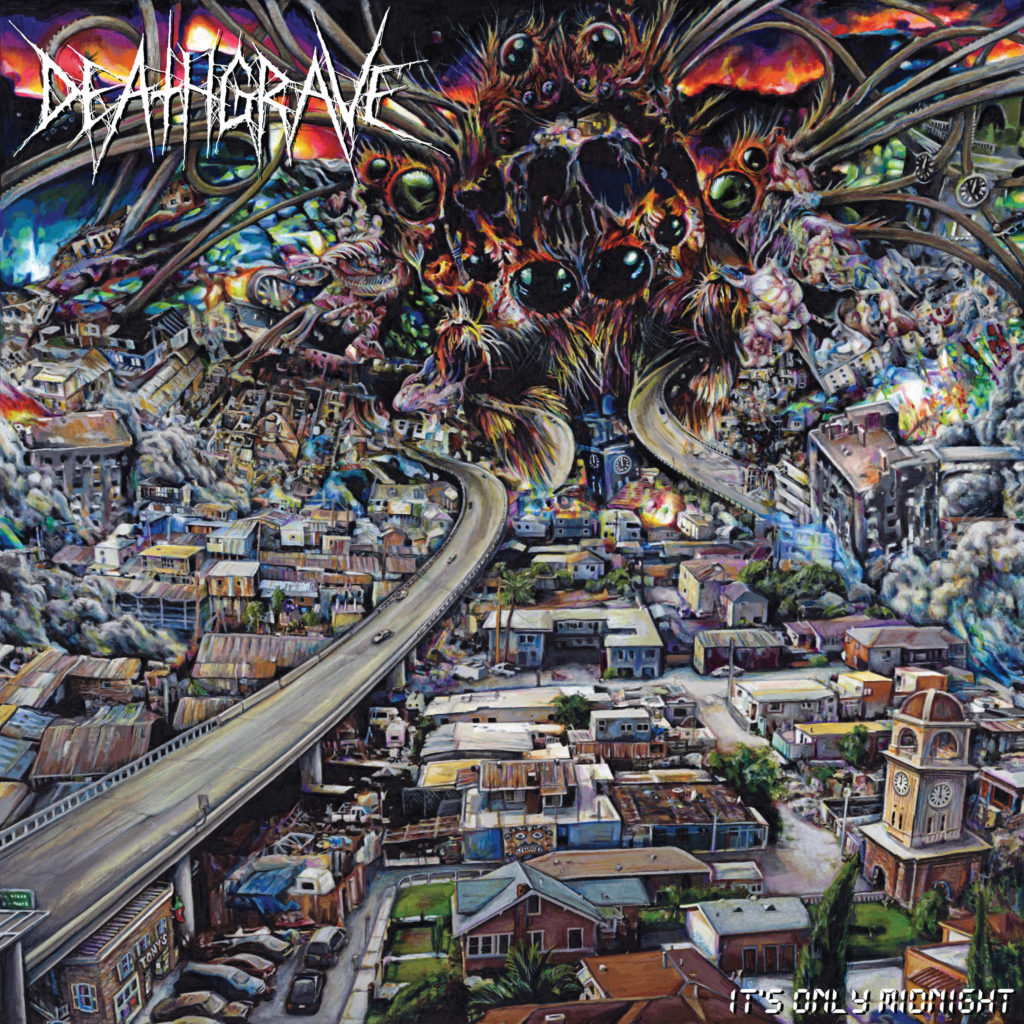 http://deathgrave.bandcamp.com
http://www.instagram.com/deathgrave408
http://www.tankcrimes.com
http://www.facebook.com/tankcrimes
http://twitter.com/tankcrimes
http://www.instagram.com/tankcrimes