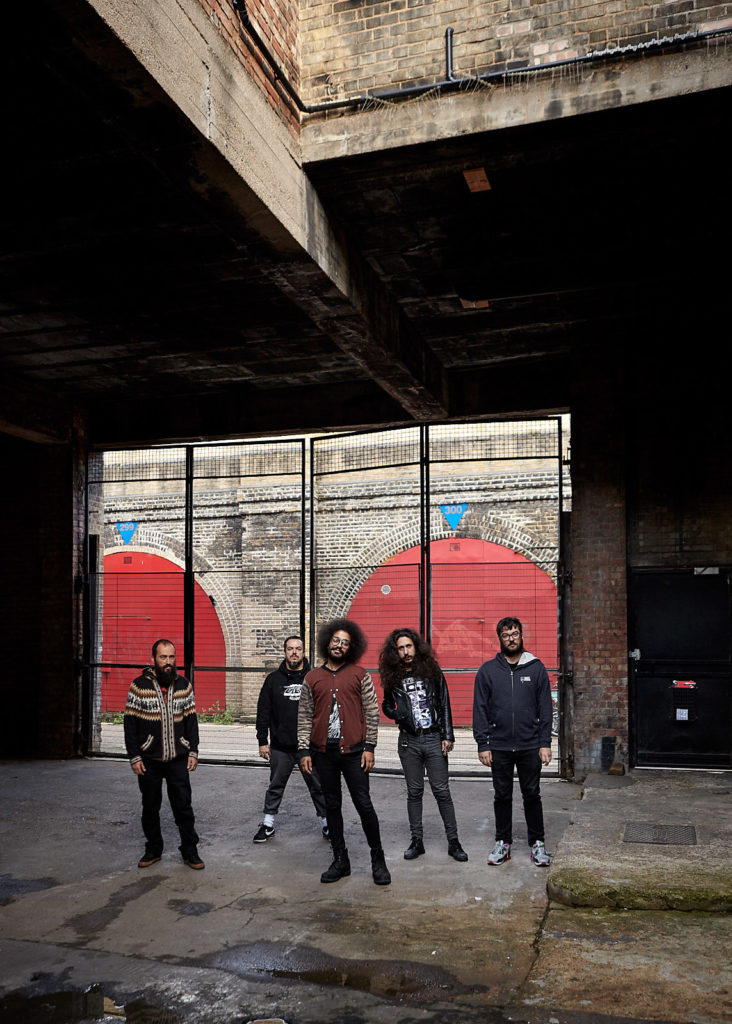 photo by Felipe Pagani
Deafbrick – the collaborative album between Brazil's DEAFKIDS and the UK's PETBRICK – will see release this Friday in North America through Neurot Recordings and in Europe via Rocket Recordings. With the LP about to erupt into the public domain, CVLT Nation is now hosting an advance stream of the entire album alongside an interview with both acts.
PETBRICK is the creation of Wayne Adams (Big Lad, Death Pedals) and Iggor Cavalera (Sepultura, Soulwax, Cavalera Conspiracy) and more. The band has released several EPs and albums through Closed Casket Activities, Rocket Recordings, and more over recent years, and they have toured and collaborated live with a variety of acts.
DEAFKIDS erupted into the international scene when Neurosis' Neurot Recordings signed them in 2016. Since then, the label has issued two albums from the trio, and they toured internationally including opening for Neurosis, Bell Witch, Big|Brave, and others across North America, and alongside Rakta, Petbrick, and others in Europe.
CVLT Nation writes in part of the album's intense and psychedelic attack, "DeafBrick is a unique aural experience and I'll give it to the guys: there's nothing quite like it on this planet. Their collaboration brings out the best in both bands and tends to temper any of their individual excesses. This is a focused, intelligent record of noise, industrial, metal, and punk. This is the most original album I've heard all year, but it is definitely not one of the most pleasant. There's an element here, one of deprogramming, or maybe it's programming, but you can feel your brain bleed in certain parts, like the band is issuing forth sounds that are breaking down mental barriers you never knew existed. This isn't dangerous, but it is singular, and once you allow yourself to delve into its depths, you won't come out the same person."
Listen to the entire DEAFKIDS & PETBRICK Deafbrick collab at CVLT Nation early RIGHT HERE.
Also see the previously issued videos for "Sweat-Drenched Wreck" HERE and "Força Bruta" HERE.
Deafbrick will see release on LP and digital platforms this Friday, September 4th. In North America, find preorders through Neurot Recordings HERE and HERE. In Europe find preorders through Rocket Recordings HERE. Preorders for all digital providers are available HERE.
The new decade is only several months old, and already the only certainty is that certainties have ceased to exist. Yet as we traverse through new and intimidating terrain unfamiliar a short while ago, two collaborators have come together to unwittingly create a record curiously suited to an intimidating and unpredictable new era. Deafbrick, the collaboration between Säo Paulo's sonic warriors DEAFKIDS and London's pulverizing duo PETBRICK is a veritable force against adversity, and less a polite meeting of minds than a fiery collision whose impact and incandescence extend beyond the horizon.
The project first came to light by way of a collaboration at Roadburn Festival, which was the result of the friendship between DEAFKIDS and PETBRICK's Iggor Cavalera, who had met the band in Brazil. The results run the gamut through a litany of uniformly invigorating audial landscape – this is an arena where DEAFKIDS' appetite for lysergic punk-damaged tumult and PETBRICK's ventures into dystopian synth-driven soundscapes can happily engage in gladiatorial contest. From the unearthly percussive clangor of "Hyperkinetic Mass Disordert" to the DHR-addled chaos of the paint-stripping "Mega-Ritual," every second of Deafbrick is infused with malevolent charisma and iconoclastic élan.
Yet perhaps the ultimate destructive moment of this particular demolition derby comes via a thrillingly monomaniacal take on Discharge's "Free Speech For The Dumb." Not that it necessarily met the approval of Discharge themselves, who make a cameo appearance on the song's outro. "I asked them to record some quotes saying how much they hated our version," laughs Iggor. "One of them even said that Metallica did a better job. That really freaked me out!" Metallica, it's fair to say objectively, does not do a better job.
https://www.facebook.com/petbrickband
https://petbrick.bandcamp.com
https://www.instagram.com/petbricknoise
https://www.facebook.com/deafkidspunx
https://deafkidspunx.bandcamp.com
https://www.instagram.com/deaf_kids
http://www.neurotrecordings.com
http://www.facebook.com/neurotrecordings
https://neurotrecordings.bandcamp.com
https://twitter.com/OfficialNeurot