photo by Nathanael Shannon
Killing Music, the official documentary on New Jersey's DEADGUY, released through Fourth Media earlier this year, will join the programming at premier streaming service Rewarded.tv this week.
The film will premiere this Wednesday, August 31st at 8pm EST. In conjunction with the premiere, the film's director, members of DEADGUY, and other folks who appear in the documentary will be gathered virtually in an online chat party which you're encouraged to attend.
Simply sign up for a free account at Rewarded.tv and join the DEADGUY melee!
Check out an in-depth interrogation with DEADGUY on the documentary, streaming premiere, and more at Lambgoat HERE, and see more on Killing Music at fourth.media and deadguykillingmusic.com.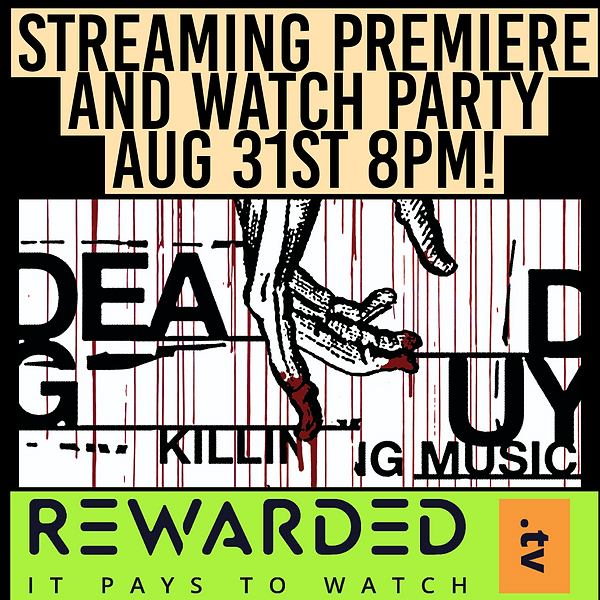 Additionally, physical editions of Killing Music will see release in the months ahead, with both Blu-ray and VHS formats in the works. Stand by for additional updates to post.
New York City-based video production company Fourth Media presents the award-winning Killing Music. This authorized documentary chronicles the much-hyped, occasionally well-liked, career of the band DEADGUY and their seminal hardcore album Fixation On A Coworker. Killing Music is a gritty and captivating documentary that retraces DEADGUY's every move, from the band's formation and early days, into their two albums and relentless touring, through their challenges and the disputes within its ranks which saw the band emerge with a new lineup before their first album would even see release, and eventual disintegration.
Featuring never before seen pictures and videos, unearthed live audio recordings, interviews with every member of the band's multiple lineups, a wide cast of industry peers such as Randy Blythe from Lamb Of God, Jacob Bannon from Converge, Ben Weinmann from The Dillinger Escape Plan, and much more, Killing Music also sees the Fixation On A Coworker lineup reuniting for the first time in more than two decades on camera, as the band prepared to play together for the first time since 1995.
https://www.fourth.media
http://facebook.com/fourthmedianyc
https://www.youtube.com/wcsivphoto
https://www.twitter.com/fourthmedianyc
https://www.instagram.com/fourthmedianyc