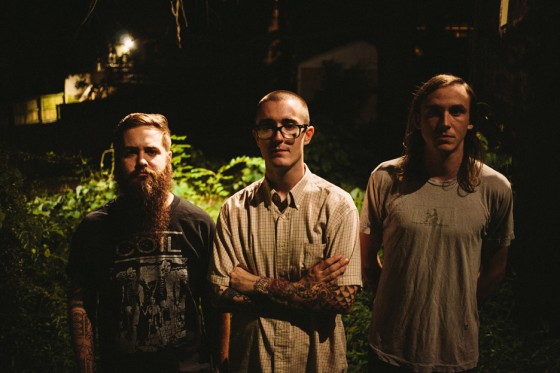 As DEAD IN THE DIRT'S scathing debut LP, The Blind Hole, nears release in less than a week via Southern Lord, today, the band discharges one of the album's most abrasive and violently discordant tracks.
The Blind Hole surges with DITD's downtuned, caustic riffs and pummeling blastbeats, and delivers their most morose and tonally oppressive material yet through twenty-two tracks in under twenty-four minutes. Though fueled by crushing distortion, the album boasts incredibly clear production values, recorded at Bricktop Recording Studio with Andy Nelson (Weekend Nachos) in Chicago this April, and mastered by Brad Boatright (Nails, All Pigs Must Die, Baptists, Sleep). The cover was illustrated by Bo Orr as with the band's Fear EP. Listen to the track "No Chain" via Metal Hammer for further proof that the band can and will crush everything in their path with their devastatingly heavy crust attack.
Stream "No Chain" at Metal Hammer RIGHT HERE.
Also inundate yourself with "The Pit Of Me" at Pitchfork HERE and "The Blaring Eye" at Lambgoat HERE.
DEAD IN THE DIRT has confirmed several waves of touring in support of The Blind Hole, with a trek through the southern and western regions of America to consume the first three weeks of August — including a performance at The Power Of The Riff with The Obsessed, Final Conflict, From Ashes Rise, Black Breath, M.D.C., Iceburn, Bastard Noise and more — followed by a nearly three-week Midwest/West Coast tour with Homewrecker and Harm's Way in September. A full-on European tour for the Fall season is to be announced shortly, in addition to more live actions for the remainder of 2013.
DEAD IN THE DIRT Headlining Tour:
8/01/2013 Crosstown Arts – Memphis, TN
8/02/2013 Bad Grannies – Oklahoma City, OK
8/03/2013 The Gas Works – Albuquerque, NM
8/04/2013 Cottage House – Flagstaff, AZ
8/05/2013 TBA – Las Vegas, NV
8/06/2013 Munoz Gym – Bakersfield, CA
8/07/2013 TBA – Sacramento, CA
8/09/2013 Filipino Community Center – San Jose, CA
8/10/2013 Echoplex – Los Angeles, CA @ The Power Of The Riff
8/11/2013 Che Cafe – San Diego, CA
8/12/2013 Bridgetown, La Puente, CA
8/13/2013 The Shitty Pot – Phoenix, AZ
8/14/2013 Tiny Town – Tucson, AZ
8/15/2013 TBA – El Paso, TX
8/16/2013 1011 – San Antonio, TX
8/17/2013 Rubber Gloves – Denton, TX
8/18/2013 Rampage Skatepark – Jackson, MS
DEAD IN THE DIRT w/ Homewrecker, Harm's Way:
9/10/2013 TBA – Nashville, TN
9/11/2013 The Demo – St. Louis, MO
9/12/2013 Billards blue Room – Springfield, MO
9/13/2013 Sons of Hermann Hall – Dallas, TX
9/14/2013 Mango's Cafe – Houston, TX
9/15/2013 The Korova – San Antonio, TX
9/16/2013 The War Room – El Paso, TX
9/17/2013 The Studio – Tucson, AZ
9/18/2013 The Blacklist – Tempe, AZ
9/19/2013 Che Cafe – San Diego, CA
9/20/2013 Aladdin Jr. – Pomona, CA
9/21/2013 Oakland Metro – Oakland, CA
9/22/2013 RBU – Davis, CA
9/23/2013 Ft. Ryland – Reno, NV
9/24/2013 The Salt Haus – Salt Lake City, UT
9/25/2013 The Office Space – Denver, CO
9/26/2013 Kirby's – Wichita, KS
9/27/2013 Greenwood Studios – Conway, AR
http://www.deadinthedirt.bandcamp.com
http://deadinthedirt.bigcartel.com
http://www.southernlord.com
https://www.facebook.com/SLadmin
http://twitter.com/twatterlord