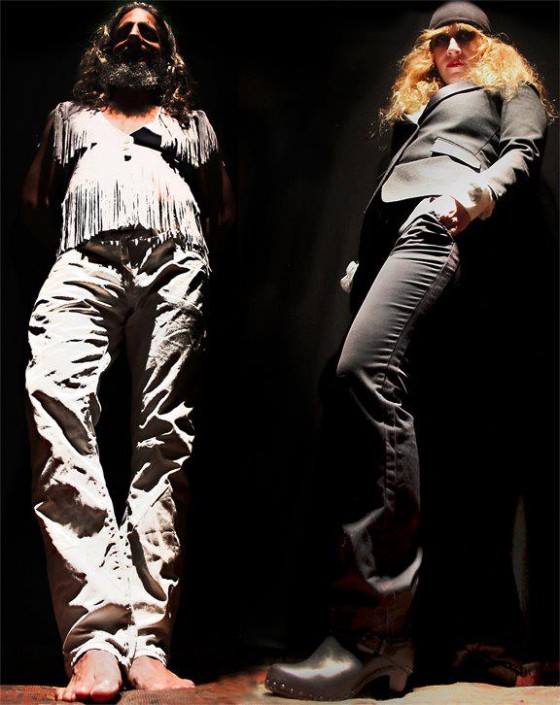 Baltimore-based audio/visual duo DARSOMBRA will proudly play a free show in their hometown this Saturday, August 24th, in full gratitude to their local scene for helping them recover a huge arsenal of stolen equipment!
Following a recent break-in burglary of the DARSOMBRA abode — the thieves getting away with seemingly irreplaceable guitars, computers, amps, visual equipment and more — the word made it to the proper parties in time and citizens/musicians/friends of the band helped track down and recover nearly all of the lost gear! In their recent band newsletter the members simply stated: "Watch out, world!!! This show is FREE because WE LOVE YOU and wanna say THANK YOU for all the love we received after our home was burglarized. So come on out and let us say it in person:" If you're in the area, please come celebrate the duo celebrate and give thanks. The duo will perform at Windup Space and will be joined by friends Yeveto, Height, The Immortal Jellyfish and Carly Ptak "and the band documentary for The Human Host Movie.
DARSOMBRA Baltimore Gratitude Free Show:
8/24/2013 Windup Space – Baltimore, MD
DARSOMBRA is planning to tour the entire country on their most intense stateside tour ever in the Spring of 2014; fans are encouraged to contact the band if you want them to come to your town on this widespread trek. Stay tuned for more band updates over the coming months.
Following releases on At A Loss, Public Guilt, Underradar and others, DARSOMBRA signed with Exile On Mainstream for the release of Climax Community. The three tracks on the LP traversing forty-five minutes of the outfit's unique, slow-building, organic transcendental rock. Brian Daniloski, a veteran of heavier, sludgier, grittier rock bands such as Meatjack and Trephine, controls the sound of DARSOMBRA, alternating between mammoth vocal swells and soundscapes and searing guitar riffs, leads, loops, and samples, combining elements of metal, psychedelic rock, experimental/drone, prog and krautrock. But there is more than just Daniloski's sonic world at play here as video artist Ann Everton takes his work to the next level by bringing her DARSOMBRA-induced visions to the stage through her kinetic psychotropic video projections, creating a constantly shifting backdrop to Daniloski's live performances.
Decibel Magazine is streaming Climax Community in its entirety AT THIS LOCATION.
"The larger movements of the songs rub against each other with tectonic weight, while subtler elements attack, defeat and consume. Strange and lovely, Climax Community speaks in the language of animal instinct." – Exclaim!
"DARSOMBRA will remain, at this point, a cult oddity for psych freaks, drone junkies and art moguls, but Brian Daniloski has written his most intriguing and entertaining album under this moniker…" 8/10″ – Blabbermouth
"Much like a work of fine art, little to no commentary is given leaving the observer to interpret the work as they wish. By the same token, the listener may also choose to switch off the cerebral and absorb the music at the most basic level." – Ghost Cult
"It's a clever, dense and hypnotic release that demonstrates that there's still plenty of exploration to be done in experimental and psychedelic music." – OneMetal
http://www.facebook.com/darsombra
http://darsombra.com
http://www.mainstreamrecords.de