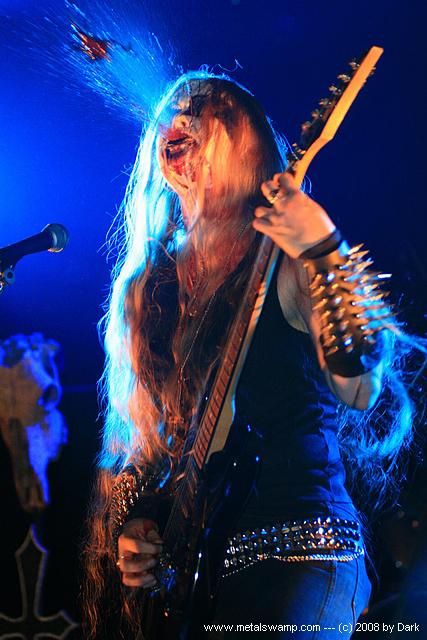 Subterranean German black metal legion DARKENED NOCTURN SLAUGHTERCULT will land on US soil for the first time ever later this week to perform three rare and special shows alongside Inquisition and Ritual Combat (among others). Titled The Anthems Of Pestilence & Death mini tour 2010, the band plan to condemn venues in San Francisco, Compton and Brooklyn before heading home, where they will plot their next bouts of onstage chaos. View tour fliers here: http://tinyurl.com/23nfb6c
DARKENED NOCTURN SLAUGHTERCULT: Anthems Of Pestilence & Death 2010:
**5/21/2010 Sub Mission – San Francisco, CA w/ Ritual Combat, Spiculum Iratus, Altar Of Extinction and Pandiscordian…
http://www.localendar.com/public/submission
**5/22/10 Oasis Club – Compton, CA w/ Inquisition, Ritual Combat, Spiculum Iratus and more…
**5/23/2010 Europa – Brooklyn, NY w/ Inquisition, Dimentianon and Agrath
http://www.europaclub.com
DARKENED NOCTURN SLAUGHTERCULT was spawned over a decade ago and after four infernal full-lengths — their most recent, the venomous Saldorian Spell, was unleashed last year via War Anthem Records — wish to levy their blasphemy upon unsuspecting shores. You are encouraged to succumb to the summoning.
DARKENED NOCTURN SLAUGHTERCULT is:
Onielar – Vocals, Guitar
Velnias – Guitar
Horrn – Drums
Adversarius – Bass
http://www.slaughtercult.de
http://www.myspace.com/dnsofficial
http://www.war-anthem.de