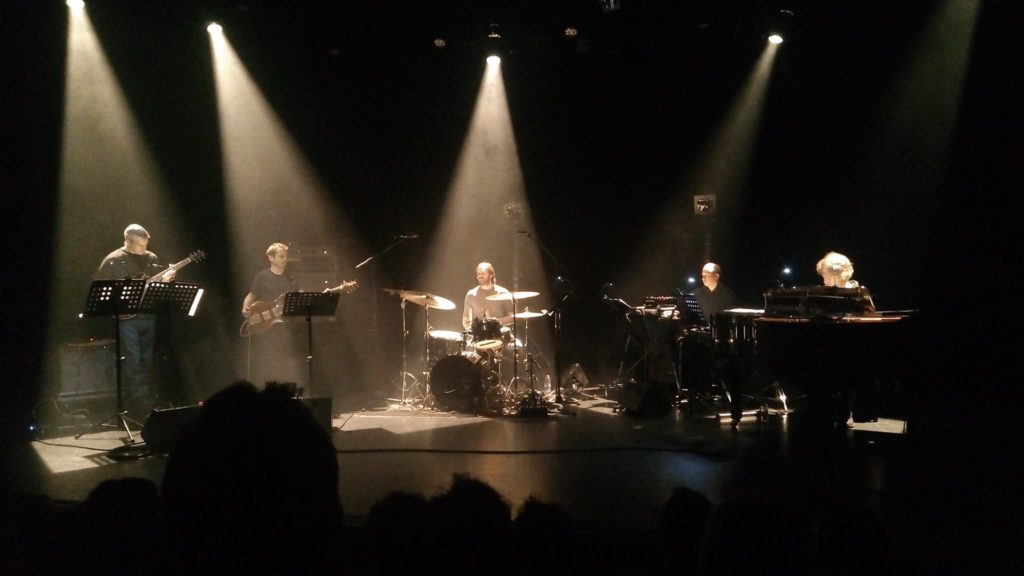 photo by Remi Angeli
Tomorrow, New York City-based drummer DAN WEISS and his all-star STAREBABY lineup will release their second album, Natural Selection, through jazz label Pi Recordings. The collective sees DAN WEISS joined by Ben Monder on guitar, Trevor Dunn (Mr. Bungle, Fantômas) on bass, and both Matt Mitchell and Craig Taborn on keyboards, pianos, and electronics. WBGO has unveiled the new single "Head Wreck" through an exclusive premiere on the eve of Natural Selection's release.
Natural Selection is the highly anticipated follow-up to drummer composer DAN WEISS's 2018 release Starebaby. Along with WEISS, the rest of the collective – who all return from the first album – is made up of a dream-team of musicians who share a love for heavy metal and whose playing is unbound by genre. The intriguing and intense album has been expertly captured by veteran recording engineer Ron Saint Germain (Soundgarden, Living Colour, Bad Brains, Sonic Youth) and mastered by Joe Gastwirt.
WBGO writes, "'Set atop a latticework of loopy polyrhythm, which WEISS articulates right away, the tune quickly brings in a bone-crushing power chord. The keyboardists establish a jagged interval series, and later an ostinato that feels lifted from a horror movie. Every moment in the track, including Monder's doomy interlude around the six-minute mark, feels informed by live experience. This is a band that worked to find its balance, and then kept working."
Stream DAN WEISS STAREBABY's "Head Wreck" early only through WBGO RIGHT HERE.
Pi Recordings will release Natural Selection on CD and through all digital providers this Friday, September 18th. Find preorders at the label webshop HERE and Bandcamp HERE.
Watch for an official video from Natural Selection and more to see release in the coming weeks.
The recording of Natural Selection came fast at the end of a run of performances for the band – also named STAREBABY – which helped further cement the group's unique sound. It's staggering to contemplate the wide-ranging ability of these musicians from bone-crunching power to pensive reflection; exacting hits to improvised texture; faith to the compositions and manic improvisation. Each of these musicians is a leader in his own right; their 2019 releases evidence the sheer scope of their individual talents Dunn, a member of Mr. Bungle, Fantômas, Melvins, and Secret Chiefs 3, released his album Nocturnes, which features his compositions for string quartet, piano and bass. Monder, who plays on David Bowie's Blackstar, put out the dreamy Day After Day, for solo guitar and trio. Taborn collaborated with pianist Vijay Iyer on The Transitory Poems, an album of piano duos. Mitchell's Phalanx Ambassadors features his usual synapse-exploding, intricately detailed work, this time for guitar, vibraphone, bass and drums. WEISS himself released the more jazz-oriented Utica Box, featuring his long-running trio with pianist Jacob Sacks, bassist Thomas Morgan, with the addition of bassist Eivind Opsvik. The success of Natural Selection would not be possible without these particular musicians, with their wide-ranging, all-embracing love of music and ability to execute everything that WEISS throws at them with conviction.
http://www.danweiss.net
https://www.instagram.com/danwdrums
http://www.facebook.com/dan.weiss.9803
http://www.twitter.com/danweissdrum
https://pirecordings.com
https://pirecordings.bandcamp.com
https://www.twitter.com/pirecordings
https://www.facebook.com/pirecordings
https://www.instagram.com/pi.recordings