[photo by Stephanie Ahn-Weiss]
New York City-based drummer DAN WEISS will release his latest full-length album, Starebaby, April 6th through acclaimed jazz label Pi Recordings.
Encompassing elements of improv jazz, avant rock, technical metal, and suspenseful soundtrack auras, the album lineup features accomplished musicians from across the jazz and metal circuits joining DAN WEISS, including Matt Mitchell, Craig Taborn, Ben Monder, and Trevor Dunn (Mr. Bungle, Fantômas, Tomahawk, Secret Chiefs 3). Starebaby was recorded at Systems Two Recording Studio, Brooklyn, New York by Ron Saint Germain, mixed at Saint's Place, Kinnelon, New Jersey, also by Germain, and mastered at Masterdisk, Peekskill, New York by Scott Hull.
Pi Recordings will release Starebaby on LP, CD, and digital formats on April 6th; stand by for additional audio samples, preorders links, and more in the weeks ahead.
See the trailer for DAN WEISS's Starebaby LP HERE.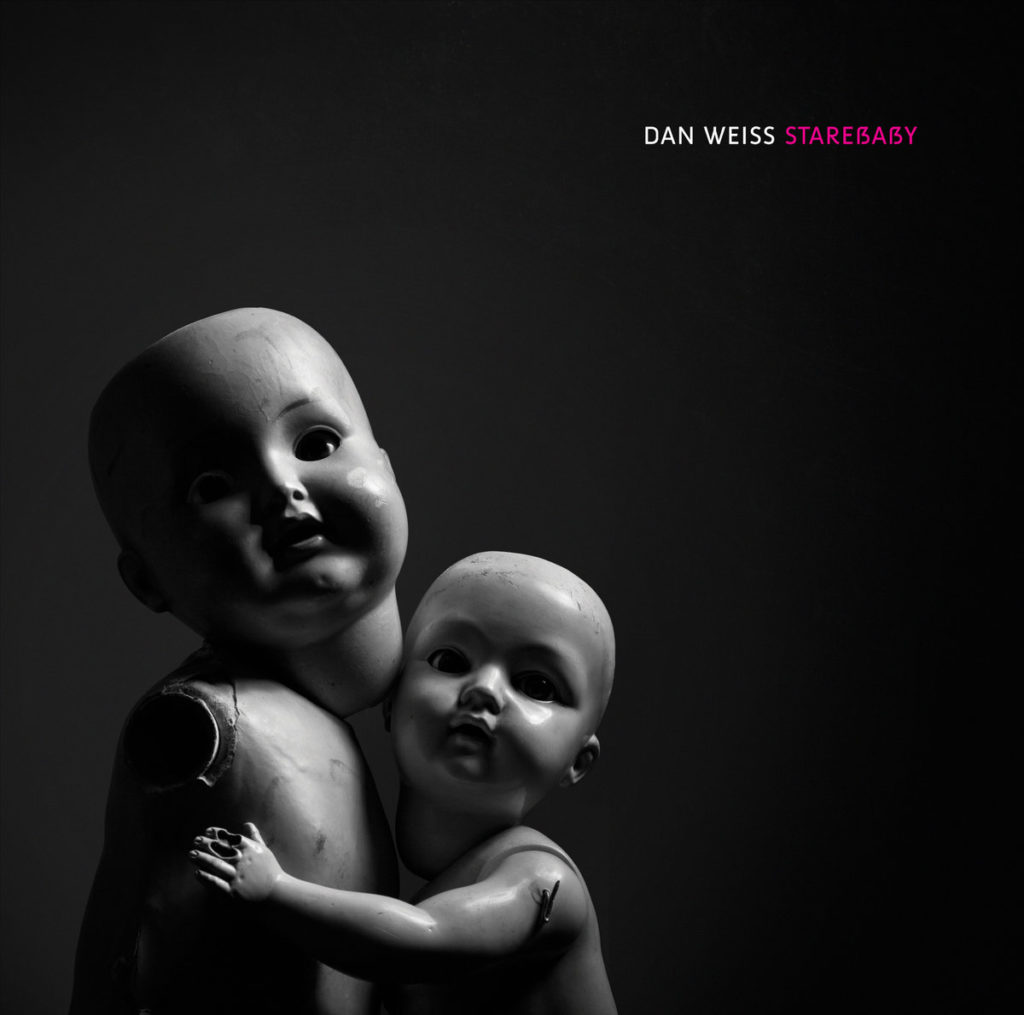 Starebaby Track Listing:
1. A Puncher's Chance
2. Depredation
3. Annica
4. Badalamenti
5. Cry Box
6. The Memory of My Memory
7. Veiled
8. Episode 8
DAN WEISS has booked a special New York release show for Starebaby at Nublu 151 on April 1st, where the full LP recording lineup will perform tracks from the album. Support will be provided by the guitar duo of Mick Barr (Orthrelm, Krallice) and Brandon Seabrook (Needle Driver).
DAN WEISS Starebaby Record Release Show:
4/01/2018 Nublu 151 – New York, NY w/ Mick Barr & Brandon Seabrook Guitar Duo [info]
Starebaby is the upshot of drummer/composer DAN WEISS's long-running dream to bring together some of the most accomplished players on the jazz scene to play music that combines the improvisation nature of that music with the power of heavy metal and electronic new music. One of the most in-demand drummers in jazz, Weiss performs with such disparate artists as Rudresh Mahanthappa, Chris Potter, John Zorn, and Jen Shyu, evidence of the breadth of his artistry. As with his two critically-acclaimed previous releases — Fourteen, which was named one of the best releases of 2014 by The New York Times, and Sixteen: Drummers Suite — Starebaby is a decidedly original work that is largely without precedence, reflecting the power of conviction coming from a single, brimming wellspring.
WEISS has wanted to put this particular project together for over a decade. As with his prior output, it reflects his catholic taste in music, where jazz improvisation, doom metal, electro-acoustic music, Indian beat cycles, and innumerable other influences are all compounded into an outpouring of personal expression completely beyond musical boundaries. Starebaby, though, definitely tilts towards the heavy, and WEISS, in particular, cites as influences metal bands such as Meshuggah, Burning Witch, High On Fire, Gorguts, early Metallica, Wormed, and Confessor; electronic and electro acoustic composers such as Karlheinz Stockhausen, Bernard Parmegiani, and Luc Ferrari; and every type of jazz ranging from Sidney Bechet to Threadgill. It is also inspired by Season 3 of the television show Twin Peaks, whose surreal, ominous emotional landscape helped shape the overall feel of this music. The music ebbs and flows, surging to thundering swells of foreboding doom before tempering to quiet reflection, finding a deep space where brutal aggression meets ghostly vulnerability. The expansive soundscape ranges from fortissimo to pianissimo, grave to presto, and dense, roiling dissonance to exquisite, pellucid melodies.
The lineup of Craig Taborn and Matt Mitchell on keyboards, piano, and electronics, Ben Monder on guitar, and Trevor Dunn on bass, along with WEISS – some of the heaviest hitters in the jazz/improvised music scene – share a love for heavy metal. It's an astonishment to hear them play in this distinctly different setting, but perhaps the absolute authority they display should not be a complete surprise. WEISS played with the doom metal band Bloody Panda a dozen years ago and Dunn was a member of the experimental rock bands Mr. Bungle and Fantômas with Faith No More singer Mike Patton, as well as Secret Chiefs 3, his own ensemble Trevor Dunn's Trio-Convulsant, and more. Weiss's thundering gestures and Dunn's shuddering, sludgy bass serve as the backbone of this music. Mitchell and Taborn are well known for their adroit experimentation on electronics, and they deliver to the music a huge variety of swirling textures and color. Monder's own music usually tilts toward the spacious, so it's somewhat of a surprise to hear him outright shredding with overdriven distortion. Together, they perform this music with complete conviction, melding meticulous precision, prodigious power, and masterful improvisation.
According to Matt Mitchell, "One thing I admire about Dan's composing it's how he manages to transcend stylistic issues. Although heavy music is undoubtedly the primary inspiration for this batch of material, I notice here many updated examples of forms that I associate with Dan's composing: strong, direct melodies; long cycles allowing for building towards ecstatic climaxes; multiple instruments asymmetrically orbiting each other. Unique to this project is the combination of a very strong and distinctive compositional voice and extensive contribution from each of the musicians. Although this is Dan's music through-and-through in a very specific way, he asked for a lot of input, especially regarding timbre, and he provided many novel spaces in which to improvise or act as a sonic free agent. All these qualities taken together result in an extremely powerful and multifarious musical message, one in which it is a privilege to take part."
The New York Times called WEISS's prior album Sixteen: Drummers Suite, "Supremely creative… remarkable…", and Dusted offered, "Unpredictable and heady, and viscerally direct, this is an album that celebrates and manifests musical abundance." Jazz Times published, "A suite of dazzling sweep and kaleidoscopic detail, uncompromising in its adherence to a creative vision. Which is another way of saying that it's a totally bonkers listening experience." All About Jazz noted, "The compositions are both powerful and fantastical and the sixteen musicians persistently take advantage of the potential in these unique creations." Bird Is The Worm dubbed the album, "A work this wildly experimental that is also friendly and approachable, that's something pretty damn special," and Free Jazz Collective praised, "Dazzling interplays often between instruments you'd never typically match up."
DAN WEISS Starebaby lineup:
Matt Mitchell – piano, Prophet-6, modular synthesizers
Craig Taborn – piano, Fender Rhodes, synthesizers
Ben Monder – guitars
Trevor Dunn – electric bass
Dan Weiss – drums, compositions
http://www.danweiss.net
http://www.facebook.com/dan.weiss.9803
http://www.twitter.com/danweissdrum
https://pirecordings.com
https://www.twitter.com/pirecordings
https://www.facebook.com/pirecordings
https://www.instagram.com/pi.recordings