SUICIDAL TENDENCIES frontman Mike Muir was recently interviewed on Headbangers Ball following the band's set last week at the Starland Ballroom in Sayerville, New Jersey. Check out the killer interview by Jose Mangin.
In related news, the original Cyco takes us on a journey into his world with the upcoming release of CYCO MIKO's The Mad Mad Muir Musical Tour. The album features new tracks from CYCO MIKO, as well as previously unreleased INFECTIOUS GROOVES tunes and includes appearances by Robert Trujillo (now with Metallica), Fletcher Dragge (Pennywise) and Brooks Wackerman. The Mad Mad Muir Musical Tour will be released in North America on October 11, 2011 by Suicidal Records via Fontana Distribution.
Pre-Order The Mad Mad Muir Musical Tour from Newbury Comics and get a limited autographed CD booklet with your purchase. For more info, go to THIS LOCATION.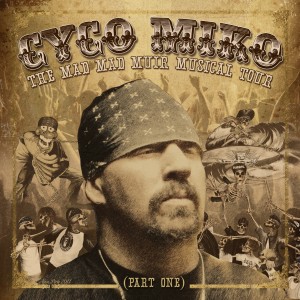 Mike Muir is be available for phone interviews now via request; contact Earsplit for details.