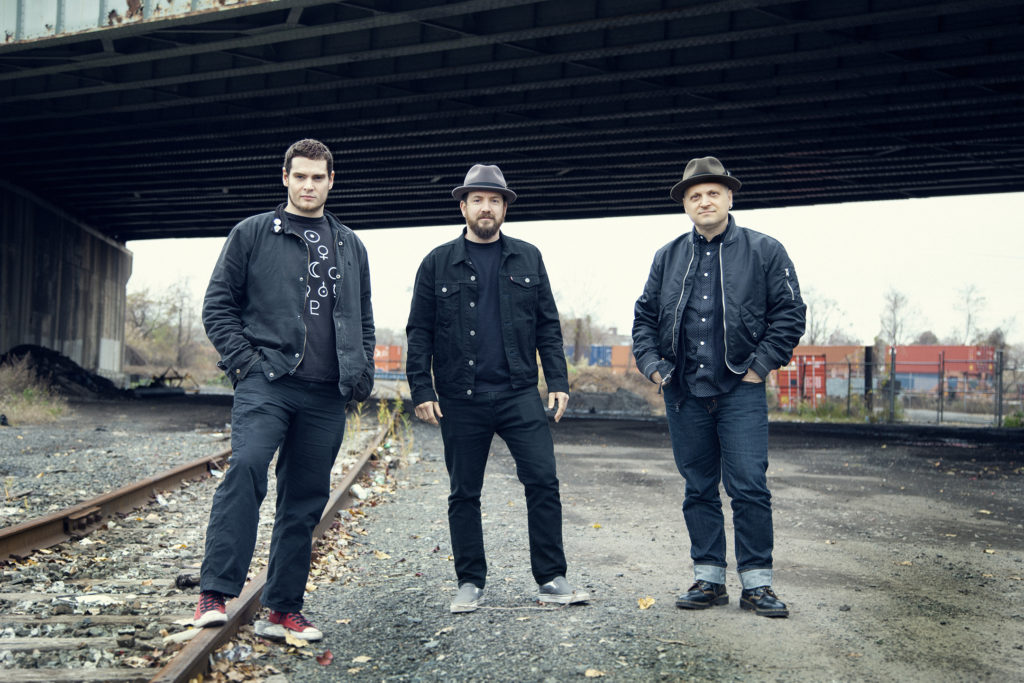 [photo by Sumner Dilworth]
"A fuzzed-out nod to the punk frays of an early '90s flannel rock outfit. With tasteful melodic hooks adding a bit of Brit pop sensibility these men bring gritty authenticity to driving rock n roll." – Davey Havok, AFI
As New Jersey melodic punk rock trio CYCLONE STATIC prepares for the release of their debut full-length album, From Scratch, through Mint 400 Records in February, the new single, "Walk This Line," has been publicly introduced through PopMatters. Preorders for the digital album go live tomorrow, as the band begins to announce new shows in support of the impending album.
CYCLONE STATIC's From Scratch is a slick, dynamic release that brings each of the band's best traits to the spotlight, infusing bold hooks and instantly infectious melodies through ten songs, delivering thirty-eight minutes of high-quality melodious punk.
PopMatters is now streaming the album's new single, "Walk This Line," noting of the track, "The punk energy is unrelenting across the tune's three-and-a-half minutes, a salvo of relentless punk attitude that bridges the gap between punk's rawest, early days and its culmination as a mainstream force in the 1990s. Along the way the outfit's dedication to DIY ethos remains unwavering."
Guitarist/vocalist James Salerno offers, "'Walk This Line' is basically a story about commitment. When you come to a point in a relationship when you will do anything for that other person."
Stream CYCLONE STATIC's "Walk This Line" at PopMatters RIGHT HERE.
From Scratch will see digital release through Mint 400 Records on February 8th, with a vinyl pressing to follow; stream the album's prior single and title track via iTunes HERE where digital preorders post tomorrow, as well as through all other digital providers.
CYCLONE STATIC is booking new shows advancing the album's release, including a set in New Hope, Pennsylvania December 21st, a record release show in Jersey City, New Jersey on February 8th, and a spot supporting the legendary Agent Orange in Philadelphia on February 22nd. Additional details on the record release shows and more supporting From Scratch will be announced in the weeks ahead.
CYCLONE STATIC Live:
12/21/2018 John And Peters – New Hope, PA w/ Kid Is Qual, Trew, Alright Jr., Tango Machina [info]
2/08/2019 FM – Jersey City, NJ *From Scratch record release show w/ guests TBA
2/22/2019 Kung Fu Necktie – Philadelphia, PA w/ Agent Orange, The Atom Age [info]
Based out of Northern New Jersey in the New York City area, CYCLONE STATIC draws from and refines their best influences, merging elements of late-'70s-punk, mid-'80s hardcore, and early-'90s alternative rock into raw, uninhibited music that captures their independent spirit and DIY ethos. The album was recorded at Forest Of Chaos in Hawthorne, New Jersey by Neil Sabatino who also engineered and co-produced it and who also owns Mint 400 Records, the label releasing the record. From Scratch was mixed and mastered by Stuart Richardson (The Lost Prophets, No Devotion) at Rocky Water Studios, and its psychedelic Kozic-style cover art was created by Orion Landau of Relapse Records who has designed artwork for countless bands.
Additionally, drummer Jonathan LeVine is a well-known curator, and art gallery owner in the NYC area with connections running deep into the regional punk, hardcore, and fanzine realms of the tri-state area. His gallery sells and has worked with many notable artists in the underground worlds of Pop Surrealism and Street Art including Shepard Fairey, Gary Baseman, Shag, and many others. See more HERE.
"CYCLONE STATIC is an anomaly in modern music: a new band that throws us back in time at first listen. There's something in CYCLONE STATIC's sound that's evocative of a simpler time. Not just to a time of punk rock on the radio but a whole lost New Jersey paradise: Asbury Park before the renaissance, radios cranking out surf guitars and sandy, beach-blown harmonies, through empty lots full of downed power lines and bombed-out buildings." – Geoff Rickly, Thursday
https://www.facebook.com/cylonestatic
https://www.instagram.com/cyclonestatic
https://cyclonestatic.bandcamp.com/releases
http://www.mint400records.com