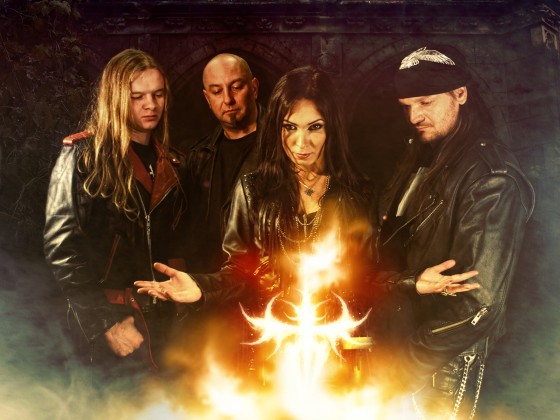 One of Poland's top contemporary traditional metal acts, CRYSTAL VIPER, are prepared to release Crimen Excepta on April 24th via AFM Records, their fourth full-length album to date.
Welcome to the world of CRYSTAL VIPER: a world full of Flying Vs, tube amps, leather and chains. The band's powerful old-school sound runs deep with influences hailing from Mercyful Fate, Warlock and Iron Maiden, yet with a dark thrash edge born of Nifelheim persuasion at times, all fueled by frontwoman Marta Gabriel, her commanding vocals akin to Chastain's Leather Leone with a touch of Doro Pesch.
The follow-up to 2010's acclaimed Legends full-length, Crimen Excepta is a concept album about holy inquisition, black magic and witches, where fiction mixes with historical facts. Recorded with producer Bart Gabriel (Jack Starr's Burning Starr, Sacred Steel, Mortician), Crimen Excepta is inarguably CRYSTAL VIPER's darkest and most aggressive material to date. Bringing more of their personal black and death metal influences to the table, even bringing in guest members such as Hell vocalist David Bower who appears on the album's title track, as well as Vader's Piotr "Peter" Wiwczarek to record a cover of the Vader classic "Tyrants Of Hell" for a bonus track to the album. Additionally, CRYSTAL VIPER recorded "Ghosts Of Sherwood" — a theme song for the forthcoming 3D cinema horror movie Robin Hood: Ghosts Of Sherwood — which also appears as a bonus track to the album.
As with previous CRYSTAL VIPER works, the cover art for Crimen Excepta was painted by legendary French artist Chris Moyen, known from his cooperation with acts such as Slayer, Trivium, Beherit, Blasphemy and more. View the cover art, a trailer for the new album to hear the opening track from the album, "Witch's Mark," right here:
CRYSTAL VIPER Witch's Mark by crystalviperofficial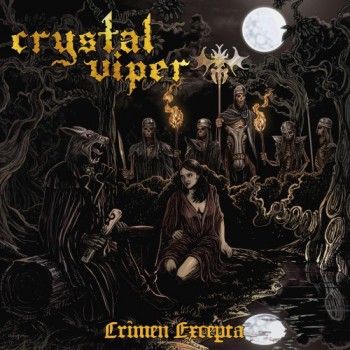 Crimen Excepta Track Listing:
1. Witch's Mark
2. Intro 1
3. Child Of The Flame
4. Intro 2
5. It's Your Omen
6. Intro 3
7. Crimen Excepta
8. Intro 4
9. Medicus Animarum
10. Intro 5
11. The Spell Of Death
12. Intro 6
13. Hope Is Gone, Here's New Law
14. Intro 7
15. Fire Be My Gates
16. Intro 8
17. Tyrani Piekiel
18. Ghosts Of Sherwood
CRYSTAL VIPER lineup:
Marta Gabriel – vocals, guitars
Andy Wave – guitars
Tom Woryna – bass
Golem – drums
http://www.crystalviper.com
https://www.facebook.com/crystalviperofficial
http://www.afm-records.de
https://www.facebook.com/afmrecords