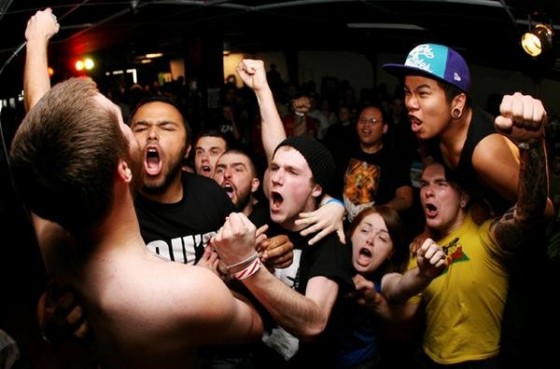 Get This Right Records is honored to announce the upcoming release of the final recordings from defunct hardcore/thrash outfit, CRUCIFIED, late this Summer.
CRUCIFIED was a short-lived outfit from the Bay Area. Their volatile, energetic delivery of classic NYHC foundation jacked-up with pummeling metallic thrash influence and infectious pick-up parts saw the band make an instant impact on the hardcore scene. In 2008 they recorded their first four-song demo which was later released as a split with California's No Truce on Escapist Records. After playing all over the West Coast and releasing another split with Steel Nation in 2009 on Double Or Nothing Records, their 2010-released Coldest Winter LP was released on the same label, upon which the band toured the United States and parts of Canada that Summer.
In May of 2011, CRUCIFIED entered the studio for one last session, where they recorded four new tracks, set to see release as the Dead Of Sleep EP, yet just after completing the process, the band decided to call it a day. Now, three years after their demise, these final four anthems will be available for the first time. Recorded, engineered, mixed and mastered by Jack Shirley at The Atomic Garden Studios in Palo Alto, California, this concise and ferocious EP perfectly displays CRUCIFIED's slick and lethal style to both previous fans and new, and is a testament of their brief but relevant lifespan as a band. Former CRUCIFIED member Colin Hayes played guitar from the band's inception until the end of 2010 and was replaced by original member Aaron Bates, who is featured on the 2008 demo/split and the Dead Of Sleep EP, with vocalist Nick Rockwell, guitarist Phil Trimbur, bassist Clark Todd, and drummer Joey Raygoza completing the lineup. Fans of Ringworm, All Out War, Catharsis, Gehenna and Merauder should stay informed…
The Dead Of Sleep 7″ will see vinyl and digital release on September 9th, 2014 via Get This Right Records. The first pressing of the 7″ will have a screened cover in a run of 125 copies; 62 on clear with grey smoke and 63 white with grey smoke. Stand by for additional info on the EP in the coming days.
Dead Of Sleep Track Listing:
1. Dead Of Sleep
2. Conduit
3. Unworthy
4. Apathy
https://www.facebook.com/pages/CRUCIFIED/330528834293
https://www.facebook.com/gtrrecords
http://getthisrightrecords.bandcamp.com
http://www.coldcutsmerch.com/gtrr