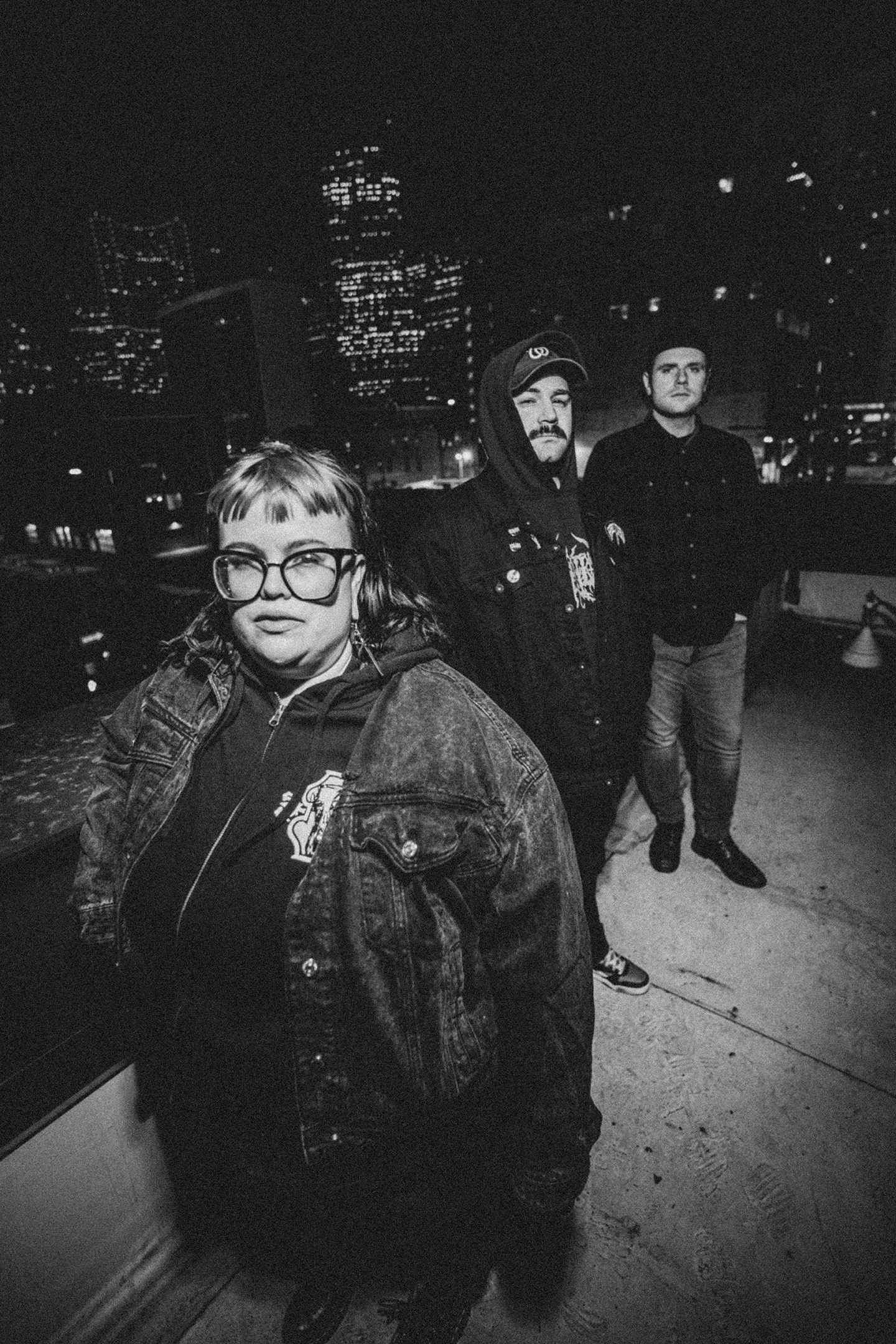 photo by Julius Garrido
Underground extreme music label Caligari Records presents Malicious Regression, the new EP from Denver death/doom metal trio, CRONOS COMPULSION, announcing the record's details ahead of its May release date, including the lead single.
CRONOS COMPULSION was formed in Denver in October 2021 by drummer/synth player Jon Linksey and guitarist/vocalist Wil Wilson who were subsequently joined by bassist/backing vocalist Addison Herron-Wheeler following a one-off live performance. That year saw the release of their Reject Humanity demo, followed by their debut EP, Cursed And Decaying, released through Caligari Records. 2022 saw the band performing regularly in their hometown and regionally, including playing at Decibel Magazine's Denver Metal & Beer pre-fest, as well as touring the West Coast and Southwest, and saw the release of a split with hometown act SOTSWOTW on Alchemical Annihilation Records.
Having since honed their brutal delivery, CRONOS COMPULSION keeps things as heavy as possible on their new EP, Malicious Regression. With five new movements, the band incorporates jagged riffage and elements of ambient noise and other dissonant sounds into their low-end doom-shrouded death metal assault. Malicious Regression was recorded, mixed, and mastered by Austin Minney at All Aces Studios, and completed with artwork by Lucas Valtenbergs (Rusted Winds), photography by Julius Garrido, and layout by Ignacio Brown.
Alongside the lead Malicious Regression single, "Morbid Subconscious Explorations," Wilson reveals, "'Morbid Subconscious Explorations' is one of our groovier songs and was written in the midst of a CoVID-induced fever. Lyrically this one is about Paleolithic humans cutting apart corpses to satiate a morbid curiosity – fitting in with many of our themes of the evolution of our species' relationship with death and the grisly aspects of ancient humanity."
Hear CRONOS COMPULSION's "Morbid Subconscious Explorations" now playing at THIS LOCATION.
Caligari Records will release Malicious Regression on cassette and digital on May 12th. Find preorders HERE.
Watch for additional live previews of the record and more to post over the weeks ahead.
Malicious Regression Track Listing:
1. Secher
2. Sacred Butchery
3. Malicious Regression
4. Morbid Subconscious Explorations
5. Consumed By Malignant Spirit
CRONOS COMPULSION continues to perform regularly with several hometown shows booked for May and more widespread touring plans in the works. See confirmed dates below and stand by for updates.
CRONOS COMPULSION Live:
5/02/2023 Hi-Dive – Denver, CO w/ THRA, Noctambulist, Limbwrecker
5/13/2023 Seventh Circle Music Collective – Denver, CO w/ Vacha, Intersect, Burn Unit
CRONOS COMPULSION:
Addison Herron-Wheeler – bass, vocals
Jon Linskey – drums, synth, noise
Wil Wilson – guitar, vocals
https://cronoscompulsiondeath.bandcamp.com
https://www.facebook.com/cronoscompulsion
https://www.instagram.com/cronoscompulsion
https://caligarirecords.bandcamp.com
https://www.facebook.com/CaligariRecords
https://www.instagram.com/caligarirecords
https://caligarirecords.storenvy.com
https://www.youtube.com/c/CaligariRecords