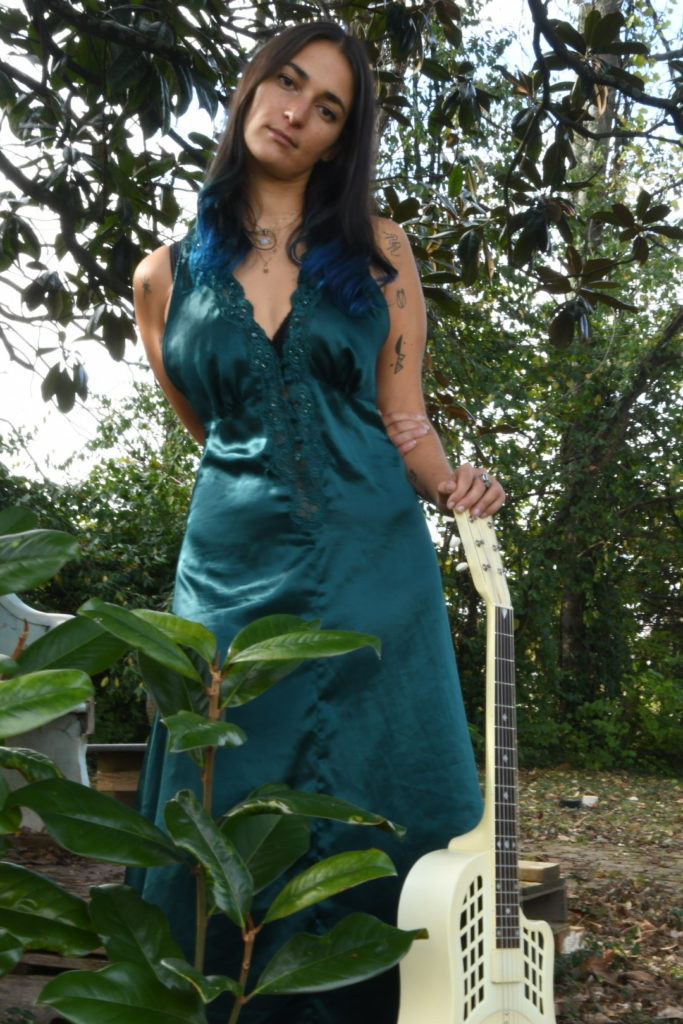 photos by Ericka Poore
Anti-Corporate Music presents the fourth title in their acclaimed new singer/songwriter series, The Magnolia Sessions, releasing a new performance by Nashville, Tennessee-based blues/folk artist CRISTINA VANE. As the album sees digital release today, The Sleeping Shaman is hosting an exclusive stream of "Muddy Water."
The Magnolia Sessions is a special new series which launched in early September 2020, which sees a new album released the first week of each month. All three records in the series to date – albums by Matt Heckler, Jason Dea West, and Johno Leeroy – have instantly caught the attention of the scene's passionate fans and have reached the Billboard Bluegrass Charts. The series showcases bluegrass, dark country, and folk singer/songwriter acts in an intimate outdoor setting at the Anti-Corporate Music/Black Matter Mastering headquarters in Nashville, Tennessee. Each installment features a different artist, some with additional guest musicians, who performs a live album of sorts, recorded outdoors by a large magnolia tree, as originally seen in Lost Dog Street Band's "September Doves" video for GemsOnVHS several years ago.
Offers Anti-Corporate Music and Black Matter Mastering's Dan Emery who engineers The Magnolia Sessions, "I was very excited to record CRISTINA VANE. She had been recommended by at least three of the other artists that been a part of this project. I was blown away when I heard her style. It was a rainy, awful night when we recorded this one, but she was a total professional and pushed right through with really no issues. This is another recording where you can hear gunshots in the background."
CRISTINA VANE remarks on her installment in the series, "When Dan reached out to me and explained his vision for The Magnolia Sessions, I was intrigued. In the past especially, I used to get nervous about tracking live – I wanted everything to be meticulous and as perfect as it could be, which in my mind, left no room for the inherently imperfect nature of a single take. But many hours of playing and touring have transpired since those days, and I jumped at the chance to do something a little different. Given the stifling nature of COVID-19, I had found it difficult to find direction after putting out my own EP, and this was something to get excited about. The experience was as intimate as the EP came out sounding. Singing into the darkness of the Tennessee Summer, with an orchestra of cicadas and other fauna rolling over me, I felt grateful to Dan for having birthed this idea. The song selection was also special to me, as some of the songs on that record were much older than what I would have selected for a studio album- better suited for solo recording too- and they might otherwise have slipped through the cracks of time. Now, they're recorded, at a specific point in time, one evening, no second sessions, no meddling, no tracking. I think that is really special, and I hope you can experience that too when you listen to it."
The Sleeping Shaman writes, "It's that time again as the ever faithful Anti-Corporate Music, and Dan Emery of Black Matter Mastering, bring us the fourth instalment of the stripped back, and let's be frank, truly awesome The Magnolia Sessions. We've been wax lyrical about this series since its inception as it's not always about the heavy doom riffs, right? So, if they passed you by, we urge you to check out the previous sessions with Matt Heckler, Jason Dea West, and Johno Leeroy. Up to speed? Great, now let's crack on as they've found yet another hidden gem in the form of blues and folk of singer, songwriter and multi-instrumentalist CRISTINA VANE…."
Stream CRISTINA VANE's "Muddy Water" only at The Sleeping Shaman RIGHT HERE.
Purchase The Magnolia Sessions titles direct from Anti-Corporate Music's webshop at THIS LOCATION.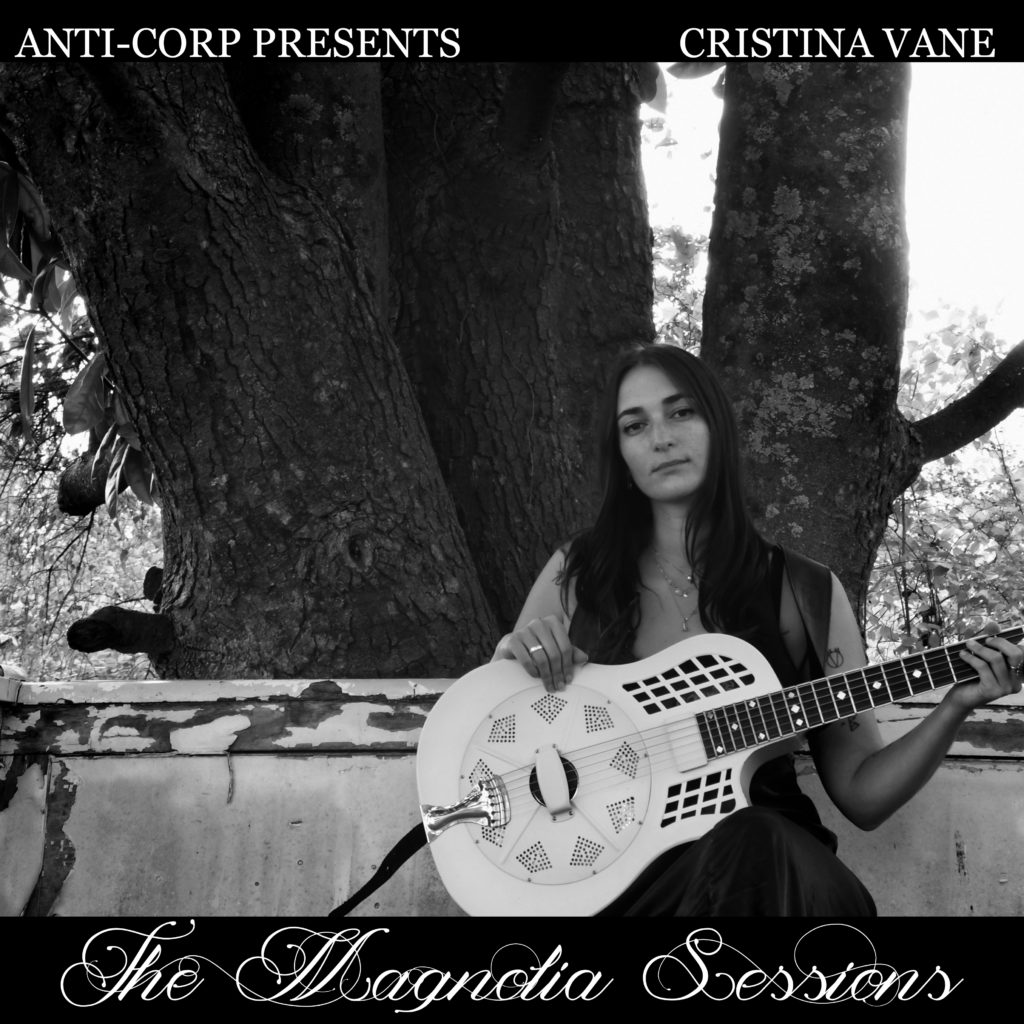 CRISTINA VANE – The Magnolia Sessions Track Listing:
1. Half Moon Baby
2. Muddy Water
3. Done Gone Changed Your Mind
4. The Cuckoo
5. Damn Shame
6. Love Like Summer Rain
7. Time For Leaving
8. Heart On The Mend
Based out of Nashville, Tennessee, CRISTINA VANE is taking the town by storm with her unique blend of blues and folk. Originally from Europe, she draws from such a great host of influences that it is impossible to compare her music to any one artist. That being said, she draws decisively from country blues, delta blues, and American folk music, creating her own flavor of the blues. Whether on the Venice boardwalk busking by the beach or on a stage in Mississippi, her signature resonator bottleneck playing and powerful vocals are unmistakable and unforgettable. The promising artist has made waves on her own thus far, opening for folks like Bob Weir, Wynonna Judd, Duane Betts, and Duke Robillard, being written up in local newspapers, and playing for organizations like Jam in the Van and Sofar Sounds, most recently playing notable venues like McCabes Guitar Shop and the Filmore, San Francisco.
Before falling in love with the blues, CRISTINA VANE spent her childhood and adolescence studying classical voice, music theory, piano and flute, ever consumed by music. She has love for many kinds of music, ranging from baroque classical to punk and metal. This theme continues throughout her career today; while she predominantly plays slide guitar, she employs fingerpicking, acoustic, electric guitar techniques, as well as clawhammer banjo playing.
CRISTINA VANE had been performing in the Southern California area for nearly four years when she embarked on a five-month tour in the Summer of 2018. While she spent summers gigging in both New York and London prior to her move to Venice, she had never traveled the United States extensively and found her tour to be a personal and musical success. Her effervescent and edgy personality make for entrancing live performances, which she has honed with hours of practice playing in venues across the country as well as busking for the public on Venice Beach for several years. It is safe to say CRISTINA VANE lives through music, it saturates her life and is, for her, a necessary vehicle for expression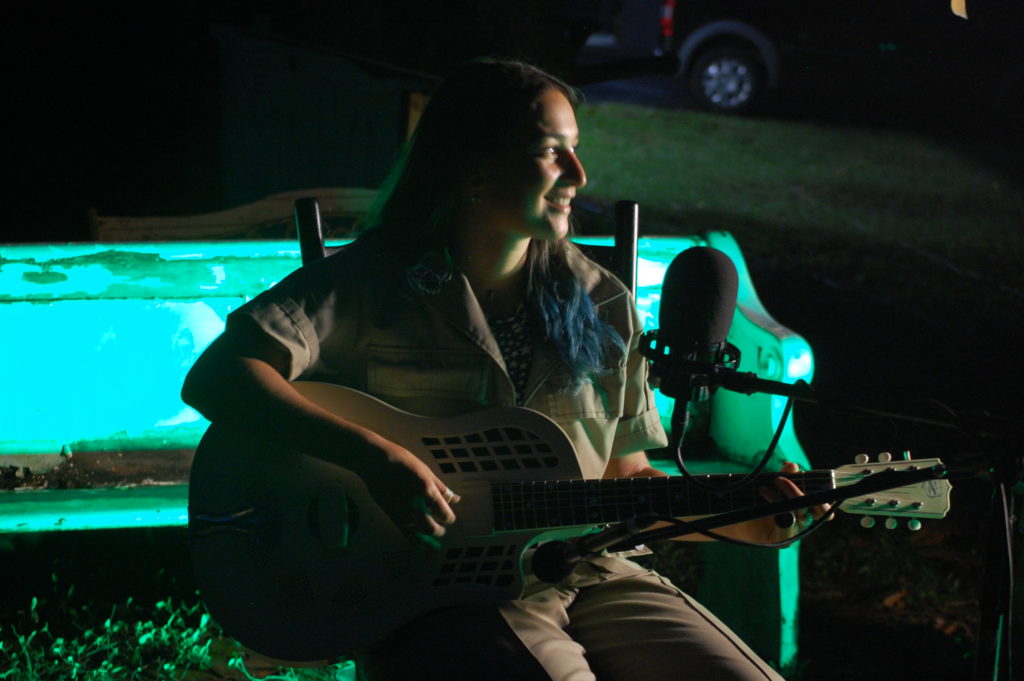 photo by Zachariah Orbin
http://www.cristinavane.com
https://cristinavane.bandcamp.com
https://www.instagram.com/cristinavanemusic
https://www.facebook.com/cristinavanemusic
http://anticorporatemusic.com
http://facebook.com/anticorpmusic
http://www.blackmattermastering.com
https://www.facebook.com/blackmattermastering
https://www.instagram.com/black_matter_mastering