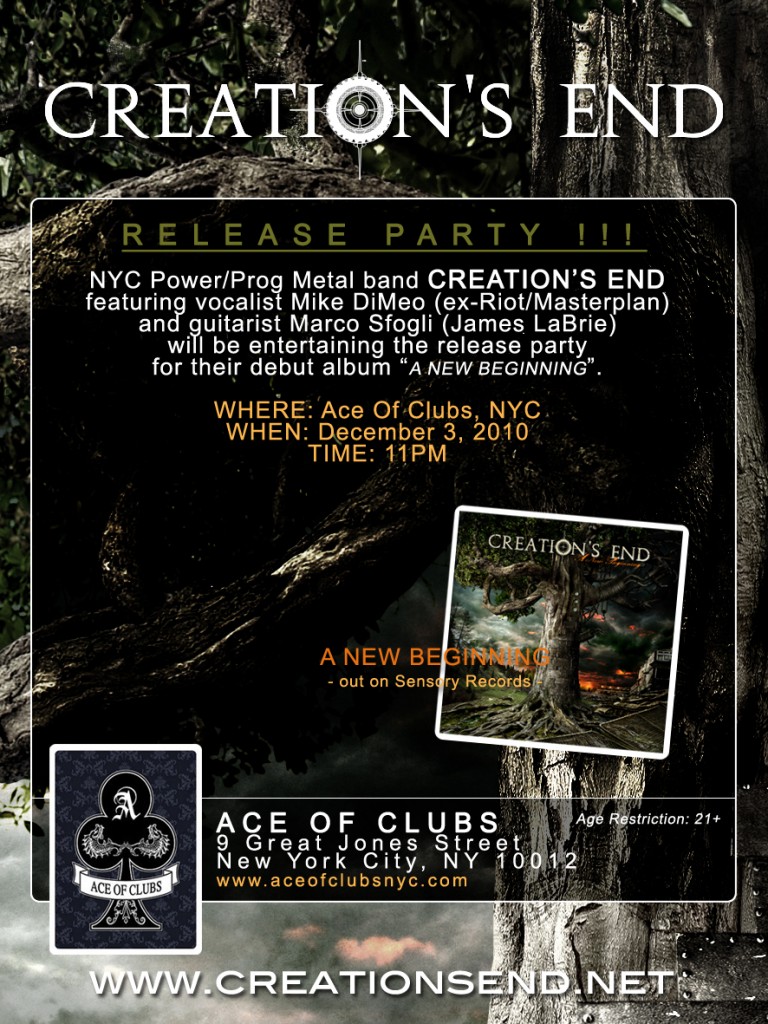 This Friday, December 3rd will mark the virgin live performance from NYC progressive metal superpower CREATION'S END. This special hometown show at Manhattan's Ace Of Clubs also doubles as the official CD release show for the band's debut album A New Beginning, which was released by Sensory Records on November 9th, and immediately received a ravenously positive response from media and fans alike.
The members of CREATION'S END — the lineup comprised of guitarist Rudy Albert (ex-Zandelle), drummer Dario Rodriguez, Mike DiMeo (ex-Masterplan, ex-Riot), Joe Black (Chris Caffery, ex-Zandelle) and Marco Sfogli (James LaBrie Band) who traveled all the way from Italy for this special show — will be available for in-person interviews at the show. Please get in touch with Earsplit right away with any requests!
CREATION'S END Record Release Show:
12/3/2010 Ace Of Clubs – New York, NY w/ The MP Project, Monstar Zero, Clearview
The Metal Register is also currently running a CD giveaway contest for CREATION'S END this week, so swing by for a chance to win HERE.
Further American and European tour dates for CREATION'S END are being planned for the coming year, with a special appearance at Atlanta, Georgia's annual ProgPower USA in September 2011 already confirmed, where they'll perform alongside Therion, Sanctuary, Dream Evil, Arcturus and more.
To schedule interviews with the band via phone, email or in-person, please contact Earsplit anytime.
+ + +
"With all this talent it is refreshing to hear that they don't really focus so much on the actual technical wizardry of the musicianship but on the writing of great dark, brooding melodic songs and, with this being their debut, I am happy to say they nailed it." – Hellbound
"With their speed-of-light dexterity and endless dynamics, each of these eight tracks is like hearing the roar of a perfectly tuned Ferrari racing seamlessly through its gearbox." – Exclaim!
"…dark, heavy, brooding, but always melodic, and while the performances of the band members are top notch, the focus here seems to be more on the songs and less on displays of virtuoso capabilities." 4/5 – Sea of Tranquility
"The group works together as a cohesive unit and doing it in this fashion allows all of them to shine as a single entity." – Piercing Metal
"…a work to be experienced and savored. Is it the new beginning of American power/progressive metal?" 4.5/5 – Dangerdog
http://www.creationsend.net
http://www.intromental.com/creationsend
http://www.myspace.com/creationsendnyc
http://www.lasersedgegroup.com