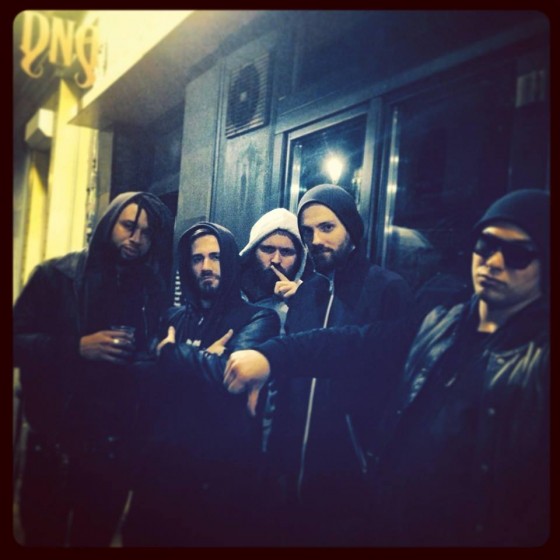 Paris's most wretched sludge metal heathens, COWARDS — uniting current and ex-members of Sickbag, Death Mercedes, Hangman's Chair, Eibon, Glorior Belli, Hellbats and more — have been locked into the studio over recent weeks, the band completely immersed in the process of creating their second full-length release.
Having returned to the solace of Sainte-Marthe Studio (Arkhon Infaustus, Eibon, Kickback) where their Shooting Blanks & Pills debut LP and subsequent Hoarder EP were conceived, the members of COWARDS have already harnessed the drums, bass and main guitars, and will continue to pile on the levels of auditory grime and antagonism with producer Francis Caste until these new works are adequately dangerous for release onto the population in January 2015. Additional details on this beast will be released as the recording process reaches completion. Evidence of the madness currently taking place at Sainte-Marthe can be viewed HERE.
In the meantime, Canadian label Secret Handshake Recordings recently reissued COWARDS' out-of-print Shooting Blanks & Pills debut LP, originally released on France's Throatruiner Records in 2012. The new edition now sees its rebirth on North American on CD and both clear and black 12″ vinyl. Order the new repress of Shooting Blanks & Pills at THIS LOCATION. Also stream all of Shooting Blanks & Pills as well as the band's Hoarder EP via Bandcamp HERE.
COWARDS Tour Dates:
11/07/2014 La Instants Chavirés – Montreuil, FR
11/08/2014 La Scène Michelet – Nantes, FR
11/09/2014 Mondo Bizaro – Rennes, FR
11/14/2014 El Diablo – Lille, FR w/ General Lee
http://www.cowards.fr
http://www.facebook.com/cowardsparis
http://cowardsparis.bandcamp.com
https://www.facebook.com/pages/Secret-Handshake-recordings/1520788561467903
http://secret-handshake.org
http://secret-handshake.bandcamp.com