The out-of-print 2012-released, Shooting Blanks & Pills debut LP from Paris-based doom/sludge quintet, COWARDS, is now available through Canadian label, Secret Handshake Recordings.
Thundering with massive, low-end amplification and a downcast, scathing vocal delivery, COWARDS' noxious brew of sludge/doom is not from, or for, the weak of heart. Shooting Blanks & Pills slams just under forty minutes of gutter hardcore, unhealthy sludge/doom and nauseous black metal, surging with a desperate urban attitude, bridging forth the knife-in-the-heart crudeness of Eyehategod, Deadguy or Kickback and the majestic darkness of bands like Deathspell Omega or Thou. With a sound carrying the smell of piss-soaked back-alleys and the blood you'll taste for a mistaken sidelong glance, producer Francis Caste perfectly captured the corrosion and angst of these thirty-eight minutes, recreating this forced apnea in a bile tank with a no-frills approach. Originally released on France's Throatruiner Records, Shooting Blanks & Pills now sees its rebirth on North American turf via Secret Handshake Recordings, the label having just made the album on CD and both clear and black 12″ vinyl.
Order the new repress of Shooting Blanks & Pills at THIS LOCATION. Also stream all of Shooting Blanks & Pills as well as the band's Hoarder EP via Bandcamp HERE.
Formed by current and ex-members of Sickbag, Death Mercedes, Hangman's Chair, Eibon and Hellbats, COWARDS has already built a reputable arsenal of destructive audio since forming in 2011. COWARDS has also sanctioned studio time, once again at Sainte-Marthe Studio with Francis Caste, to harness the demoralizing anthems that will be their sophomore full-length in October.
Stand by for new tour and recording updates in the coming weeks.
COWARDS Tour Dates:
11/07/2014 La Instants Chavirés – Montreuil, FR
11/08/2014 La Scène Michelet – Nantes, FR
11/09/2014 Mondo Bizaro – Rennes, FR
11/14/2014 El Diablo – Lille, FR w/ General Lee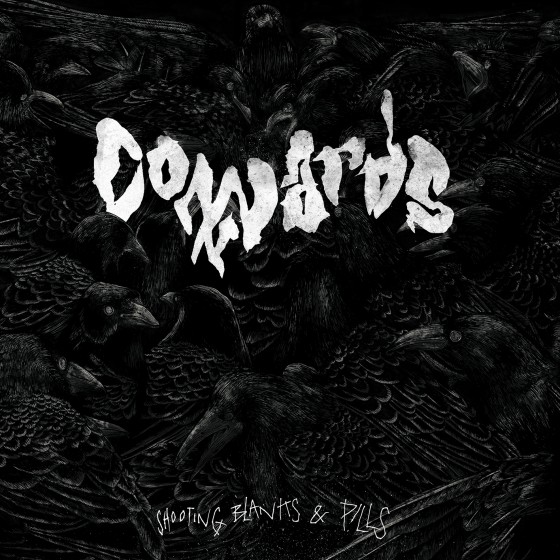 http://www.cowards.fr
http://www.facebook.com/cowardsparis
http://cowardsparis.bandcamp.com
https://www.facebook.com/pages/Secret-Handshake-recordings/1520788561467903
http://secret-handshake.org
http://secret-handshake.bandcamp.com