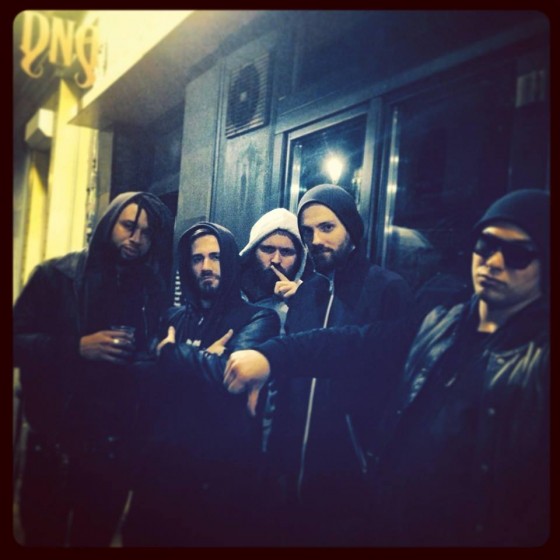 With Paris-based COWARDS preparing their Rise To Infamy LP for release in the harsh Winter months, an early exclusive worldwide premiere of the album's disgustingly heavy "Birth Of The Sadistic Son" is now available via Music & Riots Magazine, alongside a new in-studio trailer of the band's studio process during the creation of this monstrous opus.
COWARDS will dispatch Rise To Infamy on February 9th, with Throatruiner Records & RVINS Records producing the 12″ LP version and Deadlight Entertainment handling the digipak CD. The band's ten new soul-crushing anthems for annihilation harnessed on the record take their already debilitating sludge-infiltrated hardcore mayhem to new lows through a bed of vein-cutting riffs, thunderous percussive blasts and a maniacal vocal delivery. Exploding around the album's midway point, "Birth Of The Sadistic Son" opens with unapologetic malice, with an unstoppable blend of rabid blasting upbeat segments and decapitating breakdowns.
Unload "Birth Of The Sadistic Son" via Music & Riots now at THIS LOCATION.
The COWARDS crew has also dispatched a new trailer from the studio sessions for Rise To Infamy which is now playing HERE, and the previously-released trailer featuring the album's third track, "Frustration (Is My Girl)," courtesy of Chariot Of Black Moth, is playing HERE.
An official video for the album's next-to-last track, "Bend The Knee," will be released in the days ahead, in addition to new live updates from the COWARDS camp, including a massive Springtime European tour.
An unrelenting force since their inception in 2012, imposing their ruthless metallic hardcore/sludge through several releases to date, and having crushed live audiences all across Europe, COWARDS' Rise To Infamy showcases the most punishing output yet. Carrying a deep, oppressive urban coldness behind their spectacularly crushing wall of sound, which stabs blackened sludge metal savagery into the band's Holy Terror/H8000 inspired-hardcore, the levels of aggression spilled on Rise To Infamy are difficult to endure. Everything has been managed to inflict maximum aural damage; once again recorded by Francis Caste at Sainte Marthe Studio (Arkhon Infaustus, Eibon, Kickback) as with their previous output, the band's monstrous tones sounds colder and more massive than ever. This is nothing but a monument of down-to-earth, unvarnished violence, punishing from start to finish.
http://www.cowards.fr
http://www.facebook.com/cowardsparis
http://www.cowardsparis.bandcamp.com
http://www.cowards.bigcartel.com
http://www.throatruinerrecords.com
http://www.ruinsrecords.com
http://www.deadlight.fr