North Carolina crossover legends, CORROSION OF CONFORMITY, are pleased to unveil their latest music video for "On Your Way," the sixth cut from their recently released IX full-length.
Crowned, "a triumph," by the Obelisk and, "eccentric and engaging," by Sputnik Music, the John Custer-produced IX thrusts forth nearly forty-five minutes of the band's signature "…smoke-wreathed grooves and sludgy rushes of belligerence (The Onions's A.V. Club)."
View the apocalyptic clip for "On Your Way," now playing via Revolver at THIS LOCATION.
In related CORROSION OF CONFORMITY happenings, the band will take to the streets again this Fall on a North American excursion supporting Gwar! Set to inaugurate on November 15th in Spokane, Washington, the massive trek – which follows the band's triumphant run with Bl'ast!, Brant Bjork & The Low Desert Punk Band and Lord Dying — will stomp its way through over two dozen cities, coming to a close on December 13th in Baltimore, Maryland. Additional support will be provided by American Sharks. See confirmed dates below.
CORROSION OF CONFORMITY w/ Gwar
11/15/2014 Knitting Factory Concert House – Spokane, WA
11/16/2014 MacEwan Hall Ballroom – Calgary, AB
11/17/2014 Union Hal – Edmonton, AB
11/19/2014 The Venue – Fargo, ND
11/20/2014 Skyway Theatre – Minneapolis, MN
11/21/2014 The Rave – Milwaukee, WI
11/22/2014 Harpo's – Detroit, MI
11/23/2014 The Intersection – Grand Rapids, MI
11/25/2014 The Vogue – Indianapolis, IN
11/26/2014 House Of Blues – Cleveland, OH
11/28/2014 Treemont Music Hall – Charlotte, NC
11/29/2014 Electric Factory – Philadelphia, PA
11/30/2014 Irving Plaza – New York, NY
12/02/2014 Exit/In – Nashville, TN
12/03/2014 The Orange Peel – Asheville, NC
12/04/2014 Vinyl Music Hall – Pensacola, FL
12/05/2014 Firestone Live – Orlando, FL
12/06/2014 The Masquerade – Atlanta, GA
12/07/2014 Newport Music Hall – Columbus, OH
12/08/2014 Mr. Smalls Theatre – Millvale, PA
12/09/2014 Opera House – Toronto, ON
12/10/2014 Virgin Mobile Corona Theatre – Montreal, QC
12/11/2014 Upstate Concert Hall – Clifton Park, NY
12/12/2014 Toad's Place – New Haven, CT
12/13/2014 Baltimore Sound Stage – Baltimore, MD
IX is currently available via Candlelight Records. Order yours today at THIS LOCATION.
"…a meat-and-potatoes feast…" – The Obion's A.V. Club
"…this album contains the vital elements to satisfy the most fervid CORROSION OF CONFORMITY fan." – Rock Revolt
"COC stick to the recipe that served them well on both 2012's self-titled reboot and the follow-up EP, Megalodon: A little hardcore, a little crossover, a whole lotta Southern rock and (especially) doom metal, all stirred, shuffled, layered and frosted in ways that make guessing their next move impossible. But the band's strategies are more expansive this time out, their tricks more finely woven into the fabric of each song." – Decibel
"Not only does IX deliver what we hoped for, but they surpass that with an unwavering confidence – the sparks are flying on this one." – The Sludgelord
"A solid output from 30-year veterans. Stoners and punks take notice." – Metal Underground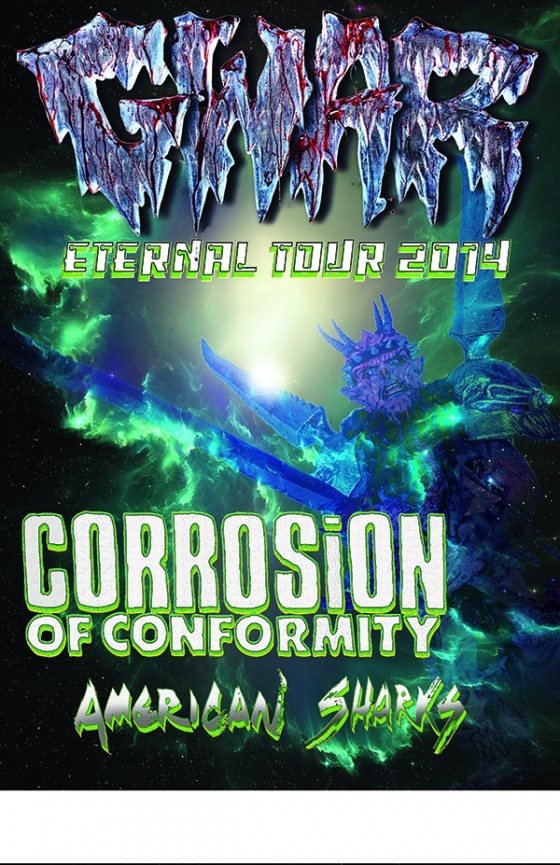 http://www.coc.com
http://www.facebook.com/corrosionofconformity
http://candlelightrecordsusa.com