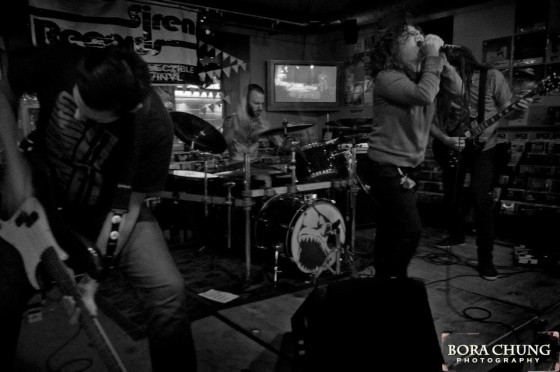 Welcome COP PROBLEM, an energetic act born within the politically-motivated bustling underbelly of Philadelphia's punk/hardcore scene, and ready to bust loose onto the rest of the planet with their debut EP.
With a high-energy D-beat-infused punk rock delivery littered with rampant blasting hardcore/crust rage, COP PROBLEM have raided Philly live venues on DIY gigs as well as supporting national acts including Converge, Trap Them, Dropdead, Coke Bust, Resistant Culture, Leftover Crack and countless more since their mid-2010 inception.
COP PROBLEM have just confirmed the completion of their self-titled debut 7″, now set for split release between Prejudice Me Records in Europe and War Torn Records for North America. The riotous three-song EP was recorded by Will Yip (Blacklisted, Converge, Paint It Black, Lauryn Hill) at Studio 4, and showcases the bands versatile, swift and devastating delivery. The cover art for the EP was commissioned to world-renowned artist/tattoo artist Jason Angst.
The opening track from the EP, "Monuments," has been delivered to the masses via a stream now live over at Crustcake, RIGHT HERE.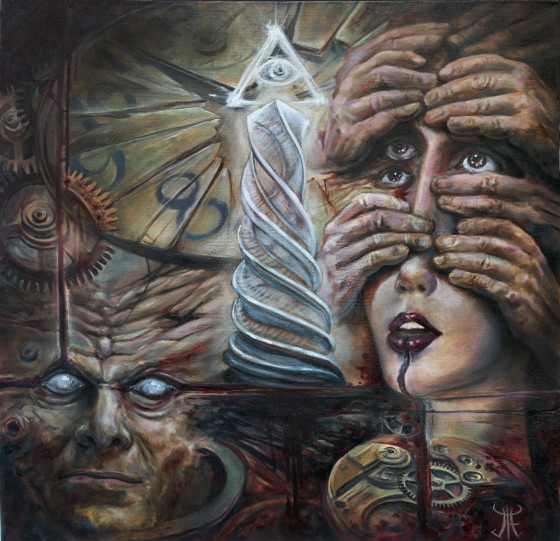 Cop Problem 7″ Track Listing:
1. Monuments
2. Along For The Ride
3. Blinded By Power
Preorders for the 7″ are available now via War Torn, Prejudice Me, and the band direct.
Preceding the release of the EP, COP PROBLEM will storm the tri-state on a three-show live attack supporting hometown friends Mediaskare/Deathwish artists Reign Supreme, followed by a COP PROBLEM headlining show at Manhattan's ABC No Rio this February.
COP PROBLEM Tour Dates:
2/10/2012 Skid Row Garage – York, PA w/ Reign Supreme, Agitator, Distances [flyer]
2/11/2012 Charm City Art Space – Baltimore, MD [flyer]
2/12/2012 Broadway Bar – Amityville, NY w/ Reign Supreme, Agitator, more [flyer]
2/18/2012 ABC No Rio – New York, NY w/ (A)T.R.U.T.H., Cojoba, Devastation Wagon [flyer]
COP PROBLEM is:
Deborah Cohen – vocals
Joshua Cohen – drums
Randon Martin – guitar
Donny Mutt – bass
http://www.copproblem.com
http://music.copproblem.com
http://facebook/CopProblem
http://www.wartornrecords.com
http://www.facebook.com/PrejudiceMe