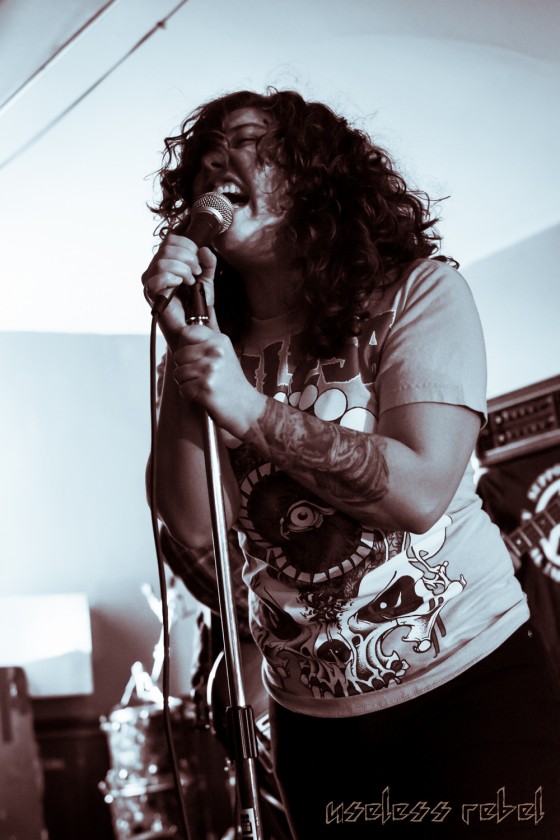 Philadelphia-based hardcore punk demonstrators, COP PROBLEM, have completed work on their newest recordings, and are preparing to release them in the form of the blistering four-track, Buried Beneath White Noise EP.
Recorded in early September with renowned engineer/producer Will Yip (Paint It Black, Circa Survive, Balance & Composure) at Studio 4 in Conshohocken, Pennsylvania, Buried Beneath White Noise will see a digital release through the band directly on October 24th. A special vinyl pressing will be issued in late 2013 via a direct cooperation with Earsplit's new division, The Compound, for North America, while longtime activist label Prejudice Me Records will be handling the European release.
To help propagate the word on the Buried Beneath White Noise EP, Pitchfork today unloads the closing track from COP PROBLEM's newest barrage of audio attrition with the enraged "American Spring" RIGHT HERE.
To celebrate the EP's release, COP PROBLEM has confirmed a ten-day November tour planned for the Midwest, followed by a series of East Coast performances before additional dates are announced for next year. View the full confirmed itinerary below and be on the lookout for updates in the coming days.
Buried Beneath White Noise is the follow-up to COP PROBLEM's critically acclaimed, self-titled debut EP in 2012 (War Torn/Prejudice Me), also recorded by Yip at Studio 4. The EP saw rave reviews from leading online outlets such as BrooklynVegan, MetalSucks, American Aftermath, Cvlt Nation, Exclaim!, and many more while the band broke off scathing regional performances with the likes of Converge, Trap Them, Dropdead, Code Orange Kids, Comadre, Enabler, Heartless, Centuries, Burning Love, Resistant Culture, Coke Bust, Leftover Crack, Meek Is Murder, and many others. A series of tours would also be punctuated by appearances at Fest in Gainesville 2012 and Punk Island NYC 2013.
These newest songs see a definite evolution from the quartet who combines the most ferocious elements of crust punk, metal, grind, and hardcore in a high octane, hybrid blend of unrelenting assaults. Frontwoman Deb Cohen's powerful vocal approach of hair-raising intensity reaches a zenith of emotion with these latest political themes on Buried Beneath White Noise. Track lyrics touch on a wide array of current events from the now infamous massacre of civilians by US Marines in Haditha, Iraq to Ag-gag laws that punish whistleblowers instead of real criminals in the US and abroad. This time around at Studio 4, the band abandoned use of a metronome and completed the EP in just two short days.
"The impetus for this EP came while we were were attempting to prepare a full-length for early 2014" states COP PROBLEM drummer Joshua Cohen. "Our freinds at Cvlt Nation.com contacted us over the Summer about taking part in a covers comp and we were stoked on it. Will Yip was able to squeeze us into Studio 4's insanely tight schedule, so we figured we'd take advantage of the time and lay down four original tracks on top of the cover tune. We were more than ready for the studio this time around, we came in and just blazed through these tracks. We didn't sacrifice any intricacies either, but I feel we captured the energy and raw emotion of CP better than anything else we've ever recorded."
The cover art for BBWN was designed by Philadelphia artist and musician, Tim Shaw who also crafted the cover for CP's 2011 digital-only single of "Endless War."
Review copies of Buried Beneath White Noise and coverage of COP PROBLEM can be obtained now through Earsplit: dave@earsplitcompound.com
COP PROBLEM Tour Dates:
11/01/2013 Charm City Art Space – Baltimore, MD @ Earth First! Benefit
11/02/2013 The Murder Room – Pittsburgh, PA w/ Complete Failure, Unstitched, Meth Quarry
11/03/2013 Now That's Class – Cleveland, OH w/ Grin And Bear It, Youth Forgotten
11/04/2013 Bremen Cafe – Milwaukee, WI W/ No Brainer
11/05/2013 The Sound Cellar – Chesterton, IN
11/06/2013 The Owl Farm – Nashville, TN W/ Old Lines
11/07/2013 AL's Sidecar – Lexington, KY w/ Old Lines
11/08/2013 TBA
11/09/2013 TBA
12/06/2013 Heirloom Arts Theatre – Danbury, CT w/ Old Lines, Bad Decisions
12/07/2013 The Acheron – Brooklyn, NY w/ Old Lines
COP PROBLEM:
Deb Cohen – vocals
Joshua Cohen – drums
Randon Martin – guitar/backing vocals
George Grimaldi – bass
Buried Beneath White Noise Track Listing:
1. Bear Witness
2. From Within
3. Who Really Pays?
4. American Spring
http://www.copproblem.com
https://www.facebook.com/CopProblem
http://music.copproblem.com