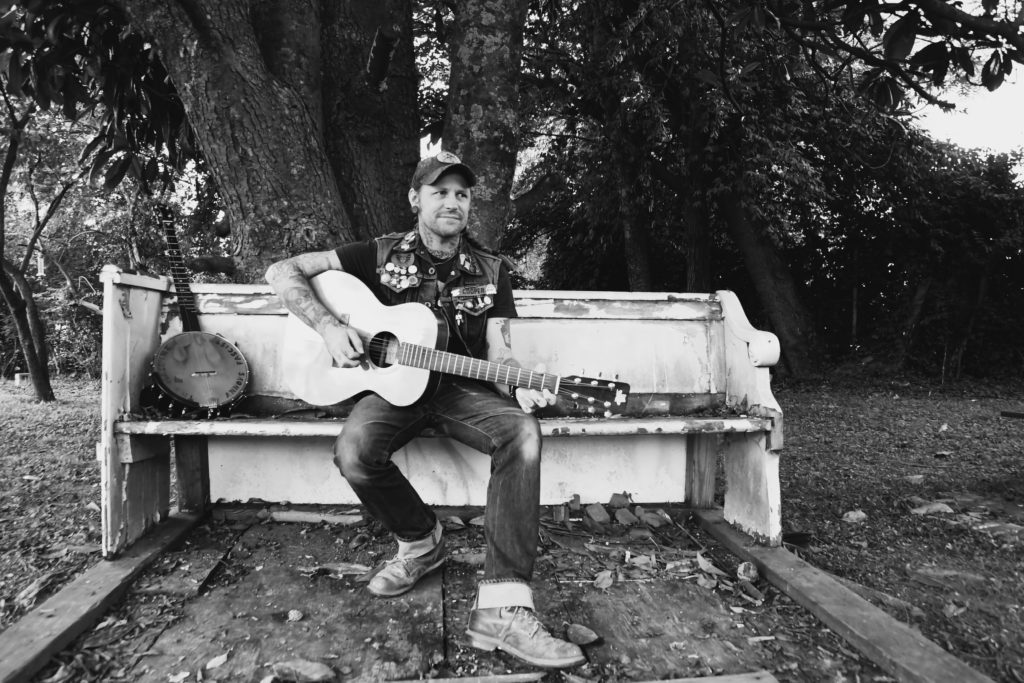 photos by Ericka Poore
The second season of Anti-Corporate Records' beloved The Magnolia Sessions continues this month, with the release of a new recording from COOPER MCBEAN, out today. Alongside its release, the album's "Only For Tonight" is now playing at The Sleeping Shaman.
The first season of The Magnolia Sessions delivered a new record the first week of every month from its launch in September 2020 through May of 2021. The series showcases bluegrass, dark country, and folk singer/songwriter acts, recorded in an intimate outdoor setting by a large magnolia tree at the Anti-Corporate Music/Black Matter Mastering headquarters in Nashville, Tennessee, by owner Dan Emery. The first season yielded heartfelt releases from Matt Heckler, Jason Dea West, Johno Leeroy, Cristina Vane, Nick Hans, Casper Allen, Jeff Loops, Angela Autumn, and Austin Stambaugh, many of which debuted on the Billboard Bluegrass Charts. Following a break over the Summer, the new season of The Magnolia Sessions relaunched in September, having since delivered albums from The Lost Dog Street Band, The Hill Country Devil, Joe Wunderle, and The Resonant Rogues.
The fifth installment of the new season today yields a record from COOPER MCBEAN. Born in Vermont, he has traveled quite a bit, currently residing in Austin, Texas with his human companion, two small dogs, and seven chickens.  He plays banjo and guitar and sings songs, both under his own name and in The Devil Makes Three. In his spare time, he bakes, juggles, knits, messes with modular synthesizers, is a pretty okay dungeon master, but a not very good plumber.
With his installment of The Magnolia Sessions, MCBEAN writes, "When I was asked to do a Magnolia Sessions recording, we were in the midst of living through another Summer COVID surge, this one especially bad in the South and Southwest. The future of my band The Devil Makes Three – with whom I have played and toured for the last twenty years – and the music industry in general were uncertain. I hadn't picked up a guitar in months and hadn't written a song in ages.
"What you hear is me, alone in a field, remembering how to sing and write and play, nervous about travel and recording, and realizing how important making music is to me, and how much it had been missing from my life.  It feels great to be making new work again, and for some of this old stuff to be finally seeing the light of day. Thanks to Dan Emery and Benjamin Tod for pulling me out of my funk, and thank you for listening."
Adds Anti-Corporate Music and Black Matter Mastering engineer Dan Emery, "COOPER was suggested to me by Benjamin Tod of Lost Dog Street Band. I was a little nervous at first, because I felt that The Devil Makes Three may be out of my reach, but COOPER was way into the idea. He had one of the most effortless sessions as well. I can't think of a single thing that went wrong during his session. He also was one of the only artists to nail every song on the first take. His session was definitely one of the high points of this batch of recordings."
Stream COOPER MCBEAN's "Only For Tonight" at The Sleeping Shaman now at THIS LOCATION.
The Magnolia Sessions titles are available directly through Anti-Corporate Music's webshop HERE.
Watch for additional installments of The Magnolia Sessions to post the first week of the month from now through late Spring
COOPER MCBEAN's The Magnolia Sessions Track Listing:
1. Hello
2. Porkchops And Latkes/Sandy River Belle
3. Wheels
4. Hard Times
5. Talkin To The Wall
6. Sally Anne/Big Sciota/Waterbound
7. Only For Tonight
8. Tralee Gaol/Cold Frosty Morning/Fall Of Richmond
9. 4th Of July
https://coopermcbean.bandcamp.com
https://www.instagram.com/thedevilmakes3
https://www.facebook.com/thedevilmakesthreemusic
http://anticorporatemusic.com
http://facebook.com/anticorpmusic
http://www.blackmattermastering.com
https://www.facebook.com/blackmattermastering
https://www.instagram.com/black_matter_mastering