photos by Paul Di Giacomo
Quebec City, Québec-based CONTEMPLATOR presents its second full-length album, Morphose. The album is now confirmed for a late July release through Nefarious Industries who this week unveils its cover art, track listing, preorders, and a video for its lead single, "Zero Mask."
CONTEMPLATOR is the vision of sole/core creator Christian Pacaud, former touring/live member of technical metal outfit Augury, joined by a wide cast of friends and peers to collaborate on his visions. The project was founded in 2011 with a goal of forming an outlet to create music without compromise, drawing from all his influences without regard for respecting genre boundaries.
With Pacaud handling the songwriting/composing of the songs, and providing bass, guitars, programming, and more, Antoine Guertin (Aeternam, Hillward) joined on drums in the time leading up to the creation of the outfit's eponymous EP, which saw release in August of 2013. By the time CONTEMPLATOR was creating its first full-length, 2016's Sonance, Pacaud had expanded the cast of musicians to include Antoine Baril (Augury, From Dying Suns) and Maxime Rochefort (From Dying Suns) on guitars, violin/viola from Jeff Ball (composer team for the Steven Universe movies and animated TV series), among other guest musicians.
The second CONTEMPLATOR album, Morphose, expands the lineup of guests even further, with accordion from Austin Wintory (Grammy-nominated composer known for scoring the popular video games Journey, Assassin's Creed Syndicate, and more), piano from Francis Grégoire (Universe Effects, Carl Mayotte), and marxophone from David Lawrie (London After Midnight).
Morphose was composed, arranged, and produced by Christian Pacaud, the guitars and drums were recorded and engineered by Antoine Baril at Hemisphere Studio with bass and additional guitars recorded and engineered by Pacaud. The violin and viola were recorded and engineered by Jeff Ball, piano was recorded and engineered by Serges Samson at LARC, marxophone was recorded and engineered by David Lawrie at Ishikawa Media, and accordion was recorded and engineered by Austin Wintory. The entire album was reamped, mixed, and mastered by Colin Marston at Menegroth, The Thousand Caves, then completed with artwork by Is Mirek and layout/design by Greg Meisenberg.
Watch the video for CONTEMPLATOR's lead Morphose single "Zero Mask," which was directed by Maxime Girard, at THIS LOCATION.
Nefarious Industries will release Morphose digitally and in a limited run of vinyl which includes a full-color 12-page booklet on July 29th. Preorders are now live HERE.
Watch for additional audio and video singles from the album to be issued over the weeks ahead.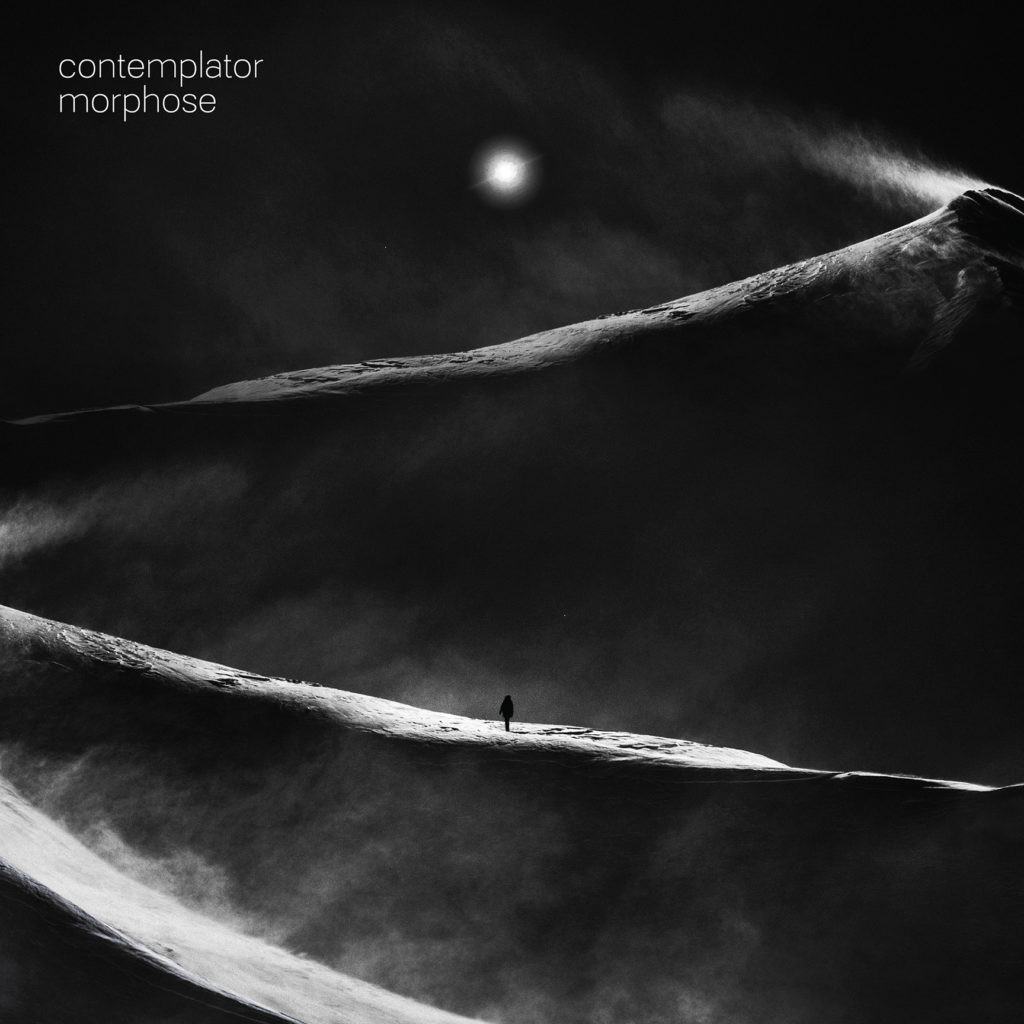 Morphose Track Listing:
1. Rite Of Shards
2. Vestigial
3. Ephemeron
4. Ashes Swallowed
5. Zero Mask
6. Hollowing the Flame
7. The Catch
8. Idol Obedience
The roots of Christian Pacaud's influences stem from his father's love of progressive rock records (Yes, King Crimson, Genesis, Gentle Giant) and the music of his favorite video games, mostly Japanese role-playing game composers Nobuo Uematsu, Yasunori Mitsuda, and Hitoshi Sakimoto, which led to further exploration of prog/metal with Dream Theater, Watchtower, all the Magna Carta bands and supergroups, Porcupine Tree, Spock's Beard, The Flower Kings, Spiral Architect, The Mars Volta, and Kayo Dot, as well as a fascination for dense and deeply complex musical works from composers Igor Stravinsky and Paul Hindemith.
Once he began touring with Augury, more extreme metal acts such as Gorguts, Krallice, Dysrhythmia, Artificial Brain, Martyr, and more regional bands like Unexpect, Teramobil, and Deviant Process heightened Pacaud's love for heavier music. Nowadays, his musical landscape also includes boundary-pushing musicians and bands from modern jazz and jazz-rock hybrids as well as the more experimental reaches of folk artists like Esperanza Spalding, Louis Cole, Becca Stevens, Laura Perrudin and Richard Dawson.
When all these factors coalesce within CONTEMPLATOR's output, it's simply impossible to categorize the project with any single set of genre tags or straightforward comparisons.
Pacaud delves, "I'm a strong believer in letting the listener make up his own story out of the elements we present him with. I do like to create a cohesive experience out of it all: the track titles, the art, the sounds, the moods – but there is no unifying concept, or no precise meaning to it besides the abstract, subjective cohesion created out of crafting the whole package under a single vision. My approach has been described by some people as 'holistic'- in that every part is influenced and influences everything else. The track titles are strings of words I find pleasing and inspiring. I may change them if I find it doesn't stick to the music as well once the track is finished. The art is either pictures I strongly resonated with as I was browsing the internet, or art that I had the artists make under vague directions and their interpretation of the music it went along with. I find it very hard, not very appealing, to impose a meaning on it all. It's very instinctual.
"Through all of this, really, I'm just trying to make cool noises that I find satisfying and exciting, with friends and people that I like and admire, and I hope the resulting pile of musical nonsense reaches out and captivates other people out there and brings them something good as well, and maybe inspire them. I am still learning to let go of expectations, to shed barriers and blockages, to stop thinking about what people will think, to create with confidence and audacity things that are different and unique, because that's what I hope to inspire in others: a call for everyone to let their raw, unique musical language be heard."
CONTEMPLATOR Morphose lineup:
Christian Pacaud – bass, guitars, programming
Antoine Guertin – drums
Antoine Baril – guitars
Maxime Rochefort – guitars
Jeff Ball – violin, viola
Francis Grégoire – piano on "Rite Of Shards," "Vestigial," "Idol Obedience"
David Lawrie – marxophone on "Hollowing The Flame"
Austin Wintory – accordion on "Hollowing The Flame"
http://contemplator.band
http://contemplatorband.com
https://contemplator.bandcamp.com
https://www.facebook.com/ContemplatorBand
https://www.youtube.com/user/ContemplatorBand
https://nefariousindustries.com
https://nefariousindustries.bandcamp.com
https://facebook.com/nefariousIndustries
https://instagram.com/nefarious_industries
https://twitter.com/nefariousInd