West Coast weed demons, CONNOISSEUR, will unveil the resinated sounds of their Stoner Justice offering tomorrow via Tankcrimes.
Likening themselves to Earth Crisis if they "smoked weed and listened to Spazz," CONNOISSEUR's Stoner Justice recording was initially released in EP form last year and captured by Greg Wilkinson at Earhammer Studios, Oakland (Annihilation Time, Iron Lung, Vhöl, Brainoil). Stoner Justice redux is remastered by Dan Randall at Mammoth Sound Mastering (Abscess, Toxic Holocaust, Voetsek etc.) and has been expanded to fourteen blunted ragers, including a live set professionally recorded at the Tankcrimes Takeover on February 13th, 2015 (mixed and mastered by the same team) and includes a mind-bending cover art collaboration by Skinner (Mastodon) and Hal Rotter (Atriarch, Cough, Eyehategod, Skeletonwitch etc.). Those who puff to the gutter-crusted resonance of Plutocracy, Spazz, Crossed Out, Dystopia, and Earth Crisis, listen up.
In celebration of it's stony domination, and following teasers from Revolver, No Clean Singing and Cvlt Nation, today the greenskeepers at Decibel Magazine are pleased to unveil the record in all its glassy-eyed goodness.
Issues guitarist Dan Hashthrash, "We are very excited about the release of Stoner Justice, and to have Decibel streaming it. So excited, in fact, that we are going to smoke a couple joints about it right now. We suggest everyone do the same. Live to smoke, smoke to live!"
Inhale Stoner Justice right now, courtesy of Decibel Magazine, at THIS LOCATION.
CONNOISSEUR continues to level stages throughout the US with their weedian odes on the epic, …And Stoner Justice For All Summer Tour, currently underway. The trek will smoke out over four dozen metropolises through July 11th. Hide your nugs!
CONNOISSEUR …And Stoner Justice For All Summer Tour [remaining dates]:
6/08/2015 Sexx Mansion – Indianapolis, IN
6/09/2015 Spacebar – Columbus, OH
6/10/2015 Now That's Class – Cleveland, OH
6/11/2015 The Rock Room – Pittsburgh, PA
6/12/2015 Northrup House – Buffalo, NY
6/13/2015 No Cars – Rochester, NY
6/15/2015 O'Brien's – Boston, MA
6/16/2015 Funky Jungle – Providence, RI
6/17/2015 Soul Sounds – Long Island, NY
6/18/2015 Acheron – Brooklyn, NY
6/19/2015 Meatlocker – Montclair, NJ
6/20/2015 Mill Hill – Trenton, NJ
6/21/2015 King Fu Necktie – Philadelphia, PA
6/22/2015 Skid Row – York, PA
6/23/2015 house show – Richmond, VA
6/24/2015 Sidebar – Baltimore, MD
6/25/2015 The Maywood – Raleigh, NC
6/26/2015 529 – Atlanta, GA
6/27/2015 Bigshows – Statesborough, GA
6/28/2015 TBA – Gainesville, FL
6/29/2015 The Handlebar – Pensacola, FL
6/30/2015 Siberia – New Orleans, LA
7/02/2015 The Shop – Houston, TX
7/03/2015 TBA – Dallas, TX
7/04/2015 Lost Well – Austin, TX
7/05/2015 Korova Basement – San Antonio, TX
7/06/2015 TBA – El Paso, TX
7/07/2015 Moonlight Lounge – Albuquerque, NM
7/08/2015 Yucca Tap Room – Phoenix, AZ
7/09/2015 TBA – San Diego, CA
7/10/2015 E. 7th St. Warehouse – Los Angeles, CA
7/11/2015 924 Gilman St – Berkeley, CA
Tour Event Page HERE
Stoner Justice will see release on CD, LP (on rad splatter vinyl) and digitally via Tankcrimes on June 9th, 2015. For preorder bundles scroll on over to THIS LOCATION.
"It's loud, it's in your face, it sometimes makes you feel like you're having a bad trip, but it could keep playing throughout the day and you'd be happy. Stoner Justice will draw you in like the first bong hit after a long day and exhale you into the smoky, moody world of CONNOISSEUR where you'll want to stay on the sofa eating crisps and pizza all day with the album on repeat." – Distorted Sound
"Within these 31 minutes of violent music, you get fourteen tracks that hit you hard in the chest. So breathe in deep bitch, cough heavily and let CONNOISSEUR take over your body. It's the gateway drug to more great metal. A step up from last year's EP, delivering the same punches as last year but adding much more quality substance to give us a quality high that only true musicians can achieve. Blaze this over and over, let me know how you feel in the morning." – HeadbangorGTFO
"Fire it up… sit back and just – take it in man. If you're into heavy music and you like weed and bands who sing about heavy weed usage, you'll like this…" – Mxdwn
"If you're not familiar with CONNOISSEUR and you're expecting some paint-by-numbers stoner metal, you'll have to re-orient your thinking, with or without some weedy assistance. 'Pot Hole' is a seething, searing, thick-riffed outburst of rage, with pissed-off vocal vitriol that will leave your ear drums in tatters. Yeah, CONNOISSEUR do not adjust to an empty pot hole by chanting tranquilizing mantras." – No Clean Singing on the track, "Pot Hole"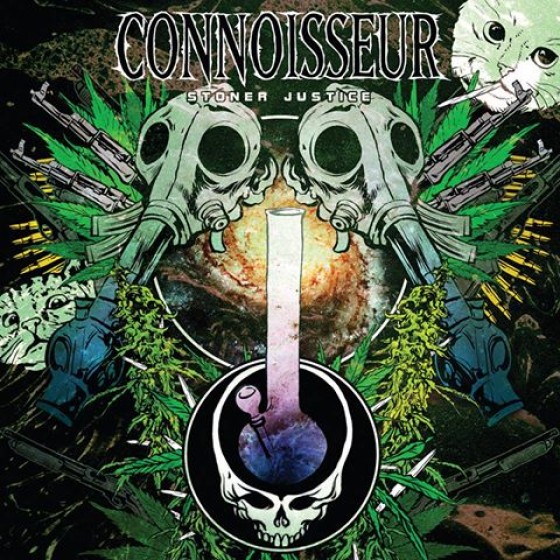 http://www.facebook.com/pages/Connoisseur/192545677457907
http://www.instagram.com/xconnoisseurx/
http://www.twitter.com/xCONNOISSEURx
http://www.tankcrimes.com
http://www.facebook.com/tankcrimes