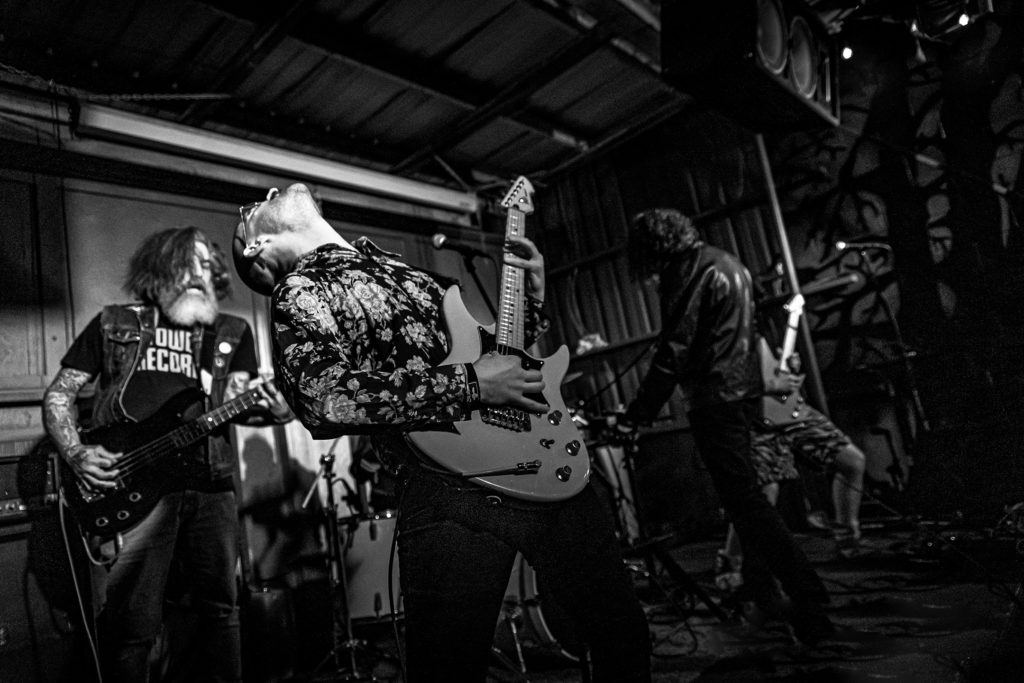 photos by Chris Schanz
Nameless Grave Records presents Brace For Impact, the shredding debut album by Seattle, Washington-based crossover outfit COLONY DROP. With the record locked and loaded for August release, its cover art, track listing, preorders, and lead single, "Colony Drop (Brace For Impact)," have been issued.
United in rebellion in the seedy underbelly of a technological megalopolis, the COLONY DROP quintet strikes like an assassin's blade—with speed, precision, and style. Written in hermetic seclusion with pugilistic discipline, Brace For Impact is a testament to the songwriting-first ethos that made metal great in the first place: catchy riffs, vocal hooks, blistering solos, and no bullshit.
The band offers, "Our goal with Brace For Impact is was to write the kind of record that got us into heavy music when we were kids and that we still want to find when we're digging through crates at record stores or scouring streaming services. We believe it's something that can capture your imagination immediately without letting go until the end, and something that you can listen to many times and still get something new out of."
The concise thirty-five-minute Brace For Impact deploys eleven ripping tracks recorded and engineered by Nicholas Wilbur at The Unknown Studios and by Ryan Moon at Buster Room Recordings, and mixed and mastered by Alex Farrar at Drop Of Sun Studios. With logo art by Emily McCafferty and photography by Chris Schanz, this grandiose vision of the techno-apocalypse is reflected in Brace For Impact's bold cover art and layout by Matt Stikker.
The result is a true album in the classic style: eleven knockout punches, each with its own distinct identity, each catchy enough to be a single. Together, they paint a kaleidoscopic picture of a mechanized future using sounds from rock's glorious past. As the title suggests, Brace For Impact is a clear statement of intent: COLONY DROP is here to bring back the guillotine and watch your strongholds fall. Fans of Iron Age, Power Trip, Black Breath, and High Command, tune in.
With the LP's lead single and opening/title track "Colony Drop (Brace For Impact)," the band reveals, "When we were assembling Brace For Impact, we wanted the album to be a full-frontal assault, and the title track is our opening salvo. It's a pit-starter that stands on its own and also contains everything COLONY DROP is about: memorable riffs, ripping leads, vocal hooks, and empowering lyrics with social critique and a science fiction aesthetic, plus a few easter eggs and curve balls, like the bass solo that kicks it all off."
Let "Colony Drop (Brace For Impact)" off the chain now at THIS LOCATION.
Brace For Impact will be released August 25th on LP, CD, CS, and digital platforms. Find preorders at the Nameless Grave Records webshop HERE and Bandcamp HERE.
Stand by for additional previews of the album and more to post over the weeks ahead.
Brace For Impact Track Listing:
1. Colony Drop (Brace For Impact)
2. Remade
3. Stand Against The World
4. Supplicant
5. The Clockwork Grip
6. Heartfelt
7. Heartwrench
8. Patient Xero
9. The Guillotine
10. Fantasize The Beast
11. (MS-07) The Gouf
COLONY DROP is booking live excursions surrounding the release of the album, with shows supporting Deathgrave, deathCAVE, Yob, Ludicra, Helms Alee, and more on the way. See currently secured gigs below and watch for updates to be issued.
COLONY DROP Live:
7/07/2023 Lucky Liquor – Seattle, WA w/ Deathgrave, deathCAVE
9/01/2023 The Spanish Ballroom – Tacoma, WA w/ Yob, Ludicra, Helms Alee
Though their sound is rooted in thrash, COLONY DROP swears allegiance to no singular genre or style. The group rejects contemporary metal's quantized tedium and pizza party purists' navel-gazing nostalgia in favor of a no-holds-barred approach. Instead, Brace For Impact celebrates its members' diverse passions. Stoner doom, D-beat crust, melodic death metal, classic prog, post-punk, NWOBHM, and Japanese Burning Spirits-style hardcore are some of the flavors COLONY DROP brazenly explores in their musicianship and storytelling.
Formed in 2019, COLONY DROP built their sound around the shredding guitars of Benjamin Burton and Ryan Moon (Turian), whose complementary-yet-distinct solo styles hearken back to the tradition of dueling duos: Hanneman/King, Denner/Shermann, and even Downing/Tipton. The pummeling rhythm section of drummer Eric Harris and bassist Ari Rosenschein (Stahv) supports their fretboard pyrotechnics, hence the band's motto: "High Speed, Twin Lead." Vocalist Joseph Schafer's electric growl delivers a litany of sci-fi nightmares and countercultural anthems inspired by the weird fiction of authors including China Mieville, as well as classic anime like Mobile Suit: Gundam, from which the band derives its name.
COLONY DROP:
Ari Rosenschein – bass, backing vocals
Benjamin Burton – lead guitar, backing vocals
Eric Harris – drums
Joseph Schafer – lead vocals, effects
Ryan Moon – lead guitar, keyboard
https://linktr.ee/colonydropthrash
https://www.instagram.com/colonydropthrash
https://www.facebook.com/colonydropthrash
https://colonydropband.bandcamp.com
https://www.namelessgraverecords.com
https://www.facebook.com/NamelessGraveRecords
https://www.instagram.com/namelessgraverecords
https://namelessgraverecords.bandcamp.com