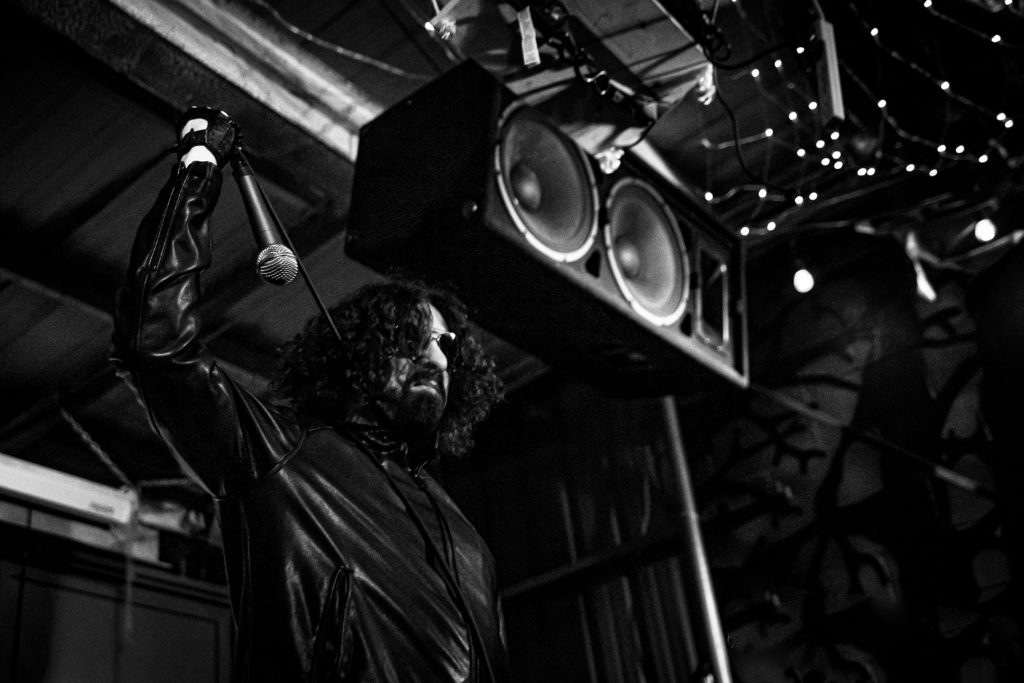 photos by Chris Schanz
Decibel Magazine has premiered "Stand Against the World," the new single from Seattle, Washington-based crossover outfit COLONY DROP. The song is found on the band's shredding debut album, Brace For Impact, nearing August release on Nameless Grave Records.
United in rebellion in the seedy underbelly of a technological megalopolis, COLONY DROP strikes like an assassin's blade—with speed, precision, and style. Written in hermetic seclusion with pugilistic discipline, Brace For Impact is a testament to the songwriting-first ethos that made metal great in the first place: catchy riffs, vocal hooks, blistering solos, and no bullshit. Their debut Brace For Impact deploys eleven ripping tracks recorded and engineered by Nicholas Wilbur at The Unknown Studios and by Ryan Moon at Buster Room Recordings, and mixed and mastered by Alex Farrar at Drop Of Sun Studios. With logo art by Emily McCafferty and photography by Chris Schanz, this grandiose vision of the techno-apocalypse is reflected in Brace For Impact's bold cover art and layout by Matt Stikker.
The result is a true album in the classic style: eleven knockout punches, each with its own distinct identity, each catchy enough to be a single. Together, they paint a kaleidoscopic picture of a mechanized future using sounds from rock's glorious past. As the title suggests, Brace For Impact is a clear statement of intent: COLONY DROP is here to bring back the guillotine and watch your strongholds fall. Fans of Iron Age, Power Trip, Black Breath, and High Command, tune in.
With the premiere of "Stand Against The World," vocalist Joseph Schafer states, "This is a song we will probably play at every single show until we hang it up. Some songs take a long time to write, but not 'Stand Against the World.' This one was f-a-s-t. We were in the practice space talking about 'Burning Spirits' hardcore and D-beat bands we like, and earlier, we'd been talking about the manga JoJo's Bizarre Adventure, so I said, 'We should just write a song called 'JoJo's D-Beat Adventure.' I thought I was being silly, but Ben had a working demo more or less the next day, and we dug it. The lyrics came in one big burst alongside the final title, and basically, the song has been the same ever since. People in the crowd like to take the mic and do the gang shouts with us when we play 'Stand…' live — sometimes even if they haven't heard the song before — which is wild, but always makes us feel good."
Decibel writes with their unveiling of the song, "Seattle's COLONY DROP understand the most important thing about crossover thrash from the get-go on their debut album, fittingly titled Brace For Impact: it's supposed to be catchy and fun. Mining in a not-dissimilar vein to Power Trip and Iron Age with splashes of Celtic Frost, Black Breath, and Japanese D-beat, COLONY DROP sling immediate and fast-moving tunes that are equal parts catchy and ripping."
Stream COLONY DROP's "Stand Against The World" first through Decibel Magazine now at THIS LOCATION.
Brace For Impact will be released August 25th on LP, CD, CS, and digital platforms. Find preorders at the Nameless Grave Records webshop HERE and Bandcamp where "Colony Drop (Brace For Impact)" is streaming HERE.
Stand by for additional previews of the album and more to post over the weeks ahead.
COLONY DROP is booking live excursions surrounding the release of the album, having just played with Deathgrave, deathCAVE, and others, and with a show supporting Yob, Ludicra, Helms Alee, and more on the way. See currently secured gigs below and watch for updates to be issued.
COLONY DROP Live:
9/01/2023 The Spanish Ballroom – Tacoma, WA w/ Yob, Ludicra, Helms Alee
Though their sound is rooted in thrash, COLONY DROP swears allegiance to no singular genre or style. The group rejects contemporary metal's quantized tedium and pizza party purists' navel-gazing nostalgia in favor of a no-holds-barred approach. Instead, Brace For Impact celebrates its members' diverse passions. Stoner doom, D-beat crust, melodic death metal, classic prog, post-punk, NWOBHM, and Japanese Burning Spirits-style hardcore are some of the flavors COLONY DROP brazenly explores in their musicianship and storytelling.
Formed in 2019, COLONY DROP built their sound around the shredding guitars of Benjamin Burton and Ryan Moon (Turian), whose complementary-yet-distinct solo styles hearken back to the tradition of dueling duos: Hanneman/King, Denner/Shermann, and even Downing/Tipton. The pummeling rhythm section of drummer Eric Harris and bassist Ari Rosenschein (Stahv) supports their fretboard pyrotechnics, hence the band's motto: "High Speed, Twin Lead." Vocalist Joseph Schafer's electric growl delivers a litany of sci-fi nightmares and countercultural anthems inspired by the weird fiction of authors including China Mieville, as well as classic anime like Mobile Suit: Gundam, from which the band derives its name.
COLONY DROP:
Ari Rosenschein – bass, backing vocals
Benjamin Burton – lead guitar, backing vocals
Eric Harris – drums
Joseph Schafer – lead vocals, effects
Ryan Moon – lead guitar, keyboard
https://linktr.ee/colonydropthrash
https://www.instagram.com/colonydropthrash
https://www.facebook.com/colonydropthrash
https://colonydropband.bandcamp.com
https://www.namelessgraverecords.com
https://www.facebook.com/NamelessGraveRecords
https://www.instagram.com/namelessgraverecords
https://namelessgraverecords.bandcamp.com