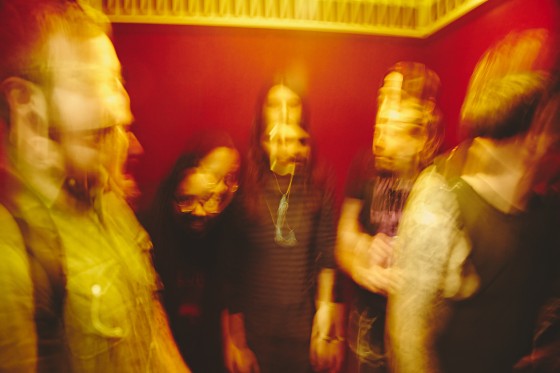 Today the doers of Metal Insider are very pleased to spew forth "Sleepwalking" from Los Angeles sludgecore bringers, COLOMBIAN NECKTIE.
The tune serves as the first taste of Twilight Upon Us, the band's forthcoming debut full-length, as well as the first song to be featured in Metal Insider's brand new "Amplified" column which focuses on pummeling new offerings from scene newcomers.
Notes the notorious website of the ripping new psalm, "The song really highlights what we dig about the band. Starting off with a nearly minute and a half ethereal instrumental that could almost be mistaken for Pelican, the second half of the song explodes into a concise volley of riffs with guitarists Juan Hernandez-Cruz and Ben Daniels providing a backdrop to vocalist Scott Werren's anguished vocals."
Get walloped by "Sleepwalking" at THIS LOCATION.
Named in honor of a song by iconic noise rockers, Big Black, but more commonly known as a method of murder where the victim's throat is slashed and the tongue is pulled through the open wound, COLOMBIAN NECKTIE's Twilight Upon Us, produced by Erol "Rollie" Ulug (Graf Orlock) at Bright Lights Studios, is the sonic equivalent of this violent and primeval act boasting thirteen smoldering tracks of dark, riff-soaked, emotionally explosive audio wreckage.
Since forming in the Los Angeles in the Fall of 2010, the band – vocalist Scott Werren, guitarists Juan Hernandez-Cruz and Ben Daniels, drummer Ben Brinckerhoff and bassist Alex DuPuis – has earned a reputation for their punishing riffs and maniacal DIY work ethic. Though clearly rooted in hardcore, tracks like the syncopated, sludgy death march of "Play The Game" and midtempo thrash of "Drought," complete with squealing synths, add a welcome dose of variance to an album that's uncompromising in its aggression. "We don't feel like we fit in any one genre, we just kind of slam things against a wall and focus more on how it makes us feel than where it fits in," Hernandez-Cruz admits. "Our influences range from Cave In and Snapcase to Orchid and Page 99 so we never try to limit ourselves when it comes to what we do stylistically."
COLOMBIAN NECKTIE will bring their confrontational wares to the stage for two dates next week with Cult Leader and Oathbreaker with additional live incursions to be announced in the coming weeks. Stay tuned.
COLOMBIAN NECKTIE Live:
8/5/2014 Che Café – San Diego, CA
8/6/2014 Bridgetown DIY – La Puenta, CA
Twilight Upon Us will be released independently on August 19th, 2014.
http://www.facebook.com/colombiannecktiela
http://www.twitter.com/necktielifela
http://www.instagram.com/necktielifela