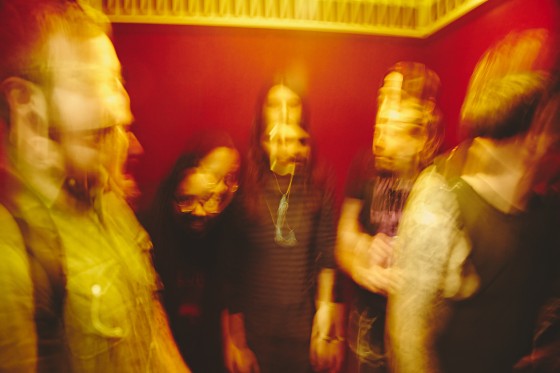 Los Angeles sludgecore unit, COLOMBIAN NECKTIE, is readying to unleash their mammoth debut full-length, Twilight Upon Us, upon unsuspecting masses.
Named after a method of murder where the victim's throat is slashed and the tongue is pulled through the open wound, COLOMBIAN NECKTIE's Twilight Upon Us, produced by Erol "Rollie" Ulug (Graf Orlock) at Bright Lights Studios, is the sonic equivalent of this violent and visceral act boasting thirteen maniacal tracks of dark, riff-heavy, emotionally stirring audio menace.
Twilight Upon Us Track Listing:
01. Stockholm '73
02. Guiding Light
03. Play The Game
04. Alternate Dimensions
05. Weep For the Future
06. Drought
07. Sleepwalking
08. These Three Words
09. Ready to Burn
10. Kevin's Song
Since forming in the Los Angeles in the Fall of 2010, the band — vocalist Scott Werren, guitarists Juan Hernandez-Cruz and Ben Daniels, drummer Ben Brinckerhoff and bassist Alex DuPuis — has earned a reputation for their punishing riffs and maniacal DIY work ethic. Though clearly rooted in hardcore, tracks like the syncopated, sludgy death march of "Play The Game" and midtempo thrash of "Drought," complete with squealing synths, add a welcome dose of variance to an album that's uncompromising in its aggression. "We don't feel like we fit in any one genre, we just kind of slam things against a wall and focus more on how it makes us feel than where it fits in," Hernandez-Cruz admits. "Our influences range from Cave In and Snapcase to Orchid and Page 99 so we never try to limit ourselves when it comes to what we do stylistically."
It hasn't been a painless ride for the members of COLOMBIAN NECKTIE however and correspondingly, much of Twilight Upon Us is rooted in tragedy as evidenced in the ten-minute opus "Kevin's Song." "Kevin was a close friend of ours and former bandmate who actually brought the band together. When he passed away, something came over us and we started writing differently," Hernandez-Cruz reflects. "The tragedy was really heavy because Kevin was just driving to a show in San Francisco and we knew it could have been any of us." Instead of falling into depression, the band used their friend's death as the catalyst to the manifestation of Twilight Upon Us.
"So much of the record is about loss and the struggle to try to cope in a city [Los Angeles] that isn't always forgiving," Hernandez-Cruz continues. "The silver lining is that this experience brought us closer as friends and musically in the sense that it made us all vulnerable and forced us to really listen to each other."
Whether it's the progressive bridge of "Weep For The Future" or ethereal intro to "Sleepwalking," the bond the members developed over the past two years helped them dig deeper to incorporate elements that they never could have conceptualized in a perfect world. "This record has a lot of pain on it and a lot of unpredictable moments but it also feels good if that makes any sense," Hernandez-Cruz summarizes, "and listening to this collection of songs, the listener gains the sense that not only are they not alone but that he or she can gain strength in the darkest of moments."
Twilight Upon Us will be released independently on August 19th, 2014. Further details, including track previews, to be unleashed in the days to come.
http://www.facebook.com/colombiannecktiela
http://www.twitter.com/necktielifela
http://www.instagram.com/necktielifela