Chicago death/doom doers, COKEGOAT, have spewed forth a track from their recently ignited debut full-length, Vessel. Titled "Buried In The City," the tune boasts an ungodly barrage of bottom end and venomous vocal tirades.
Comments COKEGOAT in a collective bellow: "'Buried In The City' is about living in a city full of dead people. Well, not exactly…. It's about living in a city full of people who don't realize that they are dead, but in fact they have been dead for a long time. The strange thing is that the deader you are, the more alive you appear."
Get down with the urban undead, courtesy of Revolver Magazine, at THIS LOCATION.
Recorded at Bricktop Recording on their home turf, Vessel was engineered by Andy Nelson of Weekend Nachos, mastered by renowned sound serpent Carl Saff (Unsane, Red Fang, Earthless et al), and offers up eight tracks of violent, face-raping death/doom.
COKEGOAT embraces the inherent evil of the earth and the soul. Planets dying, earth eating man, ocean birthing fear, moon swallowing heavens. Shit's brutal. No protest here. Part weed, all beer, soaked with good times, six members strong. One has gotten kicked out of every band he's ever been in. One has a positive word to say about every band he has ever seen and will travel to any city with a brewery. Another has a serious gear trading problem. Three guitars, three voices, bass, drums and synths, COKEGOAT seriously wonders how a goat with a cocaine problem acts. They guess that goat would fuck your face off with riff heavy music that tastes like fresh flesh. What… You ask? They answer… Hell yes.
Vessel is out now via Economy Of Motion Records and comes available on 180-gram LP and digital download. Further info, including live rituals, to be announced in the coming weeks.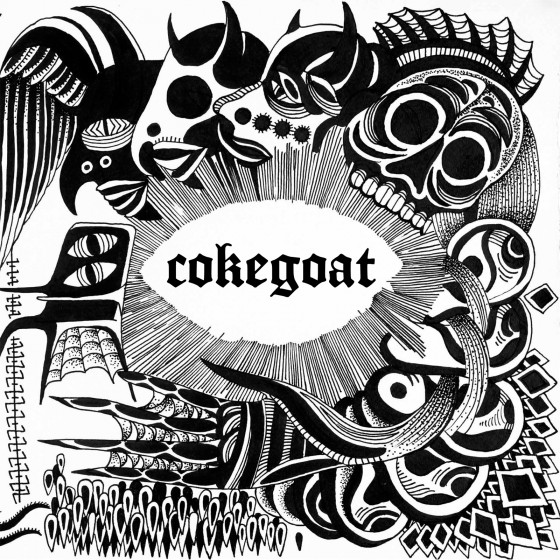 "What you hear is the beginning. The future is being created."
https://www.facebook.com/Cokegoat?ref=br_tf
http://cokegoat.bandcamp.com