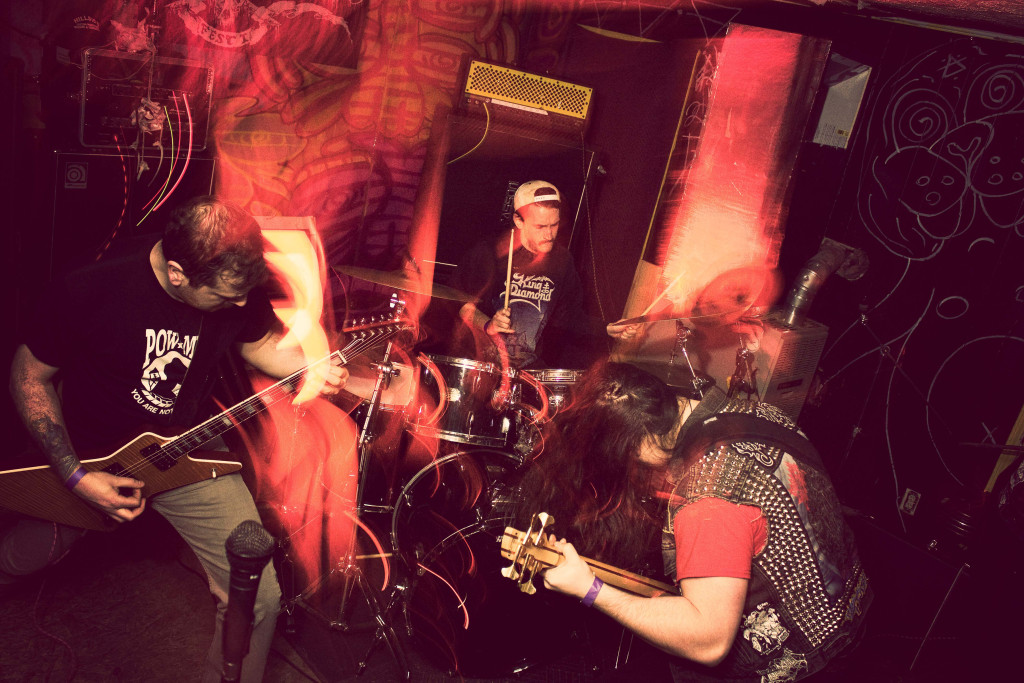 Everything Is Dead is the upcoming full-length from Philadelphia-based death thrash miscreants COFFIN DUST, which features within its repugnant ranks former Exhumed bassist Matt Slime.
Set for official release May 6th via Unholy Anarchy Records, the fittingly-titled Everything Is Dead was recorded and mastered by Ryan Reed at Creep Records Recording Studio in Philadelphia, Pennsylvania and offers up seven tracks of sonic deviance including a cover of Slayer's "Metal Storm/Face The Slayer."
In advance of its release, today Decibel Magazine vomits forth a stream of "The Living Coffin" for public contamination noting: "COFFIN DUST have no need for subtlety, as it gets in the way of their self-described 'nightmare thrashing terror death.' If you combine this with a band roster that includes Slime on 'pick axe and mucous,' Bone Daddy as 'cellar dwellar,' Eerie Steve on 'chainsaws and garrot wire,' and Danny Disgustor as "casket pounding," it's clear the debauchery and gore will be a-flying."
Adds Slime of the diseased ode, "'The Living Coffin' is one of our shorter, more to-the-point songs. We wanted to hit hard with heavy melody, and also keep it crushing! This is absolutely one of my favorites. The lyrics can really pertain to any soul-sucking entity in one's life, but take them as you will. I love for the lyrical content to be open to interpretation…"
Live it up with "The Living Coffin," courtesy of Decibel Magazine, at THIS LOCATION.
And if you missed the noxious fumes of "Gore Ensemble," get listening below:
In related news, COFFIN DUST will spread their filth and debris live at Shadow Woods Metal Fest this Fall with additional live infiltrations to be announced soon.
COFFIN DUST:
9/15-18/2016 Shadow Woods Metal Fest – White Hall, MD [info]
COFFIN DUST was forged in in 2008 with founding members Slime (ex-Exhumed) and drummer Danny Disgustor conjuring a concept of death thrash with injections of other influences. By late 2010 the band's first recorded release would come in the form of a crushing split with fellow Philly miscreants Cape Of Bats titled Unimaginable Horror (Grim Winds). Over the next few years, COFFIN DUST released three EPs, and finally unleashed their long awaited debut full-length, This Cemetery, My Kingdom in 2014 via Unholy Anarchy Records.
Trudging through a plethora of lineup changes and hardships, COFFIN DUST has emerged out of the depths of The City Of Brotherly Love once again with their finest work to date in Everything Is Dead. Expect haunting and viscous sounds that will leave you trapped in your worst nightmares!
http://www.coffindust.bandcamp.com/
http://www.facebook.com/CoffinDust
http://www.facebook.com/Unholy-Anarchy-Records-Distro