Colorado's favorite progressive apocalyptic metal twosome, COBALT, will take to the streets this weekend supporting doom rock icons The Obsessed. The band will join the tour on October 8th and level nearly two dozen metropolises through October 27th with various one-off shows spread throughout. See all confirmed dates below.
In case you missed it, check out audio of COBALT performing at Roadburn 2017 at THIS LOCATION and view their appearance in Kracow, Poland at THIS LOCATION.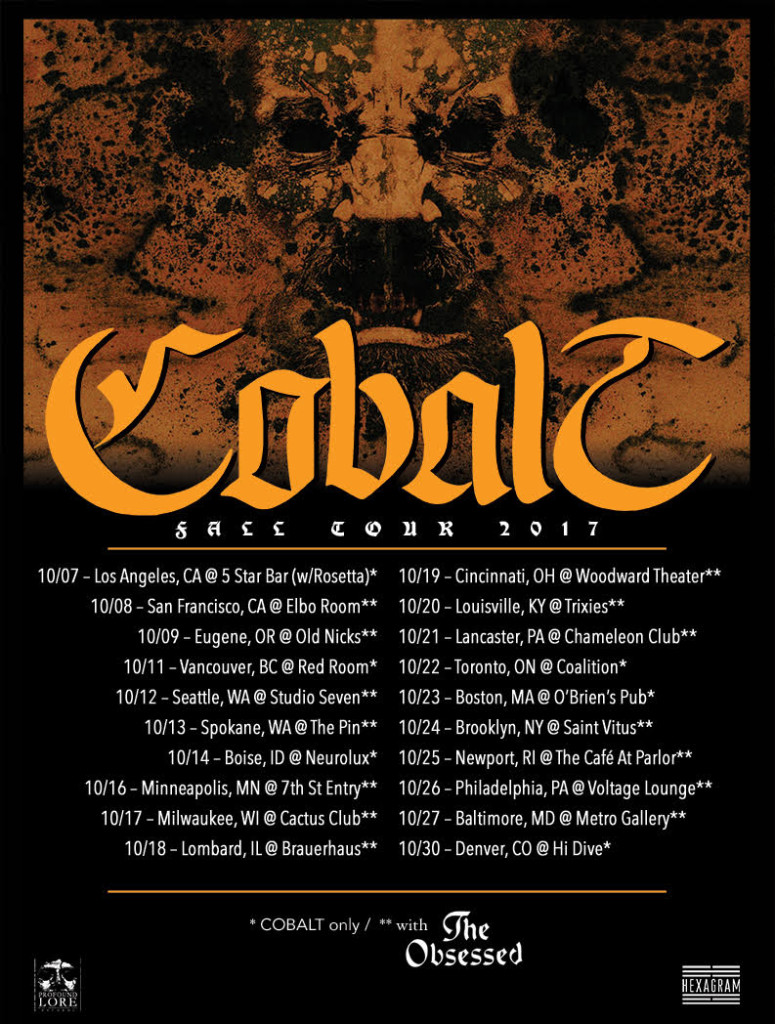 COBALT w/ The Obsessed:
10/07/2017 5 Star Bar – Los Angeles, CA w/ Rosetta *
10/08/2017 Elbo Room – San Francisco, CA
10/09/2017 Old Nicks – Eugene, OR
10/11/2017 Red Room – Vancouver, BC *
10/12/2017 Studio Seven – Seattle, WA
10/13/2017 The Pin – Spokane, WA
10/14/2017 Neurolux – Boise, ID *
10/16/2017 7th St. Entry – Minneapolis, MN
10/17/2017 Cactus Club – Milwaukee, WI
10/18/2017 Barauerhaus – Lombard, IL
10/19/2017 Woodward Theater – Cincinnati, OH
10/20/2017 Trixies – Louisville, KY
10/21/2017 Chameleon Club – Lancaster, PA
10/22/2017 Coalition – Toronto, ON *
10/23/2017 O'Briens – Boston, MA *
10/24/2017 Saint Vitus – Brooklyn, NY
10/25/2017 The Cafe At Parlor – Newport, RI
10/26/2017 Voltage Lounge – Philadelphia, PA
10/27/2017 Metro Gallery – Baltimore, MD
10/30/2017 Hi Dive – Denver, CO w/ Worry, Fathers *
* COBALT only
COBALT features multi-instrumentalist/mastermind Erik Wunder and vocalist Charlie Fell (ex-Lord Mantis). The pair will be touring in support of their Slow Forever full-length, released last year via Profound Lore Records. Pitchfork named the record the band's, "best-ever," and, "as accessible as it is aggressive, with magnetic hooks, shout-along mantras, and sparkling riffs." Spin noted, "Slow… was born of isolation and betrayal, but it's music that was meant for concert halls COBALT deserve to fill; music that rewards both introspection and reveling in like-minded rapture." Stereogum gushed, "Slow Forever works because it's way vaster and meaner and more monolithic than almost any album I've heard in recent years. It's not an album that does things. It simply is. If you listen to it in the right frame of mind, it creates this whole visceral hell-world inside your head, and you can just go fold in on yourself and live there." Brooklyn Vegan hailed an album of, "brutal, thrilling contradictions; raw but refined, furious but contemplative, catchy but punishing, literary but lizard-brained. Metal or not, it's one of the best albums of the year," giving it the #2 spot on their Top Albums Of 2016. Added Metal Injection, "Slow Forever is a commanding and magisterial composition. It stands as a frame of reference for great metal much like its predecessor and transcends the hitches and missteps that COBALT has dealt with in the space between albums… a massively rewarding experience to digest and rife with some of COBALT's greatest individual moments.
http://www.facebook.com/COBALT
http://www.profoundlorerecords.com
http://www.facebook.com/profoundlorerecords