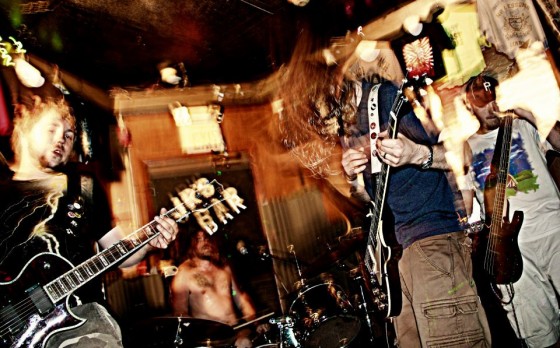 Riffmongering Westmont, New Jersey-based CLAMFIGHT has completed their second album, and are preparing it for deployment in early 2013, unless there is some truth to this Mayan calendar fiasco that is.
As with their impressive 2010 debut Volume I, the new opus, I Versus The Glacier, was recorded by Steve Poponi at Gradwell House Recording in Haddon Heights, New Jersey. The thundering nine-track ruckus that is I Versus The Glacier magnifies the signature CLAMFIGHT blend of sludge, thrash, and doom that, according to Doommantia webzine, "has more than enough groove to break down walls," yet ventures into even more expansive and torrentially-infectious territory on the nearly fifty-minute album.
I Versus The Glacier will see release on January 22nd, 2013 exclusively through New Jersey-based The Maple Forum, the official label imprint born of admired webzine/music community The Obelisk. In coordination with BrooklynVegan, The Maple Forum is co-sponsoring a weekend warrior tour kicking off in Brooklyn this Friday and plowing through Rochester, New York and Allston, Massachusetts, uniting CLAMFIGHT alongside Kings Destroy (members of Killing Time) and Black Pyramid.
CLAMFIGHT Live Engagements:
11/09/2012 Union Pool – Brooklyn, NY w/ Kings Destroy, Black Pyramid
11/10/2012 Monty's Krowne – Rochester, NY w/ Kings Destroy, Black Pyramid, Babayaga
11/11/2012 O'Brien's Pub – Allston, MA w/ Kings Destroy, Black Pyramid
11/20/2012 Kung Fu Necktie – Philadelphia, PA w/ Thee Nosebleeds, Screaming Rattler
Additional live excursions are being devised for the coming weeks and will be announced as the album's release date nears.
CLAMFIGHT consists of Andy Martin on drums and vocals, Sean McKee on lead guitar, Joel Harris on rhythm guitar, and Louis Koble on bass. Self described as "music for fat dudes and the buxotic women who love them," this crew of childhood friends has been playing together in various bands since 1997, existing together as CLAMFIGHT since 2002. Having shared the stage with great local acts including Wizard Eye, Pale Divine, Bitchslicer, Hellblock Six, Maegashira, Rukut, A Day of Pigs, Wally, as well as some more well known national acts including Kings Destroy, Solace, Jucifer, and Iron Man over the years, the band have amassed a legion of fans in the tri-state area and within the diehard doom/sludge community. Their debut, Volume I, was self released in August 2010 and has received favorable press from Doommantia and The Obelisk among others, and was named the #7 album of the year from The Obelisk's top 20 list.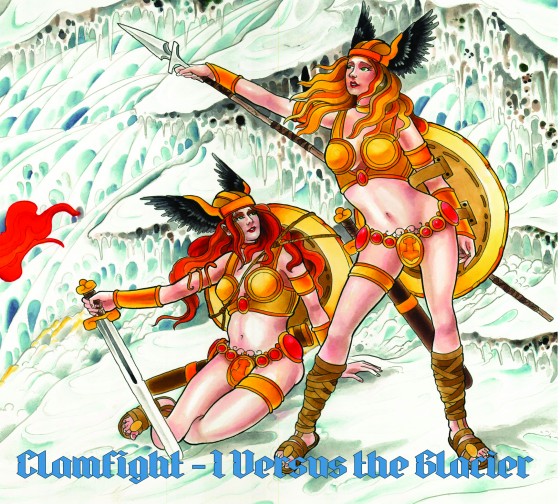 I vs. the Glacier Track Listing:
1. The Eagle
2. Sandriders
3. Shadow Line
4. I vs. the Glacier
5. Age of Reptiles
6. River of Ice
7. Mountain
8. The Green Gods of Yag
9. Stealing the Ghost Horse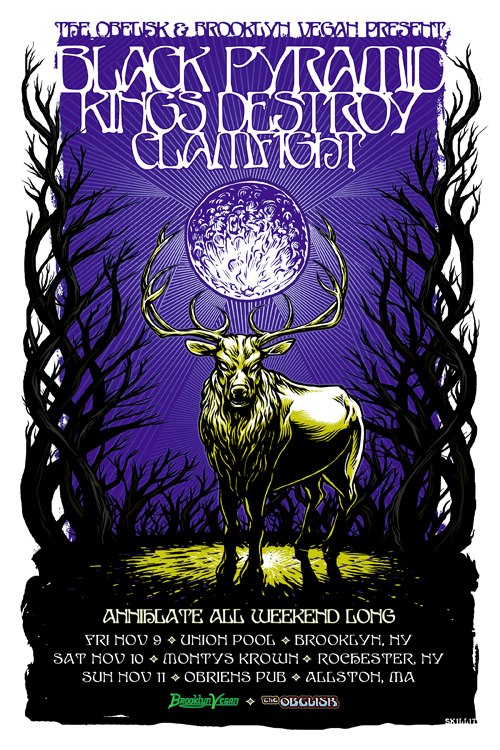 http://clamfight.bandcamp.com
http://www.facebook.com/pages/Clamfight/248201303669
http://mapleforum.bigcartel.com