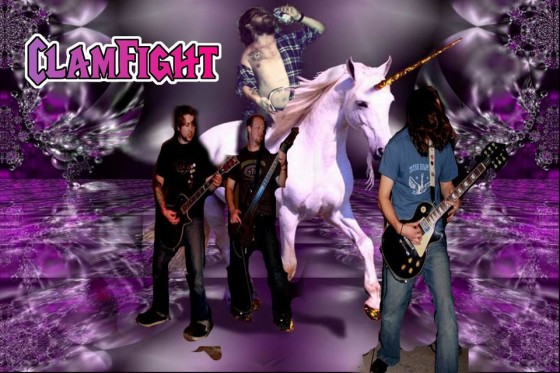 South Jersey sludgerockers CLAMFIGHT are sailing south this afternoon, en route to rendezvous with fellow riff-wranglers Beelzefuzz, War Injun, Ichabod and Hollow Leg in Frederick, Maryland for a royal bake-off tonight. Then tomorrow evening they'll storm through Philadelphia to rock out with Borracho, Been Obscene, Supervoid on their way back home.
Additional new digs have also been scheduled, with CLAMFIGHT shipping out again with a show in York, Pennsylvania next Saturday, April 6th, followed by several other rakings in South Carolina, Virginia, and back in Pennsylvania and Maryland again later in the month. While more voyages are still being plotted for the Spring and Summer seasons, the band set on exploring more westerly waters, CLAMFIGHT will also embark to take part in year's Stoner Hands of Doom Festival in Richmond, Virginia November 7th through 10th.
CLAMFIGHT celebrated the harvest of their second full-length, I Versus The Glacier, late in January of this year. Recorded by Steve Poponi at Gradwell House Recording in Haddon Heights, New Jersey the CD version of the record was released by The Maple Forum, the official label imprint born of admired webzine/music community The Obelisk, and the band is now plotting a vinyl version for release this Summer. The band is also demoing material and performing new stuff live, with plans of pillaging the studio once again late in the year.
For now stream all of I Versus The Glacier and more via Bandcamp.
For all things CLAMFIGHT come knock at the Earsplit shack and one of our fishmongers will shell out what your appetite requires.
CLAMFIGHT Live Actions:
3/29/2013 Cafe 611 – Frederick, MD w/ Beelzefuzz, War Injun, Ichabod, Hollow Leg
3/30/2013 Kung Fu Necktie – Philadelphia, PA w/ Borracho, Been Obscene, Supervoid
4/06/2013 The Depot – York, PA w/ Crobot, Kingsnake, Witch Hazel
4/25/2013 Kung Fu Necktie – Philadelphia, PA w/ Holly Hunt, Sunburster, Shroud Eater
4/26/2013 The Oasis – Charleston, SC w/ Compel, Greenseer, Heavy Temple
4/27/2013 TBA – Virginia w/ Heavy Temple
4/28/2013 Lallo's – Knoxville, MD w/ Heavy Temple, Akris
11/7-10/2013 Stoner Hands Of Doom Festival – Richmond, VA
http://clamfight.bandcamp.com
https://www.facebook.com/Clamfight
http://mapleforum.bigcartel.com