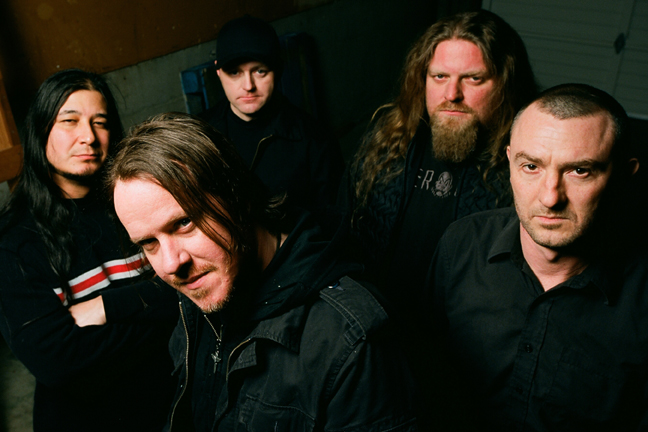 CITY OF FIRE, the new band featuring vocalist Burton C. Bell, bassist Byron Stroud, guitarist Terry Murray, guitarist Ian White, and drummer Bob Wagner, made a surprise live appearance last weekend opening for Fear Factory at the Commodore Ballroom in Vancouver. The performance marked the first live appearance for the band this year as they ready themselves for the anticipated release of their self-titled debut album on August 24.
"I pulled double duty for the first time by performing in two bands," comments Burton C. Bell. "Though CITY OF FIRE was never placed on the poster bills, we were mentioned on CFOX by Danger that we were making a special appearance. When we went on, there were a couple hundred people in front of the stage. And though we only had one hour of rehearsal that day, we played quite well and the audience was very receptive, especially when we played our rendition of The Cult's 'Rain.' We all had a blast on stage, and we are very excited to get on the road this September. The spark has been ignited."
While still weeks from release, CITY OF FIRE has already amassed early praise from media. Metal Hammer editor Alexander Milas calls the record, "absolutely incredible. I can't say enough about how diverse the record is. It is not a Fear Factory record it is something completely different and unique. It is heavy and beautiful… so, so gorgeous." Popular metal website SMN News adds, "CITY OF FIRE is a surprisingly organic and melodic album full of great and diverse songs."
Recorded at renowned Factory Studios in Vancouver in late 2008 with additional material completed in April of this year, the album features fourteen songs, including remakes of The Cult's "Rain" and T-Rex's "Children Of The Revolution." It will also include the band's video for the song/single 'Rising.' Bell, currently on tour with Fear Factory, says, "my friends, I am very excited about CITY OF FIRE. Byron and I are very proud of this recording. It is a fresh sound for this era of music. Literally there is nothing that sounds like this right now, and it is time that a hard rock, groove, psychedelic sound comes to your ears. The music is passionate and soulful. It is a mature record for our time, full of wisdom and soul of the ages. Please check the record out. You will not be disappointed."
Discussing the album's two unique remakes and the decision to include them, Stroud recently noted, "'Rain' really fits well with the concept of the record and the vibe of Vancouver, which really influenced CITY OF FIRE. I have been wanting to do a version of that song for a long time and once we started writing the record, I knew this was the band to do it." Murray adds, "aside from being a killer rock song, we chose 'Children Of The Revolution' because we felt the title was a relevant commentary on the climate of the world today. Kids have a lot to revolt about these days and hopefully this will be an anthem for it. We knew that Burt's voice could give this song a modern edge to it, and make it for this generation."
CITY OF FIRE will tour Australia and New Zealand beginning September 4. Guitarist Jed Simon (Strapping Young Lad/Zimmer's Hole) will be replacing Ian White who cannot join the band due to prior work commitments. North American dates are now being planned and will be announced shortly.
http://www.myspace.com/thecityoffire
http://cityoffire.com
http://www.candlelightrecordsusa.com