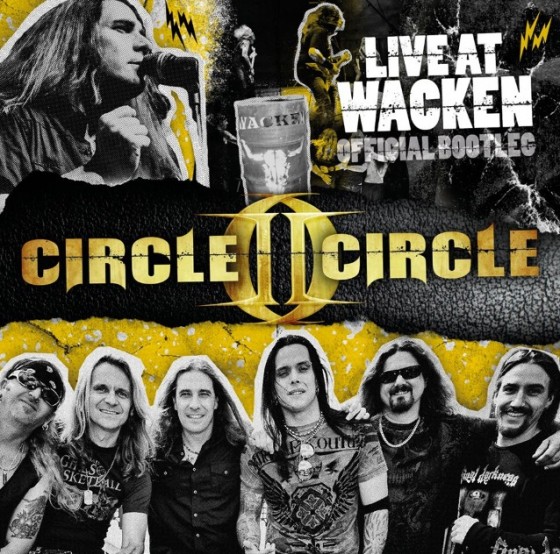 Armoury Records, in cooperation with earMUSIC, is pleased to announce the release of Live At Wacken (Official Bootleg), the first ever live offering from American metal merchants, CIRCLE II CIRCLE.
Recorded in August of 2012 at the Germany's renowned Wacken Open Air Festival, CIRCLE II CIRCLE — led by former Savatage vocaist Zak Stevens — performed Savatage's iconic The Wake Of Magellan full-length, almost in its entirety. The last Savatage record to feature Stevens, The Wake Of Magellan is a monumental concept album and considered by many to be the band's best work of the post-1993 Savatage saga. Narrated by Stevens' prodigious voice and framed by deeply emotional and highly expressional compositions, the album can easily be described as a true rock opera.
Live At Wacken (Official Bootleg) Track Listing:
1. The Ocean/Welcome
2. Turns To Me
3. Morning Sun
4. Complaint In The System (Veronica Guerin)
5. The Wake Of Magellan
6. Anymore
7. The Hourglass
8. Blackjack Guillotine
Live At Wacken (Official Bootleg) follows CIRCLE II CIRCLE's epic Seasons Will Fall full-length released in early 2013. Blending Stevens' history and unique "Savatage style" with the fresh sounds he's meticulously developed with CIIC, Seasons Will Fall's fusion of metal and hard rock, powered by his passionate melodic rock vocals continues to reap the love and adoration of fans and critics globally. Colossal Pop crowned Stevens, "one of the best vocalists in the rock world," while Hardrock Haven noted, "This is a must-have album your music collection, especially if you are a CIRCLE II CIRCLE or Savatage fan or checking out the progressive metal scene for the first time." The Age Of Metal agreed: "CIRCLE II CIRCLE have indeed exceeded their potential, and challenged their capabilities to the most on this record. A great hard rock album full of heavy riffs, high note vocals, and a pure rocking attitude all around it."
Live At Wacken (Official Bootleg) will be released in North America via Eagle Rock imprint Armoury Records on August 22nd, 2014.
http://www.circle2circle.net
http://ww.ear-music.net
http://www.eaglerockent.com
http://ww.facebook.com/earMUSICofficial