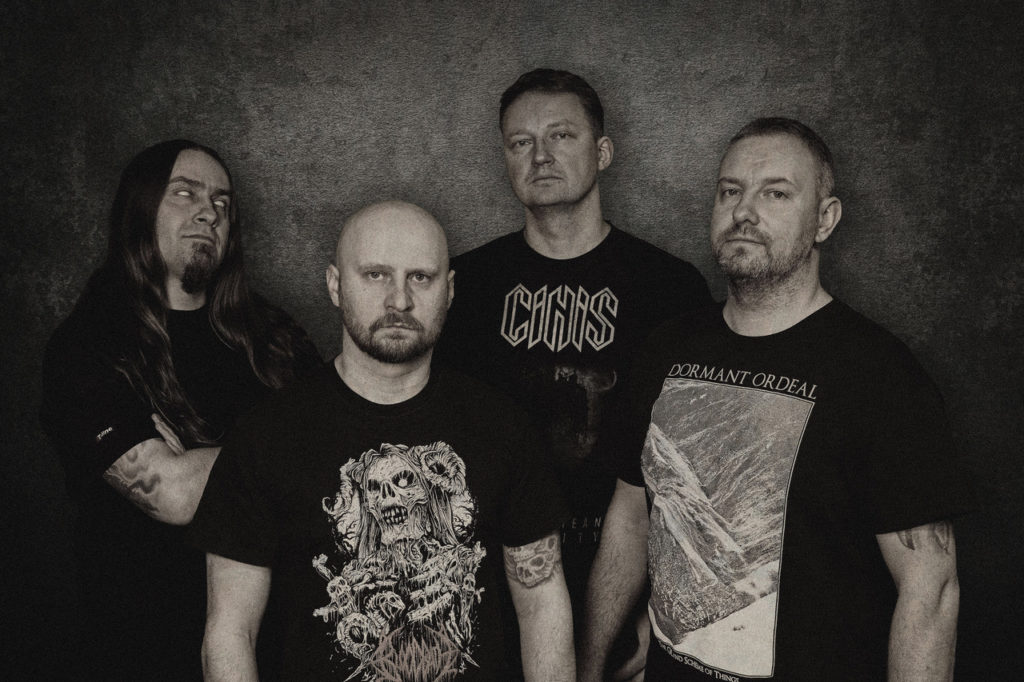 photo by Ewa Bielemuk
As Polish death metal quartet CINIS prepares to release their third album, Lies That Comfort Me, this Friday through Selfmadegod Records, MetalSucks is hosting an advance stream of the entire brutal record right now.
Based in Bialystok, Poland, CINIS was formed in 2003 by Robert Danielski and Lech Szuszkiewicz, recording their Vile Angel demo at Bloodline Studio in 2005. At the end of 2007, the band recorded its first full-length album, The Last Days of Ouroborus, at Hertz Studio and released it through the label Old Temple. 2014 saw the band return to Hertz for the recording of their second album, Subterranean Antiquity, which also saw release via Old Temple.
In 2022, nearly twenty years into their craft, CINIS signed with Selfmadegod Records for the release of their newly completed third album, Lies That Comfort Me, delivering nine pummeling tracks of tumultuous death metal with massive homage paid to Florida legends and forerunners of the genre, Morbid Angel, Deicide, and Cannibal Corpse, as well as more technical influence from countrymates Vader and Decapitated. Lies That Comfort Me was recorded between October 2021 and March 2020, engineered by Lukasz Bielemuk, then mixed and mastered at Hertz Studio (Behemoth, Vader, Trauma, Decapitated). The album is completed with artwork and layout by Tomasz "Hal" Halicki (Vader, Dead Infection) and photography by Ewa Bielemuk.
With the album on the eve of its release, CINIS' lyricist Michał Pawłowski reveals, "Lies That Comfort Me is NOT about social media. It's about us. How we flaunt our kids to feel fulfilled. How we turn our interests into likes. How we find outlets for our psychopathic tendencies. How we burden others, preferably our nearest and dearest, with our own weaknesses and manias. Social media? They are an outlet, convenience food for our addictive selves. It's frustrating, it's overwhelming, it's something best expressed through fierce and unforgiving death metal assault on the senses. So, switch off the phone and let CINIS pound out your very own frustrations."
MetalSucks writes, "If you like old-school death metal, there's a lot to like about Lies That Comfort Me. Influenced in equal measure by the American old guard of Deicide, Morbid Angel and Cannibal Corpse and fellow Poles Vader and Decapitated for a little technical flair, Lies That Comfort Me is a meat-and-potatoes death metal album executed with precision."
Listen to CINIS' ravaging Lies That Comfort Me in its entirety early only at MetalSucks RIGHT HERE.
Selfmadegod Records will release Lies That Comfort Me on CD and digital formats this Friday, September 23rd. Find preorders at the label webshop HERE and Bandcamp HERE, and watch the "Witness" video HERE.
https://www.cinis.pl
https://facebook.com/cinisofficial
https://cinis.bandcamp.com
https://www.instagram.com/cinisofficial
https://www.youtube.com/cinisofficial
https://www.selfmadegod.com
https://www.facebook.com/selfmadegod
https://www.selfmadegod.bandcamp.com
https://www.instagram.com/selfmadegod_records
https://www.soundcloud.com/selfmadegodrecords