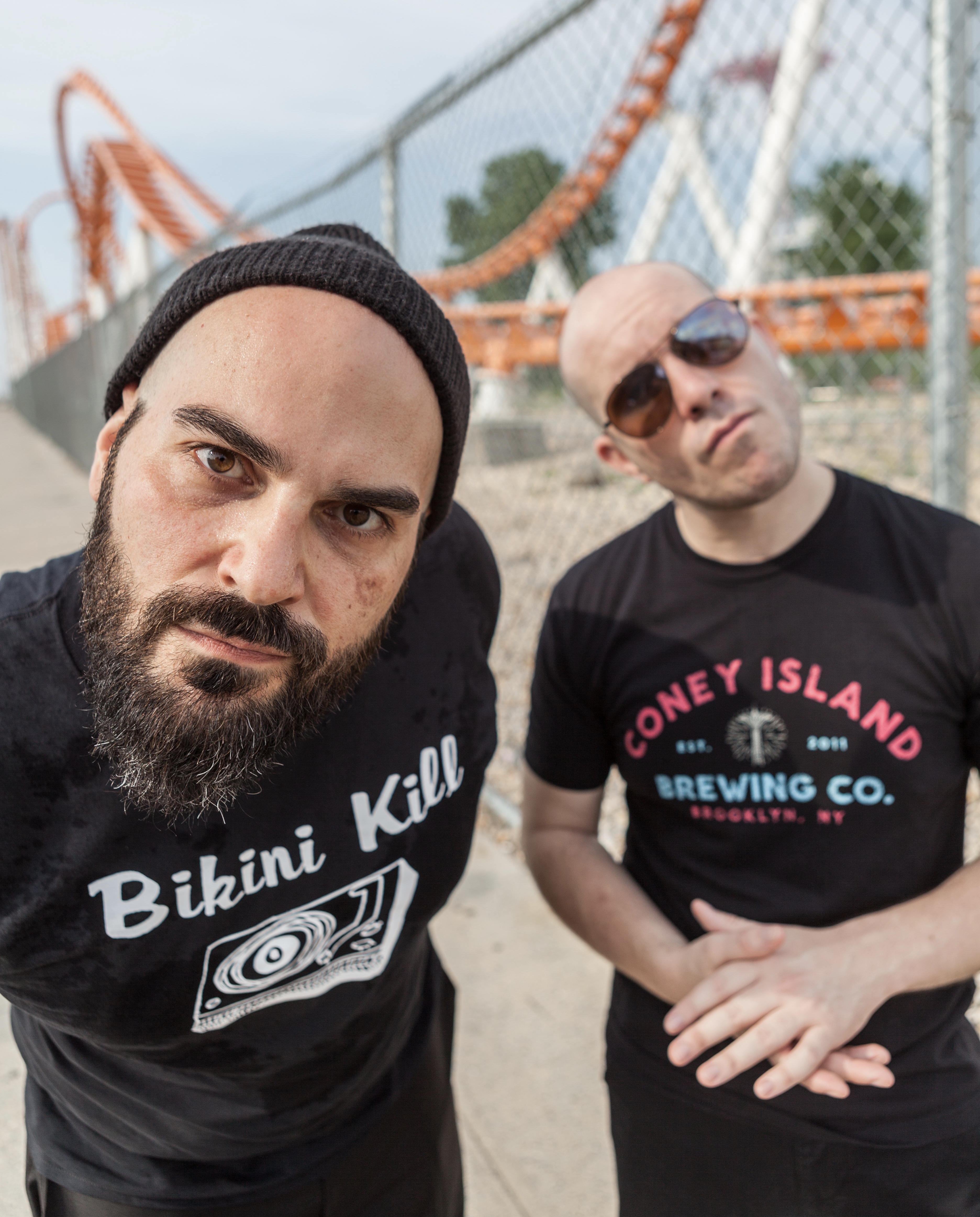 [photos by Alex Bershaw]
New York experimental art punk duo CINEMA CINEMA prepares to release their fifth full-length album, CCXMD, through Nefarious Industries in November. This week, the LP's maiden single "Radio Ready" has been debuted through a premiere at Treble. Preorders for the album have also been posted.
CINEMA CINEMA was established in 2008 by Brooklyn-born cousins Ev Gold (vocals/guitar) and Paul Claro (drums). They've been described as "experi-metal punks" by the Village Voice, "a jolt of adrenaline" by BrooklynVegan, and "feral and unrelenting" by Big Takeover.
CINEMA CINEMA presents their fifth full-length, CCXMD. The duo takes a left turn from any previously recorded output, delving into ambient and atmospheric free-jazz territories, and inviting reed aficionado Matt Darriau – best known for his work with Grammy award-winning world-music ensemble The Klezmatics – to join the group for a collaborative, entirely improvised affair. Darriau had been a guest on the band's 2017 LP Man Bites Dog, providing saxophone on a handful of tracks, and this time he brings more tools from his repertoire as the trio submerge themselves in the strange beauty of chaotic sound, found together in the moment.
State's the band's Ev Gold of the LP's lead single, "Staying true to the song's title, 'Radio Ready' was an attempt at writing a digestible, mainstream-friendly single. Fortunately, we wound up with something else entirely."
Treble agrees, writing in reference to the song title, "If that sounds like it's going to be a hit single, well, you're in for something quite different. It's a blend of noise, no wave and free-jazz, somewhere between early Boredoms, Captain Beefheart, and a primal scream therapy session. It's anything but commercial, in other words."
Stream CINEMA CINEMA's "Radio Ready" only through Treble RIGHT HERE.
Nefarious Industries will release CCXMD on CD and digital formats on November 1st. Preorders are now live through the label's webstore HERE and via Bandcamp HERE.
CCXMD Track Listing:
1. Collective Outpoint
2. Cyclops
3. Revealed
4. Colors
5. Radio Ready
6. Ode To A Gowanus Flower
7. Cloud 3
CINEMA CINEMA is busy booking regional runs of tour dates surrounding the release of their new record, including one-off New York and Pennsylvania dates in October and November, ahead of a Western US tour which begins the week of the album's release and takes the band through California, Nevada, and into Texas through the middle of November. Expect additional tour dates to be posted throughout the months ahead.
CINEMA CINEMA Tour Dates:
10/19/2019 BC Studio – Brooklyn, NY
11/02/2019 Mcstews's – Levittown, PA
11/08/2019 Jerry's Pizza & Pub – Bakersfield, CA
11/09/2019 Old Towne Pub – Pasadena, CA
11/10/2019 Jub Jub's Thirst Parlor – Reno, NV
11/11/2019 El Rio – San Francisco, CA
11/12/2019 Elbo Room JL – Oakland, CA
11/13/2019 Sun Space – Shadow Hills, CA w/ Mike Watt & The Missingmen
11/14/2019 TBA
11/15/2019 Rubber Gloves – Denton, TX
11/16/2019 Tradewinds Social Club – Dallas, TX
https://www.cinemacinemaband.com
https://cinemacinema.bandcamp.com
https://www.facebook.com/cinemacinemaband
https://www.instagram.com/cinemacinemaband
https://twitter.com/cinemacinema
http://nefariousindustries.com
http://www.facebook.com/nefariousIndustries
http://www.twitter.com/nefariousInd
https://nefariousindustries.bandcamp.com