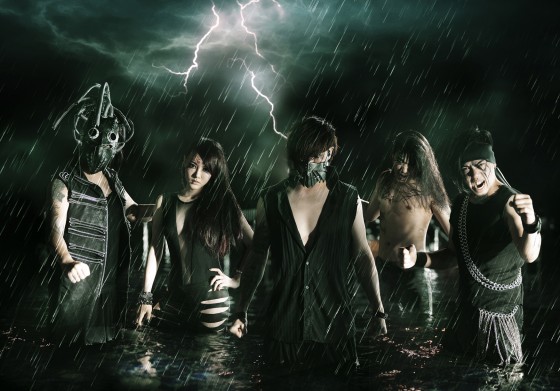 Taiwanese avant metal ensemble, CHTHONIC, are readying to kick off a massive European trek supporting Norwegian metal titans, Satyricon. Slated to begin on November 7 in Copenhagen, the extensive journey marks the band's first performances on European soil since the release of their latest studio album, Bú-Tik, and will also mark their first-ever shows in Denmark, Sweden, Poland, Spain, Italy, Slovakia, Slovenia, and Luxembourg!
"We are looking forward to the tour in Europe, especially because we will be visiting some cities for the first time," said the bassist Doris Yeh. "CHTHONIC's music is full of Oriental martial art spirits and traditional music; we are confident that the blend of traditional elements and heavy metal could bring some very different sensations to those audiences."
Meanwhile, CHTHONIC have also been nominated for seven Golden Indie Music Awards (Taiwan), including best album, best band, best performance, and best musician. CHTHONIC will depart for their European quest following their participation in the award ceremony.
CHTHONIC w/ Satyricon:
11/07/2013 Amager Bio – Copenhagen, Denmark,
11/08/2013 Turock- Essen, Germany
11/09/2013 Le 106 – Rouen, France
11/10/2013 Academy 3 – Manchester, England
11/11/2013 The Limelight – Belfast, N. Ireland
11/12/2013 Buttn Factory – Dublin, Ireland
11/14/2013 O2 Academy Islington – London, England
11/15/2013 Le Maroquinerie – Paris, France
11/16/2013 L'echonova – Vannes, France
11/17/2013 Cc John Lennoné – Limoges, France
11/19/2013 Paradise Garage – Lisbon, Portugal
11/20/2013 Sala But – Madrid, Spain
11/21/2013 Apolo – Barcelona, Spain
11/22/2013 La Tannerie – Bourg En Bresse, France
11/23/2013 La Laiterie – Strasbourg, France
11/24/2013 Distortion Festival – Eindhoven, Holland
11/26/2013 Trix – Antwerp, Belgium
11/27/2013 Logo – Hamburg, Germany
11/28/2013 Lido – Berlin, Germany
11/29/2013 Progresja – Warsaw, Poland
11/30/2013 Exit Chmelnice – Prague, Czech Rep.
12/01/2013 Arena – Vienna, Austria
12/03/2013 Randall – Bratislava, Slovakia
12/04/2013 A38 – Budapest, Hungary
12/05/2013 Kino Siska – Ljubljana, Slovenia
12/06/2013 Orion Club – Rome, Italy
12/07/2013 Magazzini Generali – Milan, Italy
12/08/2013 Backstage Halle – München, Germany
12/10/2013 Konzerthaus – Luzern, Switzerland
12/11/2013 L'usine – Geneva, Switzerland
12/12/2013 Club Zentral – Stuttgart, Germany
12/13/2013 Kulturfabrik – Esch-Sur-Alzette, Luxembourg
12/15/2013 Sticky Fingers – Gothenburg, Sweden
12/17/2013 The Circus – Helsinki, Finland
12/18/2013 Klubi – Tampere, Finland
12/20/2013 Debaser Medis – Stockholm, Sweden
CHTHONIC released their seventh studio recording, Bú-Tik, in North America via Spinefarm Records US June 25, 2013. Bú-Tik was recorded at Sweden's Sweetspot Studio by producer Rickard Bengtson, who also worked on 2011's critically-lauded Takasago Army full-length. Called "a masterful and elegant tradition served underneath soaring thrash-influenced guitars, pummeling drums and a vocal performance that is absolutely stellar from an overlooked vocalist," by About.com, Bú-Tik is centered around the story of the 228 Massacre, the Bú-Tik Palace and the Mirror Of Retribution, and highlights what bassist Doris Yeh describes as "righteous violence, justifiable defense, and the armed spirits." The cover image depicts the fighting spirit of a girl with albinism.
To order, Bú-Tik point your browser HERE.
"CHTHONIC has become a far more theatrical and emotive unit in their mission to cast light upon acts of barbarism committed within their native land… If there's a better metal album yet to come in 2013, bring it on. 10/10″ — Blabbermouth
"'Next Republic' and 'Supreme Pain for the Tyrant' demand your attention from the start, only to blow you away with an epic and memorable chorus. The soaring emotional register of 'Between Silence and Death' is unforgettable. And the female vocal parts, though used sparingly, sound exquisite in 'Set Fire to the Island' and 'Defenders of Butik Palace.' Bú-Tik is a solid album which will earn CHTHONIC many new symphonic oriental fans without alienating the band's long-time following. 8/10″ – Metal Injection
"…a solid album full of epic moments. Fans of symphonic or melodic death metal are likely to enjoy it, as Chthonic have yet again delivered a unique and memorable album that no other band could have made." – HeavyBlogIsHeavy
"Seediq Bale was no fluke. Despite the different sound, Chthonic show that they are more than capable of putting out another fantastic effort that can compete with the greats of their back catalogue. 4/5" – Sputnik Music
"Symphonic black metal gets an oriental overhaul for a fantastic result.4/5" – Metal Underground
http://www.chthonic.org
http://www.facebook.com/chthonic
http://spinefarmrecords.com/usa
http://www.facebook.com/SpinefarmRecordsUS