Taiwanese metal exhibitionists, CHTHONIC, are pleased to unveil their seventh studio offering. Entitled Bú-Tik, the ten track opus was recorded at Sweden's Sweetspot Studio by producer Rickard Bengtson, who also worked on 2011's critically-lauded Takasago Army full-length and finds the band sharpening their signature brand of self-dubbed symphonic "orient metal."
With Bú-Tik, CHTHONIC continue their mission to build awareness of the myths of Taiwan and the tragic events in their country's history. Based around the story of the 228 Massacre, the Bú-Tik Palace and the Mirror Of Retribution, Bú-Tik highlights what bassist Doris Yeh describes as "righteous violence, justifiable defense, and the armed spirits!"
"We are very proud to present Bú-Tik to the world," she continues. "With this album, we have pushed ourselves to achieve new heights – heights we've never imagined before! We are leading metal fans to the next episode of CHTHONIC!"
Bú-Tik will be released in North American on June 18 via Spinefarm Records US. In the meantime check out the epic enormity of "Next Republic," as well as the record's stunning cover art: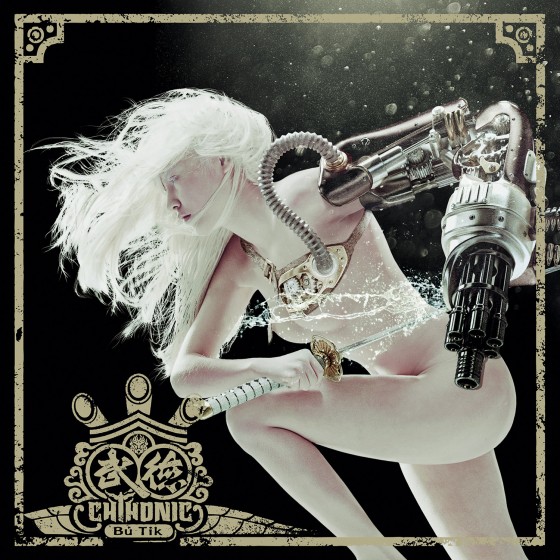 Bú-Tik Track-Listing:
1. Arising Armament (intro)
2. Supreme Pain For The Tyrant
3. Sail Into The Sunset's Fire
4. Next Republic
5. Rage Of My Sword
6. Between Silence And Death
7. Resurrection Pyre
8. Set Fire To The Island
9. Defenders Of Bu-tik Palace
10. Undying Rearmament (Outro)
In related news, CHTHONIC are confirmed to play on the Pepsi Max Stage on Saturday, June 15 at Download Festival 2013 at its historical stamping ground of Donington Park. The band last appeared at Download in 2011, but for this follow-up show are returning in greater numbers, the plan being to utilize the skills of an orchestra. Notes Yeh, "This is the first time we'll have played with the orchestra outside of Taiwan. We're really hoping to present a show that people will be talking about for some time to come…" Further info and tickets for Download 2013 are available HERE.
CHTHONIC:
Freddy Lim – vocals, erhu
Doris Yeh – bass, backing vocals
Jesse Liu – guitar, backing vocals
Dani Wang – drums
CJ Kao – keys
http://www.chthonic.org
http://www.facebook.com/chthonic
http://spinefarmrecords.com/usa
http://www.facebook.com/SpinefarmRecordsUS