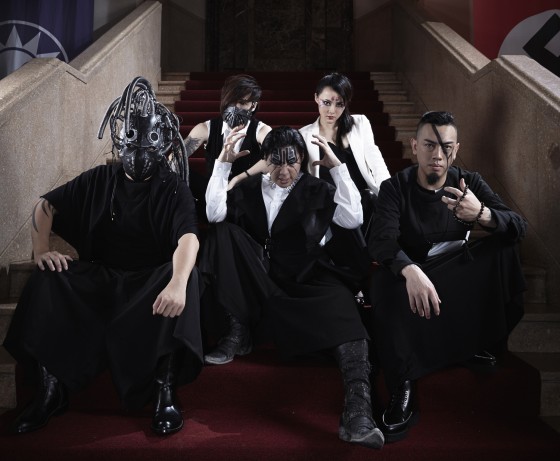 Today Loudwire offers up an exclusive premiere of "Set Fire to the Island," the latest music video from Taiwanese metal legion CHTHONIC.
Directed by Hoiji Huang and Alulu Kuo, the track comes by way of the band's recently released Bú-Tik studio offering, features stunning live footage from last year's Mass Battle concert in Taiwan and serves as a teaser for their pending Next Republic Asia Tour 2013.
Notes bassist Doris Yeh: "This is the live video we shot when we first played the song. It's the most exciting song to play off the entire album! It has now become a 'tradition' for the fans in Taiwan to come to our show with ghost money, they throw in the air to show respect and release all kinds of their emotions. When I see the ghost money thrown in the air, sometimes the scenery before my eyes seems like a dream."
Peep the video courtesy of Loudwire at THIS LOCATION.
CHTHONIC released their seventh studio recording, Bú-Tik, in North America via Spinefarm Records US June 25, 2013. Bú-Tik was recorded at Sweden's Sweetspot Studio by producer Rickard Bengtson, who also worked on 2011's critically-lauded Takasago Army full-length. Called "a masterful and elegant tradition served underneath soaring thrash-influenced guitars, pummeling drums and a vocal performance that is absolutely stellar from an overlooked vocalist," by About.com, Bú-Tik is centered around the story of the 228 Massacre, the Bú-Tik Palace and the Mirror Of Retribution, and highlights what bassist Doris Yeh describes as "righteous violence, justifiable defense, and the armed spirits." The cover image depicts the fighting spirit of a girl with albinism.
To order, Bú-Tik point your browser HERE.
"'Next Republic' and 'Supreme Pain for the Tyrant' demand your attention from the start, only to blow you away with an epic and memorable chorus. The soaring emotional register of 'Between Silence and Death' is unforgettable. And the female vocal parts, though used sparingly, sound exquisite in 'Set Fire to the Island' and 'Defenders of Butik Palace.' Bú-Tik is a solid album which will earn CHTHONIC many new symphonic oriental fans without alienating the band's long-time following. 8/10″ – Metal Injection
"a solid album full of epic moments. Fans of symphonic or melodic death metal are likely to enjoy it, as Chthonic have yet again delivered a unique and memorable album that no other band could have made." – HeavyBlogIsHeavy
"Seediq Bale was no fluke. Despite the different sound, Chthonic show that they are more than capable of putting out another fantastic effort that can compete with the greats of their back catalogue. 4/5" – Sputnik Music
"Symphonic black metal gets an oriental overhaul for a fantastic result.4/5" – Metal Underground
http://www.chthonic.org
http://www.facebook.com/chthonic
http://spinefarmrecords.com/usa
http://www.facebook.com/SpinefarmRecordsUS