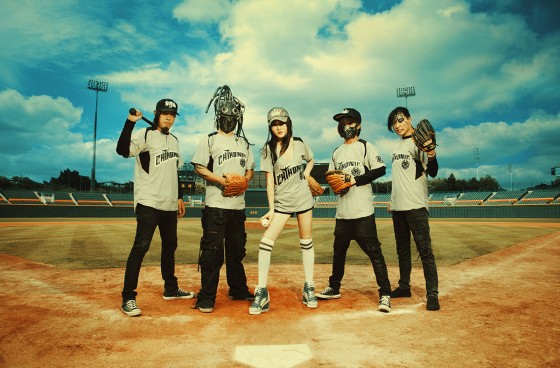 The second season of Taiwan's professional baseball league kicked off on July 5, with CHTHONIC being invited by the team The Brother Elephants as guests of honor to throw the first pitch. Thunderstorms that afternoon had delayed equipment preparation and the band was forced to perform their rendition of Queen's "We Are the Champions" without any sort of soundcheck. Fortunately, CHTHONIC — bedecked in specially designed uniforms — completed the mission with great success, as the rapturous crowd reaction so poignantly confirmed.
The Brother Elephants contacted CHTHONIC following the band's performance at Download Festival in the UK this year. To maximize the effect of the "metal and baseball" combination, CHTHONIC was also invited to perform. The band brainstormed ideas and had initially planned on doing a version of "Take Me Out To The Ball Game," but their many variations sounded like children's songs, thus they went with "We Are the Champions." The feedback from the audience was well beyond their expectations. "Maybe we should release this as a single," joked guitarist Jesse Liu.
CHTHONIC arrived early at the stadium to practice their pitching techniques. Among the five members, only keyboardist CJ Kao had played baseball as a kid, while the rest have only been "involved" in baseball as fans. When asked who pitched the best, Kao pointed to bassist Doris Yeh. "Who else would it be, when even popular baseball star and national team player Peng Cheng-min said Doris pitched better than any other guests of honor?"
"I guess now I can say that I've played in a professional league since I've thrown the first pitch," said vocalist Freddy Lim, a loyal baseball fan who has once served as administrator for Brother Elephants fan page. "This is something I wouldn't even have imagined in my dreams!"
Check out photos and footage of the band's performance below.
CHTHONIC released their seventh studio recording, Bú-Tik, in North America via Spinefarm Records US June 25, 2013. Bú-Tik was recorded at Sweden's Sweetspot Studio by producer Rickard Bengtson, who also worked on 2011's critically-lauded Takasago Army full-length. Called "a masterful and elegant tradition served underneath soaring thrash-influenced guitars, pummeling drums and a vocal performance that is absolutely stellar from an overlooked vocalist," by About.com, Bú-Tik is centered around the story of the 228 Massacre, the Bú-Tik Palace and the Mirror Of Retribution, and highlights what bassist Doris Yeh describes as "righteous violence, justifiable defense, and the armed spirits." The cover image depicts the fighting spirit of a girl with albinism.
To order, Bú-Tik point your browser HERE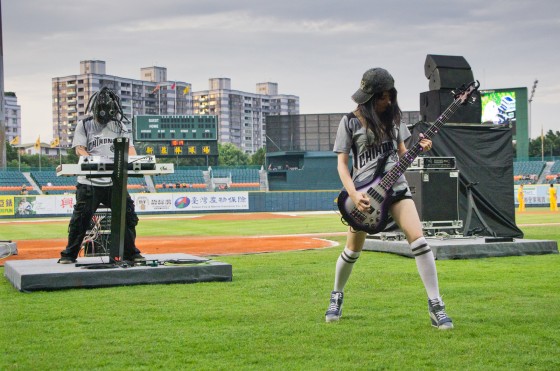 http://www.chthonic.org
http://www.facebook.com/chthonic
http://spinefarmrecords.com/usa
http://www.facebook.com/SpinefarmRecordsUS