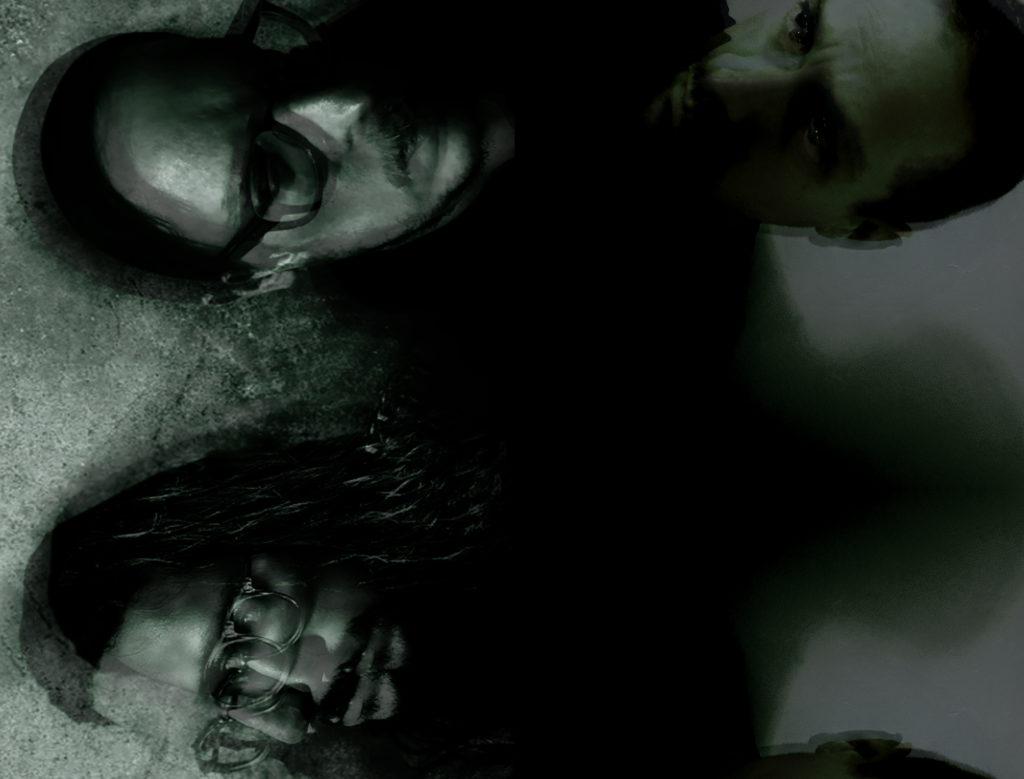 Midwestern black/shoegaze outfit CHROME WAVES and New York City-area's GRIDFAILURE have aligned their disheartening musical outlooks on a split album now set for late March release. Alongside the album's art and details, new live shows from each act, including an Eastern US CHROME WAVES tour have been posted.
CHROME WAVES leads the record, delivering nearly thirty minutes of their ominous, blackened rock, with some of their most expansive and emotive material yet. With two original tracks and their rendering of the bleak classic "The Eternal" by Joy Division. Their tracks were recorded and mixed at Disorder Recordings in Indianapolis, Indianapolis, with James Benson providing vocals, Jeff Wilson performing bass, guitars, programming, synth, and vocals, and guest Roman Pinter of Nott providing saxophone.
GRIDFAILURE offers some of the prolific outfit's most thunderous material to date with its half of the split. Hostile alchemist David Brenner delivers an assault of guitars, bass, keys, effects, drums, programming, and more infused with field recordings, effects, and layers of confrontational vocals. The five originals and a harrowing rendition of the seminal Today Is The Day hymn "Temple Of The Morning Star" were performed, recorded, and mixed by Brenner at The Compound in Valley Cottage, New York.
Both the CHROME WAVES and GRIDFAILURE songs were mastered by Dan Emery at Black Matter Mastering in Nashville, Tennessee (Kool Keith, Benjamin Tod, Krieg). David Brenner designed the cover artwork utilizing photos from Jeff Wilson and himself.
The split album will see digital release via both acts Bandcamp pages on March 27th with a limited physical version to follow. Watch for audio premieres, preorders, and more to post in the coming days.
Track Listing:
CHROME WAVES
1. A Fair Wind
2. Spring Moon
3. The Eternal (Joy Division)
GRIDFAILURE
1. Day Terrors
2. Napalm At Zero Gravity
3. Empty Ships Sail Past
4. Deinde Quod Semper Timui
5. Cascading Failures
6. Temple Of The Morning Star (Today Is The Day)
The split serves as a precursor for CHROME WAVES' impending second LP, which the band is currently heavily engaged in the completion of for release this summer. The drums have been recorded and the rest of the album is in production now. Details on the new album will emerge in early April following the release of the split album. The band has also just announced a run of Eastern US tour dates for late spring. The trek will see them hitting the Northeast and Upper Midwest from June 3rd through the 13th with support from Vukari on all shows.
GRIDFAILURE began the year with the release of the BRENNER & MOLENAAR collaborative album Uninvited Savior which was released through Nefarious Industries in January. GRIDFAILURE will release the second installment in its five-album Sixth Mass-Extinction Skulduggery series through Nefarious Industries this spring, followed by a lathe single for Anti-Corporate Music, collaborative albums with Fyrhtu, Pornohelmut, Feel Happiness, Interstitia, Rack, Megalophobe, and more. The outfit plays Queens this Wednesday and is working on a Northeast Coast mini tour with Radian for May.
CHROME WAVES w/ Vukari:
6/03/2020 Cattivo – Pittsburgh, PA
6/04/2020 Kung Fu Necktie – Philadelphia, PA
6/05/2020 Atlas Brew Works – Washington, DC
6/06/2020 Brimming Horn Meadery – Milton, DE
6/07/2020 Saint Vitus Bar – Brooklyn, NY
6/08/2020 Swan Dojo – Burlington, VT
6/09/2020 Bug Jar – Rochester, NY
6/10/2020 Sanctuary – Detroit, MI
6/11/2020 Shrunken Head – Columbus, OH
6/12/2020 Black Circle Brewing – Indianapolis, IN
6/13/2020 Livewire – Chicago, IL
GRIDFAILURE Live:
3/04/2020 The Footlight – Queens, NY w/ The Third Kind, Thetan, Fuckcrusher [info]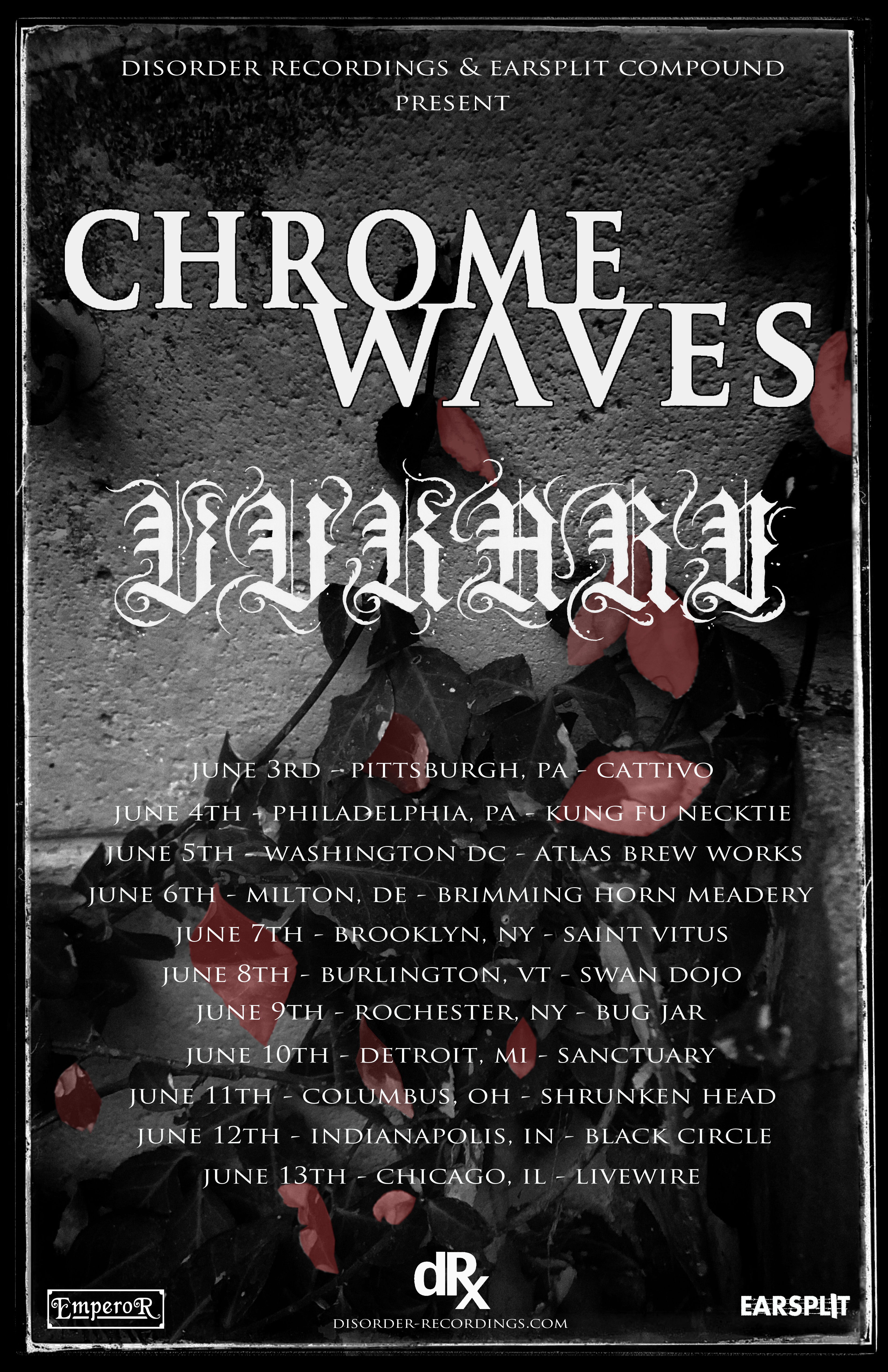 https://www.facebook.com/chromewavesofficial
https://chromewaves.bandcamp.com
https://www.instagram.com/chromewavesofficial
https://www.youtube.com/channel/UCB17eizC5-BzxJE2xrtcEtg
http://www.facebook.com/gridfailure
http://www.gridfailure.bandcamp.com
https://twitter.com/GRIDFAILURE
https://www.instagram.com/gridfailure
https://www.youtube.com/channel/UCRbk4oQvuhLgZmUZ1hyceog