Olympia, Washington's CHRISTIAN MISTRESS have just confirmed the details on their next round of touring, and are ready to hit the road in early March! The new West Coast tour runs through most of the month, kicking off in the Northwest and raging down to Texas and back over three weeks. The dates will feature CHRISTIAN MISTRESS sharing the stage with Danava, Witch Mountain, Slough Feg and more, including a showcase at Austin's SXSW as well as the Scion Rock Fest in Los Angeles alongside Obituary, Morbid Angel, Integrity, Crom, Nails, Atheist, Bastard Noise, The Body and tons more on March 5th.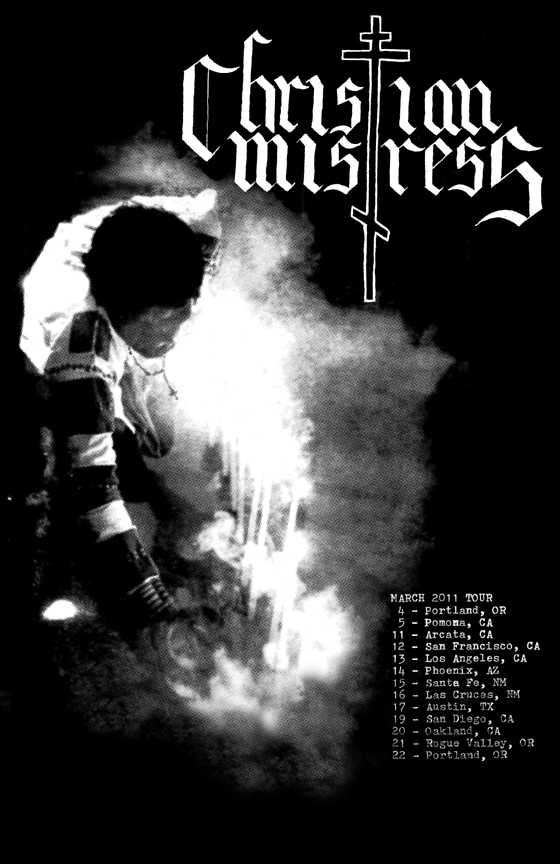 CHRISTIAN MISTRESS March 2011 Tour:
3/04/2011 The East End – Portland, OR w/ Danava
3/05/2011 The Glass House – Pomona, CA @ Scion Rock Fest
3/11/2011 The Alibi – Arcata, CA w/ Witch Mountain
3/12/2011 The Hemlock – San Francisco, CA w/ Slough Feg, Witch Mountain
3/13/2011 BLVD – Los Angeles, CA w/ Gypsyhawk, Witch Mountain
3/14/2011 Sound Kontrol – Phoenix, AZ w/ Witch Mountain
3/15/2011 Warehouse 21 – Santa Fe, NM w/ Witch Mountain
3/16/2011 The Trainyard – Las Cruces, NM w/ Witch Mountain
3/17/2011 Headhunters – Austin, TX @ SXSW w/ True Widow, Danava
3/19/2011 The Yard – San Diego, CA
3/20/2011 Eli's Mile High Club – Oakland, CA
3/21/2011 *equinox party – Rogue Valley, OR w/ RVIVR, Vradiazei
3/22/2011 The Know – Portland, OR w/ Burials, Druden
CHRISTIAN MISTRESS's debut full-length Agony & Opium was released in August 2010 on indie metal juggernaut 20 Buck Spin, instantly receiving amazing reactions from fans, the media, fellow musicians and more. The album reaped amazing press response and reviews, and appeared on countless best of 2010 lists including Decibel Magazine (#29), Terrorizer (#11) and countless other print and online publications throughout North America, Europe and beyond.
Stay tuned for more updates on CHRISTIAN MISTRESS as they continue to plow forward with their raging old-school metal through 2011 and begin to announce details on their next album in the coming months.
"One of 2010's best records, seriously: fuck a bandwagon, Christian Mistress feel like a one-band revival machine." – Terrorizer
"Specializing in the filthier, more raucous side of the NWOBHM… Christian Mistress's real strength lies in singer Christine Davis, whose raspy, dusky voice adds a unique presence…" – Decibel
"…cross NWOBHM class with a tough American style of metal imbued with pissed up and steroid-pumped hard rock, the likes of which you might have found on an early 'Metal Massacre' compilation." – Blabbermouth
"They play heavy metal the old way, the exact way we enjoy it ourselves." – Fenriz of Darkthrone (from Stereogum interview)

"The organic production and classicist songwriting make Agony and Opium a genuinely timeless album; it could have been made at any time between 1980 and 2010…" – All Music Guide
http://www.christianmistress.com
http://www.20buckspin.com
http://www.myspace.com/20buckspin