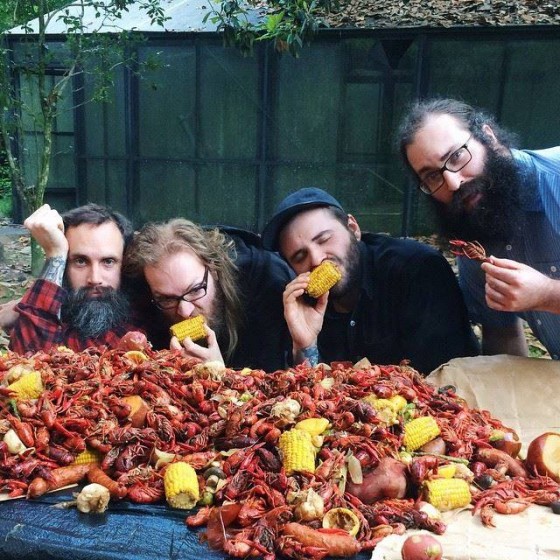 In celebration of their tour kick off with Coliseum tonight, Detroit punk/metal/noise rock oddballs, CHILD BITE, are pleased to unleash a brand new video for "Mongoloid Obsession." The tune comes by way of the band's pillaging Strange Waste EP, released last year via Housecore Records.
Written and directed by the band during their recent studio sessions at the famed Nodferatu's Lair and self-described as a "lo-if slab of Ed Wood-meets-John Waters bafoonery," "Mongoloid Obsession" features a cameo appearance by Philip H. Anselmo and finds CHILD BITE at their most bizarre. Elaborates Metal Injection, "It's a really, jarringly fucking strange track that sits somewhere between a scary Dead Kennedys song and what would happen if bands like Dead Again and Trap them joined The Residents."
Check out "Mongoloid Obsession," now playing at Metal Injection at THIS LOCATION.
And if you missed it, peep the band's video for "Ancestral Ooze." Written and directed by ex-Dillinger Escape Plan guitarist Jeff Tuttle and featuring the Melvins' Buzz Osborne, the clip is a tribute to the 1987 underground horror flick Street Trash and is still rocking Decibel at THIS LOCATION.
Titled Negative Noise, CHILD BITE's impending new full-length was recorded by Anselmo and will be released later this year via Housecore Records. In the meantime, CHILD BITE will bring their audio abrasions to the streets again supporting Kentucky's Coliseum for a nine-date run of East Coast demolitions set to commence this evening in Louisville. From there, the band will make their way back to their home turf with a short run of Canadian dates and take a brief laundry day breather before heading back out with metal icons, Superjoint. The It Takes Guts Tour will run from July 10th through July 25th and includes additional support from labelmates, King Parrot.
Comments the band, "Us CHILD BITE fellas are honored as fuck to get the opening slot on the Superjoint tour. Phil has been championing us now for a couple years, since we did that Anal Cunt tribute together. He's a sweet, gentle little angel once you get past the rippling muscles and head tattoos. To head out on tour with one of his bands, as well as everybody's favorite aborigines-gone-grindcore act, King Parrot, sounds like a great way to spend this July. We just got the A/C fixed in our van, so we have that going for us too."
CHILD BITE w/ Coliseum:
6/05/2015 The New Vintage – Louisville, KY
6/06/2015 The End – Nashville, TN
6/07/2015 Drunken Unicorn – Atlanta, GA
6/09/2015 Shaka's Live – Virginia Beach, VA
6/10/2015 Saint Vitus – Brooklyn, NY
6/11/2015 DC9 – Washington, DC
6/12/2015 Asbury Lanes – Asbury Park, NJ
6/13/2015 Kung Fu Necktie – Philadelphia, PA
6/15/2015 Middle East Upstairs – Boston, MA
End Tour:
6/18/2015 Men & Mollyz – Halifax, NS
6/19/2015 The Posrtsman – Charlottetown, PE
6/20/2015 Claude's House – Moncton, NB
6/21/2015 L'Alize Bar Concert – Montreal, QC
6/22/2015 Avant-Garde – Ottawa, ON
6/23/2015 Pact Bar – Toronto, ON
6/24/2015 The Temple – St. Catherines, ON
6/25/2015 Call The Office – London, ON
6/26/2015 Majestic Café – Detroit, MI
w/ Superjoint, King Parrot:
7/10/2015 Diamond Ballroom – Oklahoma City, OK
7/11/2015 Fitzgerald's – Houston TX
7/12/2015 Gas Monkey – Dallas TX
7/14/2015 Bogarts – Cincinnati OH
7/15/2015 Machine Shop – Flint, MI
7/17/2015 The Chance – Poughkeepsie NY
7/18/2015 Chameleon Club – Lancaster PA
7/19/2015 V-Club – Huntington, WV
7/21/2015 Greene Street – Greensboro, NC
7/23/2015 Warehouse Live – Clarksville, TN
7/24/2015 Vinyl Music Hall – Pensacola FL
7/25/2015 Warehouse – Shreveport, LA
Sample the deliciously twisted sounds of Strange Waste, still streaming in full at Revolver Magazine RIGHT HERE. Strange Waste is currently available on CD, double vinyl seven-inch and digitally via Housecore Records at THIS LOCATION.
"…the soundtrack to the greatest psychotic slasher film that never was…" — American Aftermath
"…one awesomely strange slice of loud rock that is sure to thrill fans who lurk on the outskirts of the scene." – Verbicide
"CHILD BITE's music smashes into you, as fast as a freight train and just as heavy. The guitars are a blistering blur of nimble and gnarly tones, with the rhythm section's raucous grooves propelling a raspy, yowling vocalist's emphatically motor-mouthed lyrics…" – Detroit Free Press
"Knight's voice is what I image one would get by throwing the vocals of Mike Patton, Jello Biafra, Joe McTighe, David Yow and Dave Brockie into a furnace to mix together and pour out as a flowing molten blend. Strange Waste is one of those rare albums that is ridiculously good from start to finish." – The Examiner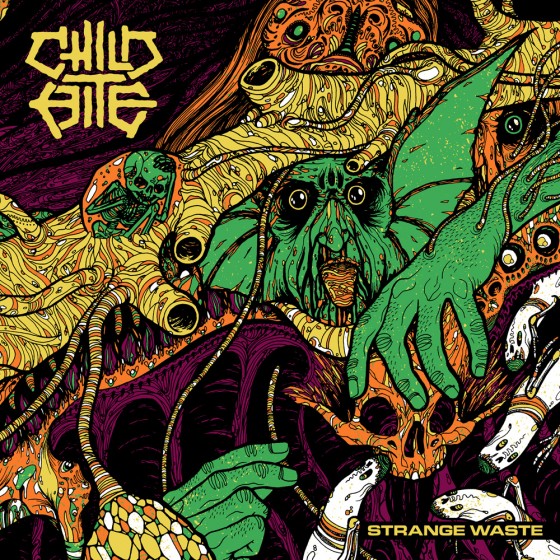 http://www.childbite.com
http://www.childbite.bandcamp.com
http://www.facebook.com/childbite
http://www.thehousecorerecords.com