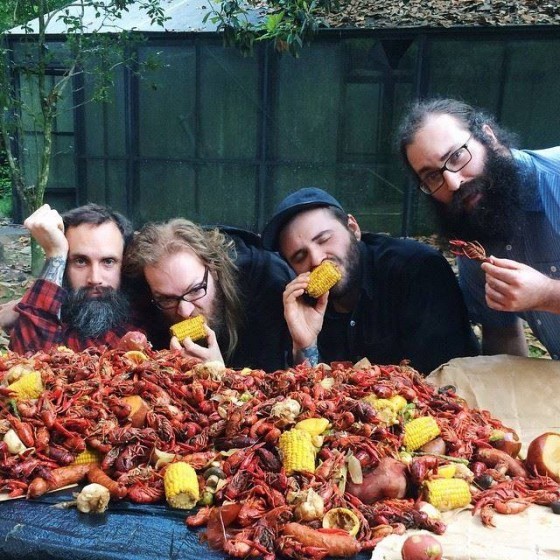 Following their recent North American expedition supporting Superjoint and King Parrot on the successful It Takes Guts tour 2015, Detroit's favorite punk/metal/noise rock eccentrics, CHILD BITE, take to the streets again later this week for a short run of live abrasions supporting Down! Preparing for liftoff this Thursday August 6th in Louisville, Kentucky the band will antagonize ten locales including a performance at Dirt Fest in Birch Run, Michigan and Gwar B-Q in Richmond, Virginia with the caravan of chaos coming to a close on August 16th in Wilmington, North Carolina. Additional support will be provided by Mountain Of Wizard.
Comments CHILD BITE vocalist Shawn Knight of the band's recent and impending journeys: "The tour opening up for Superjoint and King Parrot was a blast! I've never had more fun crisscrossing the eastern half of the USA in a mostly air-conditioning-less cargo van. The constant sweat kept us well-lubed for performance. People seemed to dig us too! That was nice. Oh, and I was able go out and sing 'It Takes No Guts' with Uncle Phil a half dozen times. 15-year-old-me is jealous as fuck. One for the books. Somehow we have gotten away with several Make-A-Wish Foundation requests…," he continues. "You'd think they would've noticed that we aren't dead yet. Our latest 'wish' was to go on tour with Down, and now it's happening! All of us CHILD BITE guys highly suggest contracting a fake incurable disease so that you too can take advantage of this loophole and live out your most outrageous rock-n-roll fantasies. See you healthy sons-of-bitches on the road…"
But wait. They're not done… Team CHILD BITE will get about a month to restock ammunitions before heading back out for twenty-three more dates supporting KEN mode. "We are honored to go on tour with Canada's #1 metal-turned-noise rock outfit, KEN mode," gushes Knight. "Everyone asks if it's a Barbie reference and I tell them, 'No, it's something from a book.' These guys are intimidating as fuck and we are gonna take several notes while watching them destroy the stage every night. Their new record sounds amazing, no doubt due to the fact that it was recorded by the same guy that did Bush's second album. We can't wait to drive straight from Detroit to Seattle just to have them spit in our faces."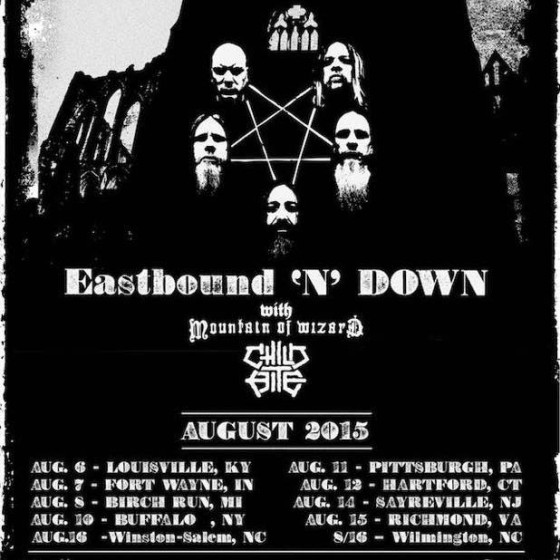 CHILD BITE w/ Down, Mountain Of Wizard:
8/06/2015 Mercury Ballroom – Louisville, KY
8/07/2015 Pierre's – Ft. Wayne, IN
8/08/2015 Dirt Fest – Birch Run, MI
8/10/2015 Town Ballroom – Buffalo, NY
8/11/2015 Altar Bar – Pittsburgh, PA
8/12/2015 Webster Theater – Hartford, CT
8/13/2015 Grand Victory – Brooklyn, NY w/ Mountain Of Wizard (no Down)
8/14/2015 Starland Ballroom – Sayreville, NJ
8/15/2015 Gwar B-Q @ Hadad's Lake – Richmond, VA
8/16/2015 Ziggy's By The Sea – Wilmington, NC
w/ KEN mode:
9/14/2015 Chop Suey – Seattle, WA
9/15/2015 The Pin – Spokane, WA
9/16/2015 High Water Mark – Portland, OR
9/18/2015 Golden Bull – Oakland, CA
9/19/2015 Loaded in Hollywood – Los Angeles, CA
9/20/2015 Soda Bar – San Diego, CA
9/22/2015 Urban Lounge – Salt Lake City, UT
9/23/2015 Three Kings Tavern – Denver, CO
9/24/2015 MiniBar – Kansas City, MO
9/25/2015 Mohawk – Austin, TX
9/26/2015 Sons Of Herman Hall – Dallas, TX
9/27/2015 Siberia – New Orleans, LA
9/29/2015 Syndicate Lounge – Birmingham, AL
9/30/2015 Liberty Bar – Tallahassee, FL
10/01/2015 Churchill's – Miami, FL
10/02/2015 Will's Pub – Orlando, FL
10/03/2015 529 – Atlanta, GA
10/04/2015 The Hideaway – Johnson City, TN
10/06/2015 Local 506 – Chapel Hill, NC
10/07/2015 Strange Matter – Richmond, VA
10/08/2015 Kung Fu Necktie – Philadelphia, PA
10/09/2015 The Acheron – Brooklyn, NY
10/10/2015 Bug Jar – Rochester, NY w/ Life In Vacuum
Dubbed "the soundtrack to the greatest psychotic slasher film that never was," by American Aftermath, CHILD BITE's Strange Waste EP was released via Housecore Records last Fall. Ugly, anxious and perilously habit-forming, the record continues to shock and awe ears of the willing with its deliciously bastardized hybrid of the Melvins, Dead Kennedys, Big Black and Faith No More. The band recently issued a video for "Mongoloid Obsession" (from Strange Waste). Written and directed by the band during their recent studio sessions at the famed Nodferatu's Lair and self-described as a "lo-if slab of Ed Wood-meets-John Waters bafoonery," "Mongoloid Obsession" features a cameo appearance by Philip H. Anselmo and finds CHILD BITE at their most bizarre. Check it out below.
Titled Negative Noise, CHILD BITE's impending new full-length was recorded by Anselmo and will be released later this year via Housecore Records. Further details to be revealed shortly. In the meantime, Strange Waste is currently available on CD, double vinyl seven-inch (recently repressed with alternate artwork/colored wax) and digitally via Housecore Records at THIS LOCATION.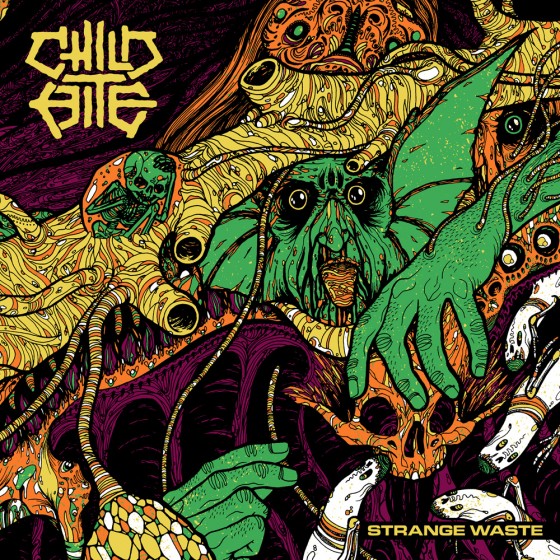 http://www.childbite.com
http://www.childbite.bandcamp.com
http://www.facebook.com/childbite
http://www.thehousecorerecords.com