Motor City noise rock collective CHILD BITE will kick off 2017 with a seventeen-date US tour supporting labelmates Superjoint. The band's latest journey will commence on January 12th and run through February 3rd and features additional support from fellow Detroit thrashers Battlecross. Additionally, CHILD BITE will perform at the For The Sick Benefit, a three-day festival-style event organized for Eyehategod frontman Mike IX Williams, who successfully underwent a liver transplant late last month. The For The Sick Benefit will take place at Siberia and Poor Boys venues in New Orleans and will include appearances by Eyehategod, Superjoint, Crowbar, Goatwhore, Thou, Classhole, and many more acts bound together for the cause.
Comments frontman Shawn Knight, "We are honored to the core of our miserable existence to go on tour again with Phil, Jimmy, Kevin, Stephen, and Joey a.k.a., Super-fucking-joint. What they see in us, we may never know. Surprisingly, we've only played with Battlecross once ever, even though we both 'hail' from the Metro Detroit area. They look like a bunch of sweet peas so I'm sure we'll get along. So yeah… Let's have fun and do irreparable damage to our bodies and reputations on this outing, ok?"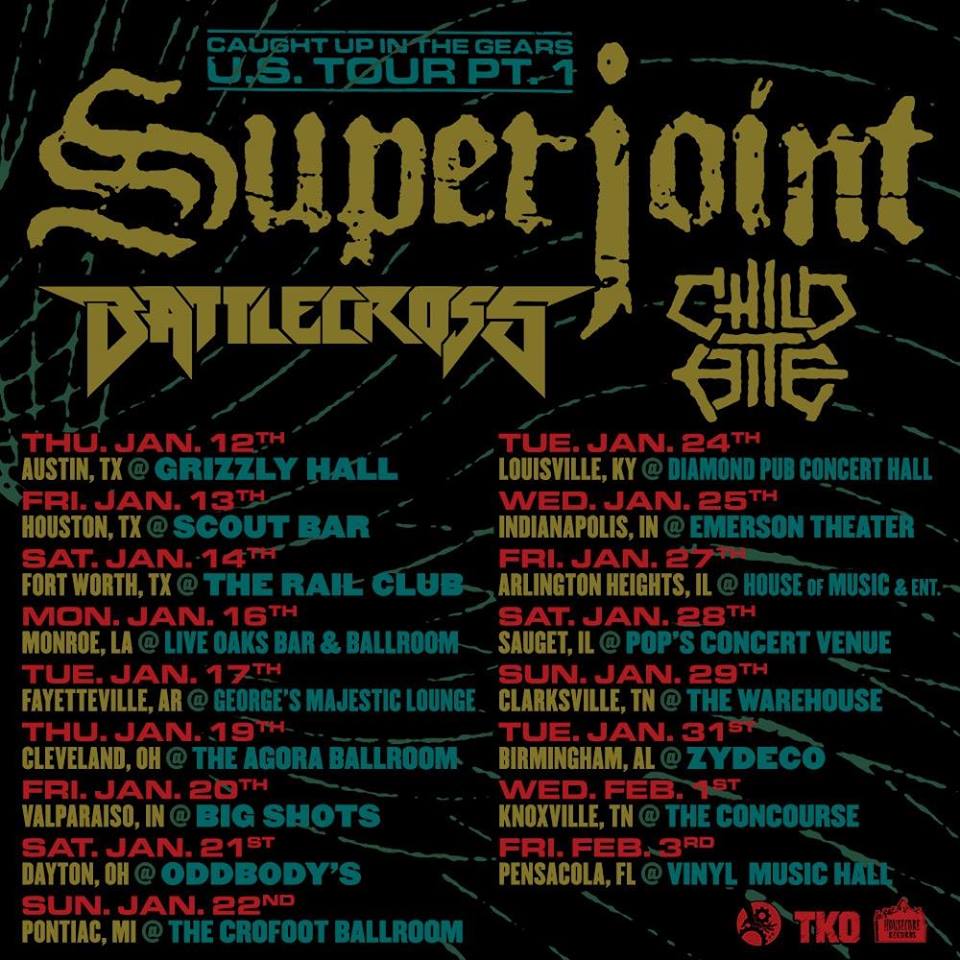 CHILD BITE w/ Superjoint, Child Bite:
1/12/2017 Grizzly Hall – Austin, TX [tickets]
1/13/2017 Scout Bar – Houston, TX [tickets]
1/14/2017 The Rail Club – Fort Worth, TX [tickets]
1/16/2017 Live Oaks Bar & Ballroom – Monroe, LA [tickets]
1/17/2017 George's Majestic Lounge – Fayetteville, AR [tickets]
1/19/2017 The Agora Ballroom – Cleveland, OH [tickets]
1/20/2017 Big Shots – Valparaiso, IN [tickets]
1/21/2017 Oddbody's – Dayton, OH [tickets]
1/22/2017 The Crofoot Ballroom – Pontiac, MI [tickets]
1/24/2017 Diamond Pub Concert Hall – Louisville, KY [tickets]
1/25/2017 The Emerson Theater – Indianapolis, IN [tickets]
1/27/2017 House Of Music & Ent. – Arlington Heights, IL [tickets]
1/28/2017 Pop's Concert Venue – Sauget, IL [tickets]
1/29/2017 The Warehouse – Clarksville, TN [tickets]
1/31/2017 Zydeco – Birmingham, AL [tickets]
2/01/2017 The Concourse – Knoxville, TN [tickets]
2/03/2017 Vinyl Music Hall – Pensacola, FL [tickets]
2/04/2017 For The Sick Benefit For Mike IX @ Siberia + Poor Boys – New Orleans, LA w/ Eyehategod, Crowbar, Goatwhore, Classhole, Mountain Of Wizard [tickets]
CHILD BITE continues to flaunt the infectious wares of their Negative Noise full-length, unleashed last year via Housecore Records. The wild, forty-seven-minute assault was produced by label head Philip H. Anselmo, mastered by Scott Hull (Pig Destroyer), and is where the Venn diagram of Black Flag, Voivod, and The Jesus Lizard truly overlaps. Lauded Punk News, "This is for the open-minded punk, headbanger, or weirdo. If you like your music a little on the ugly side, you owe it to yourself to check them out." No Clean Singing concurred, "Negative Noise possesses a brilliance and individuality all its own and is a refreshing breath of fetid air in an era saturated with a d-beat-only approach to punk and hardcore." New Noise Magazine hailed the band's, "adventurous slice of loud rock…," furthering, "They have the aggressive force of hardcore, but it's filtered through grimy noise rock." Brave Words wrote, "References within the sphere of metal are hard to come by, but imagine if the first Mr. Bungle album wasn't annoying circus music, and then remember that this band once did a 5″ record of Anal Cunt covers with Phil Anselmo on vocals, and you're getting there." Added Svbterranean," Those looking for something new, heavy and odd will have to look no further. Those looking for the perfect soundtrack to a sci-fi slasher B-movie will also have to look no further."
If you missed it, feast your eyes on CHILD BITE's delightfully murine-centric visual companion to the track "Vermin Mentality," RIGHT HERE. After an incompetent scientist botches a series of tests on his lab rats, the creatures mutate and launch a vicious attack on humanity starting with CHILD BITE, who must defend themselves from the stronghold of their tour van against the monstrous pests. The clip was written and directed by Ryan Oliver of Deathblow Productions and includes appearances by Bill Moseley (The Devil's Rejects, Texas Chainsaw Massacre 2), Wayne Alon Scott (Tim And Eric's Bedtime Stories), Danny Belrose (Portlandia, Brooklyn 99), Sarah French (Killer Biker Chicks, Strip Club Slasher), and Elissa Dowling (Tales Of Halloween, We Are Still Here).
Get weird with Negative Noise, available at the Housecore store HERE.
http://www.childbite.com
http://www.childbite.bandcamp.com
http://www.facebook.com/childbite
http://www.thehousecorerecords.com