Currently leveling stages throughout the Midwest and East Coast, Michigan punk/metal eccentrics, CHILD BITE, recently dropped a brand new video for "Ancestral Ooze" upon unsuspecting masses.
Now playing exclusively at Decibel Magazine, "Ancestral Ooze" serves as the fourth track on the band's forthcoming Strange Waste EP set for release next month via Housecore Records. Spewing their self-proclaimed "music for losers," the nine-track Strange Waste – recorded at Russian Recording in Indianapolis, Indiana and produced by the band – finds CHILD BITE in full-throated pigfuck mode, pulling from various extreme ends of metal, noise, and hardcore without falling squarely into any of those genres. Elaborates Decibel of the vibrant clip, "The video, a tribute to the 1987 underground horror flick Street Trash (which, incidentally, was also referenced by the whole premise of a recent episode of new show Gotham), features Buzz Osborne as the dealer of brightly colored beverages that cause people to meet their ends in various exquisitely gruesome ways. The video was written and directed by ex-Dillinger Escape Plan guitarist Jeff Tuttle."
Get sticky with "Ancestral Ooze," now playing at THIS LOCATION.
The official unveiling of the video served as a precursor to CHILD BITE's performance at this year's Housecore Horror Film Festival, a wildly magical weekend of metal and horror that ended with tragic and untimely passing of festival co-founder, Corey Mitchell. Comments vocalist Shawn Knight of Mitchell's death: "When CHILD BITE played the first Housecore Horror Film Festival, we were so blown away by the lineup it was hard to imagine year number two even coming close. Somehow they pulled it off with yet another incredible selection of bands. I got to see some of my all-time favorites — Napalm Death, Gwar, Samhain etc. — as well as rad new underground acts — Acid Witch, King Parrot, Author & Punisher etc. Our live set there was a blast on the new outdoor stage, and we had fun screening our latest music video in one of the movie tents as well. Everything at Housecore Horror Film Fest is curated and operated incredibly well for being such a new, DIY event. The passing of Corey Mitchell was absolutely shocking; we were en route to New Orleans for another show when I received word from [Housecore's] Kate [Richardson]. Corey was so enthusiastic and supportive throughout the fest, not just to me but literally every person he came in contact with. We worked on the Housecore Horror Film Festival magazine ads together leading up to the fest, and as far as being a 'client,' he was the best. Positive and on top of his stuff. I'm pissed off that I won't be able to work with him again. Our hearts go out to his wife and two daughters."
CHILD BITE Live 2014 [remaining dates]:
10/30/2014 Cactus Club – Milwaukee, WI
10/31/2014 The Empty Bottle – Chicago, IL
11/01/2014 Spoke Folks – Grand Rapids, MI
11/02/2014 Crossroads – Ypsilanti, MI
11/04/2014 Now That's Class – Cleveland, OH
11/05/2014 Club K – Baltimore, MD
11/06/2014 Bug Jar – Rochester, NY
11/07/2014 Jitz Tavern – Auburn, NY
11/08/2014 Death By Audio – Brooklyn, NY
11/21/2014 PJ's Lager House – Detroit, MI record release show w/ Acid Witch
Strange Waste will be released on CD, double vinyl seven-inch and digitally via Housecore Records November 25th, 2014. Preorder your copy today at THIS LOCATION.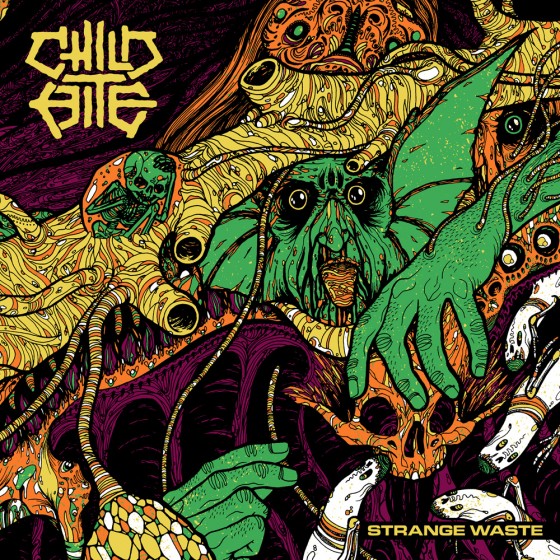 http://www.childbite.com
http://www.childbite.bandcamp.com/
http://www.facebook.com/childbite