photos by Erin Severson
Ahead of its official release through 20 Buck Spin this Friday, the gory second album from Seattle death metal henchmen CEREBRAL ROT is now streaming in its harrowing entirety.
Soaked in the swamp of radioactive sewage, CEREBRAL ROT's tumor-like growth on Excretion Of Mortality bludgeons with a hammering heaviness that few can manage or survive. A methodical focus on attaining maximum barbarism through every aspect of the production, from the meaty, dripping guitars to the immense rhythm section and Schwab's nuclear travesty vocals, to the deceptively straightforward bludgeoning of the songs, exposes a scalpel-like cutting precision to this seemingly base display of horrid malevolence. Before leaving Jack Endino's Soundhouse Studio in Seattle permanently uninhabitable for the next 500 hundred years, the pungent bubbling mess they set to tape on Excretion Of Mortality lingers there, and everywhere, like a malodorous putrescence at the crossroads of the excremental and the existential.
Ascending from the odious decay of their first LP, CEREBRAL ROT passes from animal to human contagion with a new more purulent virus on Excretion Of Mortality. A return of such festering decrepitude and anatomical canker as befits the true adherents of vile and sick underground death metal.
Stream CEREBRAL ROT's entire gore-drenched cavernous Excretion Of Mortality RIGHT HERE.
Recorded by Detto at Soundhouse Studio, mixed by Detto at Sentinel Recording Studio, and mastered by Dan Lowndes at Resonance Sound Studio, Excretion Of Mortality was completed with artwork by Karina Monzon, photography by Erin Severson, and design by Dan Fried. A must-hear for fans of Fetid, Undergang, Cenotaph, Caustic Wound, Bolt Thrower, Cianide, Impetigo, and Autopsy.
20 Buck Spin will issue Excretion Of Mortality on CD, cassette, and digital this Friday, June 25th, with the vinyl edition, which includes a huge 24″ x 36″ poster, to follow on July 30th. Find preorders at the label webshop HERE and Bandcamp HERE.
"CEREBRAL ROT's mist-covered Northwest metal is a masterclass in shadowy death/doom composition… Some albums are objectively good, and this forty-eight-minute cesspool steam bath + limb-rending beatdown is an instant classic… 9/10″ – Decibel Magazine's featured lead review
"While you can hear the cavernous and Incantation-y vibes creeping in at times, CEREBRAL ROT does their best work by avoiding any straight-up comparisons. Instead, they dunk their death metal straight into an ooze that doses it with additional flavorings of doom and melody in such a way that keeps them more memorable and engaging than many of their current brethren." – Dead Rhetoric
"Body horror is certainly not outside the norm for death metal, but CEREBRAL ROT commits to the theme with unparalleled extremity. Excretion of Mortality lurches and heaves with a throbbing animalistic rhythm–borne less of bestial instinct and more of involuntary muscular movement, like a malevolent spurting artery." – Treble
"…this breed of repugnance is a fully-fledged compositional masterstroke given ample room to breathe in the decay, exhaling virulent shifts across metal's wider niches. Samples of sludge, post and doom metal all interplay with Schwab's danker gutturals while offering an absolute masterclass on CEREBRAL ROT's core auditory grossness." – Sputnik Music
"…a juggernaut demolition machine belching toxic fumes, all gears grinding and screaming, with a monster at the controls who bellows commands in truly abyssal gutturals. Along the way, this rampaging machine runs into a tar pit, and shrieks and moans as it attempts to extricate itself, but somehow still manages to shake the earth as it does so." – No Clean Singing
"I appreciate each of their releases more with this expansion now in place and, that is entirely rare in the over-excited and underwhelming world of underground death metal releases today. A high recommendation." – Grizzly Butts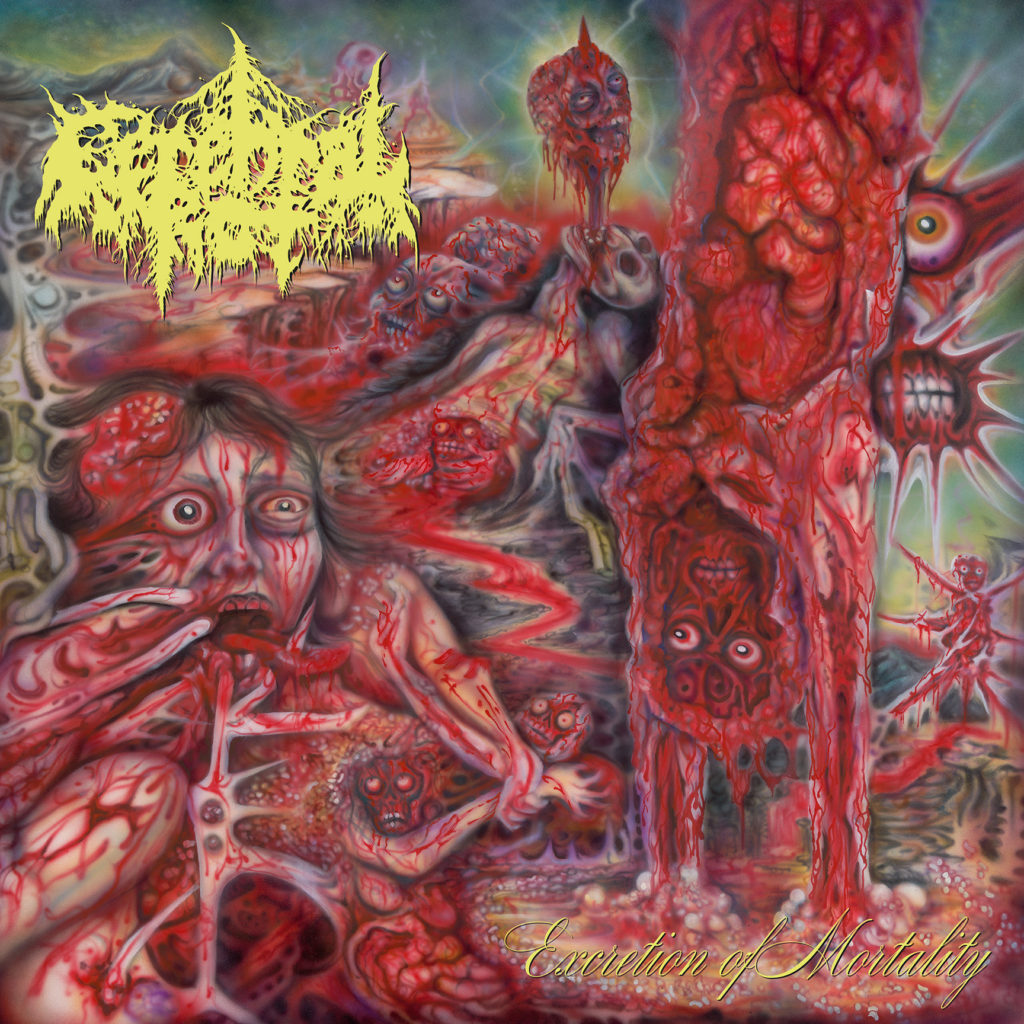 https://www.facebook.com/cerebralrotdm
https://www.instagram.com/cerebralrot
https://cerebralrot.bigcartel.com
http://www.20buckspin.com
https://listen.20buckspin.com
http://www.facebook.com/20buckspin
http://www.twitter.com/20buckspinlabel